Here's a look at the winners of the Daily Dot's first caption contest on Canvas. 
Canvas puts its own spin on the news. The image-sharing community shares and remixes photos, transforming each with personal touches and captions.
Earlier this week, thousands of people took to the streets of Chicago to protest the NATO summit.
One controversial photo emerged from ruckus, showing a police officer reaching for a camera with his right hand clenched. It was posted on Tumblr by Dorsey Shaw, the video editor at BuzzFeed.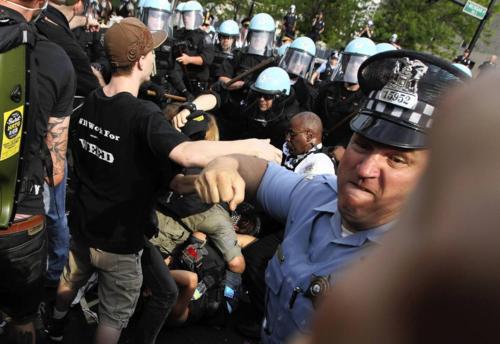 The Daily Dot recently turned to Canvas with the image to launch a new caption contest. The results were every bit as creative and exciting as expected.
We want to thank everyone who participated in the inaugural competition. The winners will—appropriately enough—win some custom stickers from the Daily Dot. Take a look at our favorite works in the Storify below, and be on the look for our next contest in the near future.
Image remixed anonymously