For the second time in a year, an alleged kingpin of a major online drug marketplace is in handcuffs. 
Blake Benthall was arrested on Nov. 5 by the New York branch of the Federal Bureau of Investigation (FBI), the agency revealed Thursday. He is accused of breaking a host of federal laws for the "operation and ownership of the Silk Road 2.0 website," a site only accessible on the Deep Web that allows users to buy and sell—among other things—illicit drugs.
The official documents are sparse with details, but Benthall's social media presence is a rich trove, offering up a fascinating window into the life of a man who stands accused of masterminding a vast drug distribution operation—from his coding experiments to his work in the space industry, and perhaps appropriately, his fascination with the critically acclaimed drug-focused drama Breaking Bad.
Benthall's arrest comes almost a year exactly after the closure of the first Silk Road and the arrest of Ross Ulbricht, who authorities say ran the original Dark Net drug bazaar under the name Dread Pirate Roberts. (The Deep Web is any portion of the Internet not indexed by Google. Dark Net is a subsection, accessed only by the anonymity browser Tor, where most illicit activity takes place.) The FBI alleges that Benthall operated under the pseudonym Defcon, and helped mastermind the resurrection of the platform.
"Let's be clear," the agency's press release reads, "this Silk Road, in whatever form, is the road to prison."
The FBI characaterizes Benthall as "the alleged administrator of a website that allows illicit black-market activities," having purportedly operated Silk Road 2.0 continuously since December 2013. His responsibilities allegedly included controlling and overseeing "the computer infrastructure and programming code underlying the website; the terms of service and commission rates imposed on vendors and customers of the website; the small staff of online administrators and forum moderators who have assisted with the day-to-day operation of the website; and the massive profits generated from the operation of the illegal business."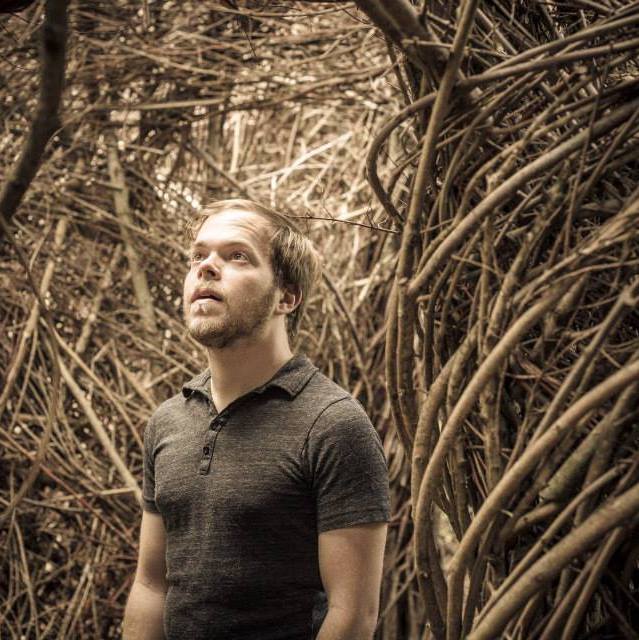 Photo via Blake Benthall/Facebook

Benthall is 26, and lived in San Francisco, Calif., the press release continues. His charges include:
One count of conspiring to commit narcotics trafficking, which carries a maximum sentence of life in prison and a mandatory minimum sentence of 10 years in prison 
One count of conspiring to commit computer hacking, which carries a maximum sentence of five years in prison 
One count of conspiring to traffic in fraudulent identification documents, which carries a maximum sentence of 15 years in prison 
One count of money laundering conspiracy, which carries a maximum sentence of 20 years in prison. 
If found guilty of even a few of these charges, Benthall faces decades—if not life—behind bars.
Beyond this, the documents released by the FBI give little indication as to the kind of man Benthall is. For this we must look at his numerous social media accounts scattered around the Internet.
For starters, Benthall originates from Houston, Texas, a Facebook profile apparently belonging to him indicates.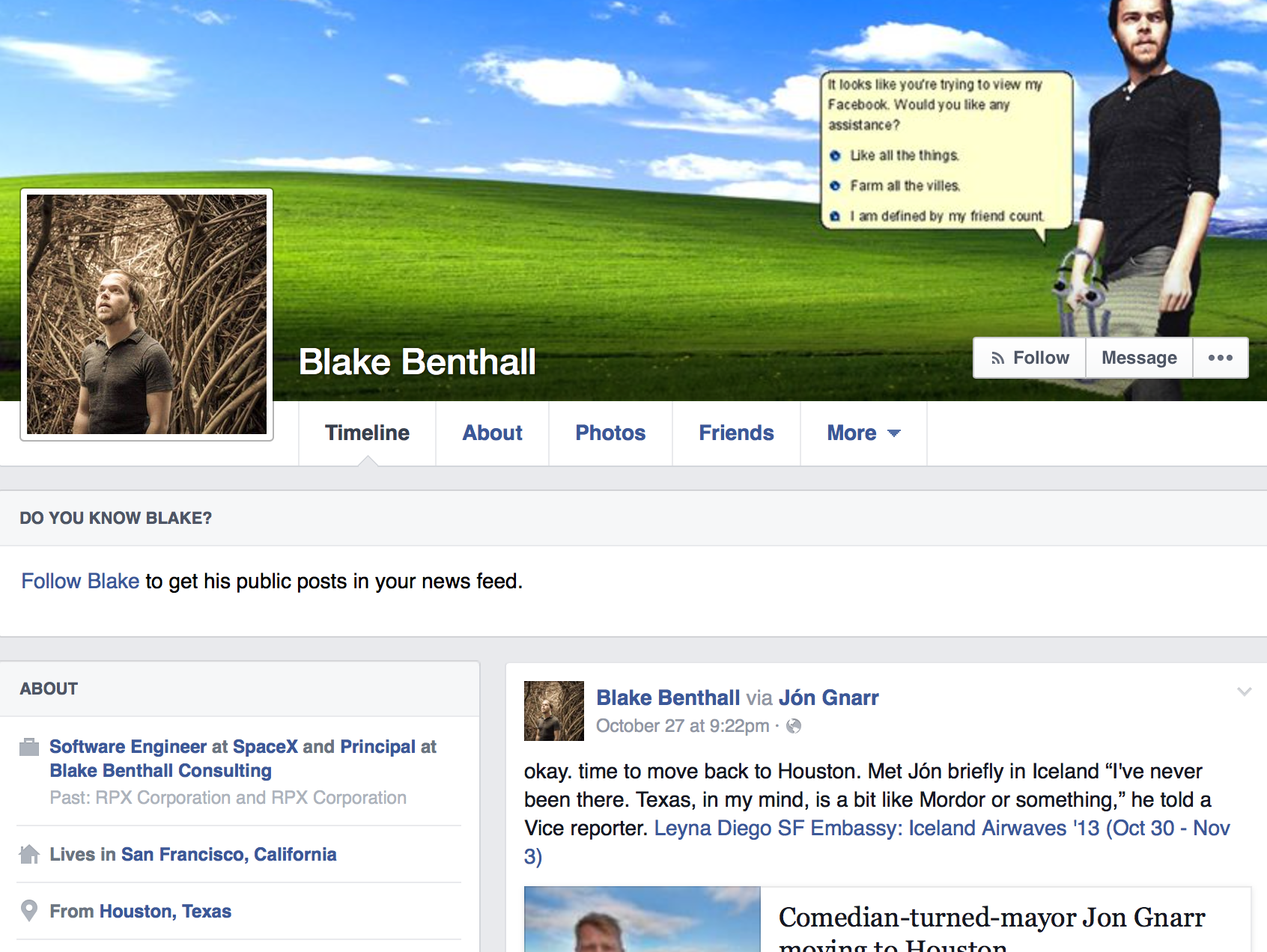 As you might expect from someone who stands accused of operating a vast, cryptocurrency-enabled anonymous drugs market, he's a Bitcoin enthusiast: He labels himself a "bitcoin dreamer" on a Twitter account believed to belong to him, and he has tweeted about Bitcoin being "the future."
His bio also betrays his profession: Vaguely describing himself as a "rocket scientist," his day job was software engineer at astronautics company SpaceX, which he started around the same time that he's alleged to have taken over Silk Road 2.0.
hm. Can't really tweet about building rocket software. How's the weather?

— Blake Benthall (@blakeeb) December 20, 2013
According to Business Insider reporter and former Daily Dot editor James Cook, SpaceX has confirmed Benthall's employment. He reportedly left the company in February.
SpaceX just confirmed to me that Blake Benthall worked at the company. (He had left in February)

— James Cook (@JamesLiamCook) November 6, 2014
A Hacker News account believed to belong to him shows Benthall took pride in his work at SpaceX: "I'm convinced that when I look back I will clearly view the code I've written here to be way more important for humanity's progress than the code I've written for entrepreneurs' selfish attempts at billion dollar exits" he wrote.
Benthall has put his coding skills to work in a number of side projects—including a a tie-in Web game to promote the new album of Little Big Town in September, and a Bitcoin fundraiser for a water charity that raised at least $2,000 in March. This charitable side to him was seen in more than one occassion; he also promoted hackathons "for the homeless" on his Facebook page.
A Reddit account using an identical handle as Benthall's apparent online presence elsewhere, and sharing many of the same interests, gives further insight into the accused's online life. He used to run the iPodLinux forums, he says—further evidence of his propensity for tinkering—and he was also somewhat of a coffee afficianado. Posts in r/Bitcoin eight months ago reveal that he had Bitcoin to spare, offering up a 4BTC bounty to be donated to charity if a Fortune 100 company started accepting bitcoin, and he implored others to do the same.
Like Ulbricht—and numerous others in the cryptocurrency scene—he appears to have libertarian leanings. In an August 2014 Facebook post, he asked his friends, "amigos I need your help. Who are the most libertarian people you know? I want to meet them." The reason behind this is revealed in the comments; Benthall said he was "on the edge of launching a very libertarian finance startup." 
Despite his apparent libertarian side, he made a post supporting "rent control laws."

The man believed to be Blake Benthall at the recent San Francisco riots.
 
A Github profile apparently belonging to Benthall made almost 500 contributions over the past year, and offers up the following photo:
Photo via blakeeb/Github
 
Benthall's personal website is currently offline, but archived versions created prior to his alleged involvement with Silk Road 2.0 say he "love[s] executing ideas into reality," and "founded my first Web business at age fifteen, and have been in love with music since the day I was born." A more recent archived version, from May 2014, says only, enigmatically, "(blake exists)".
An Instagram profile apparently belonging to Benthall describes himself not only as a "rocket scientist @  SpaceX," but also a "songwriter," and includes numerous photos and videos showing his apparent love of live music. On a personal level, he frequently put family first and was home-schooled. Blake Benthall was also allegedly an Eagle Scout.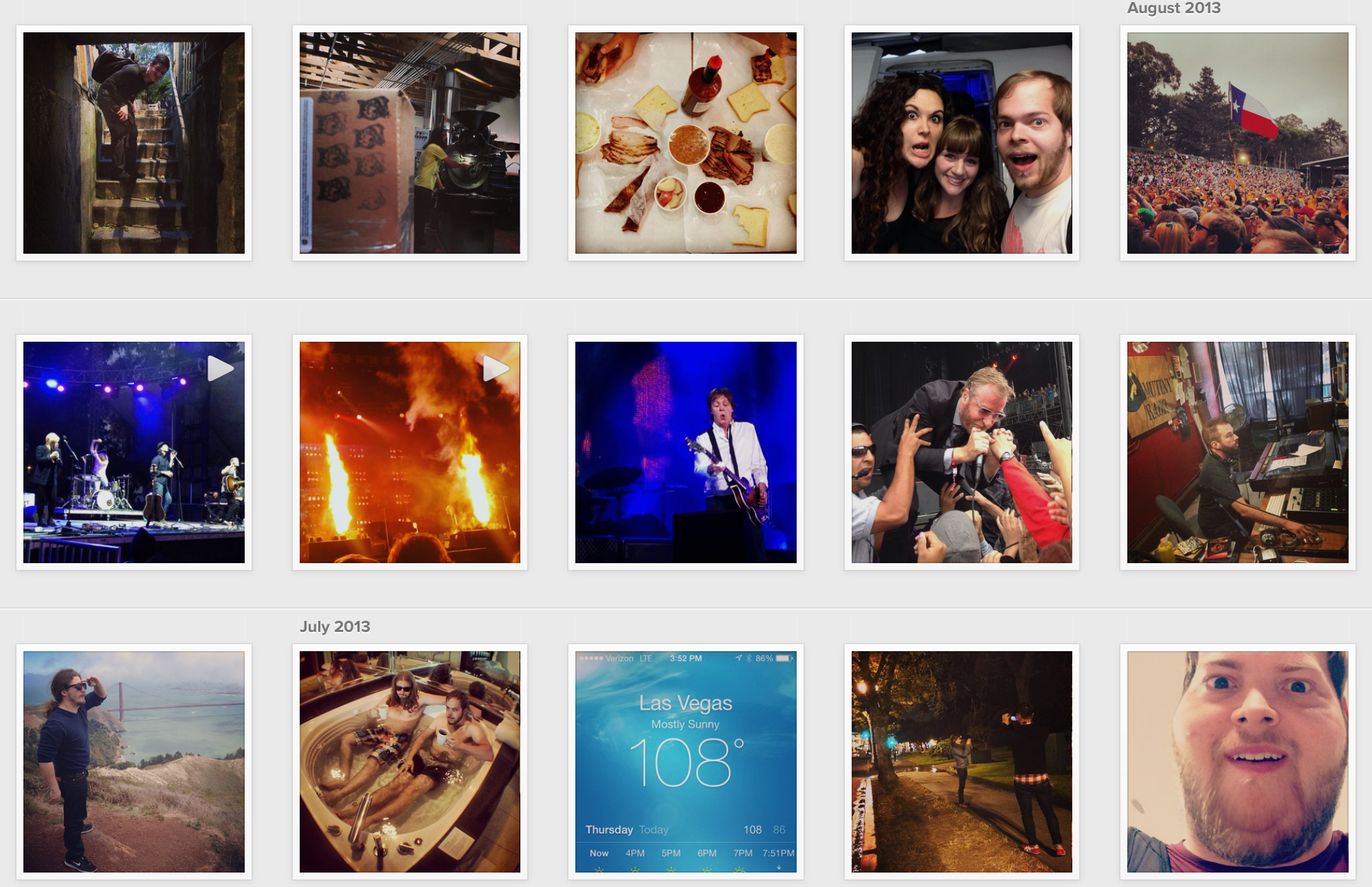 Perhaps appropriately, given the charges levelled against him, Benthall is also a keen fan of Breaking Bad, vining multiple videos in 2013 in homage to the award-winning show that charted the transformation of an ordinary, mild-mannered man into an extremely powerful and feared drug kingpin.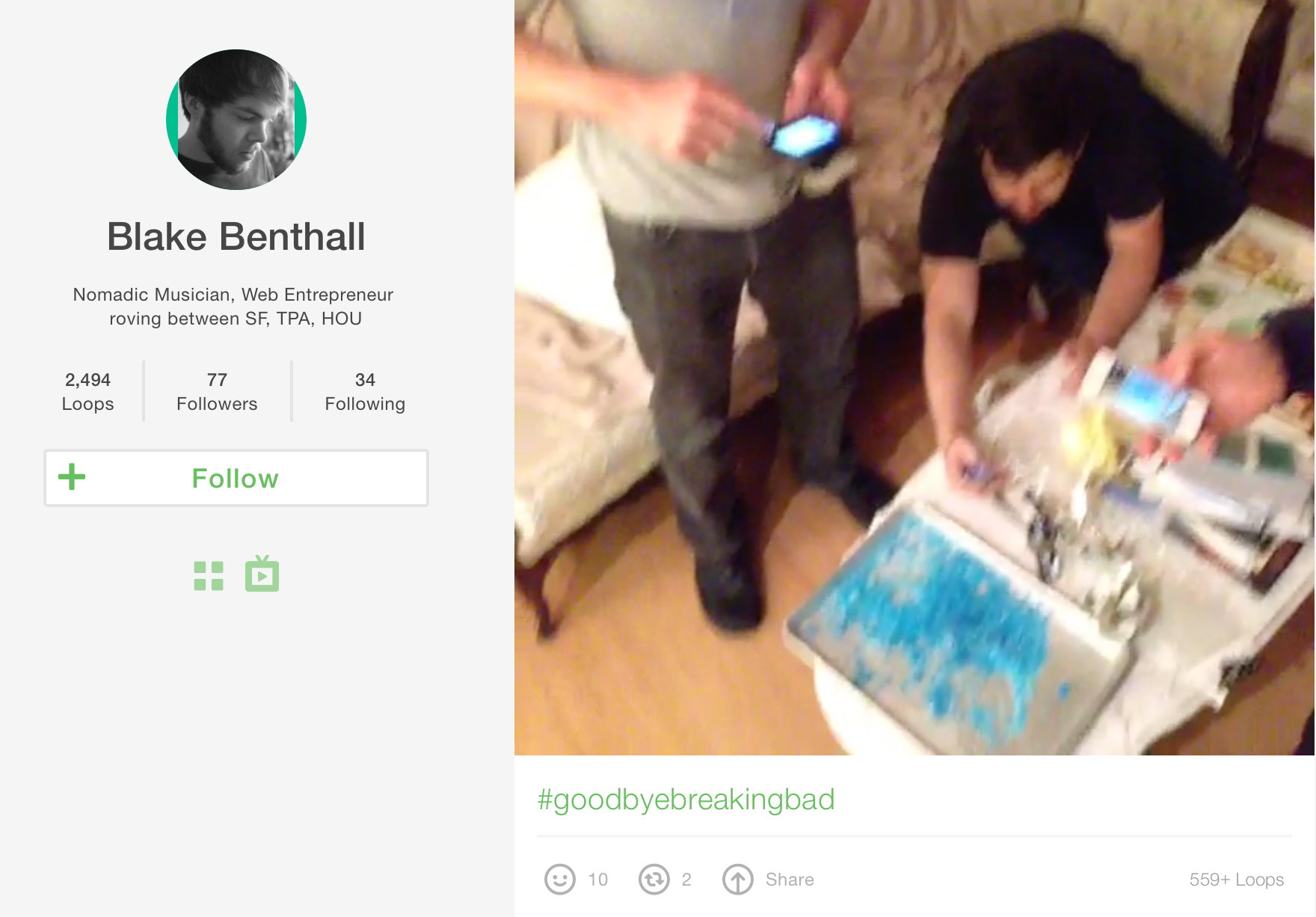 Making fake "meth" to celebrate Breaking Bad. There is no evidence of real-life drug consumption on Benthall's online presence.

Business Insider reports that nearly every major Dark Net drug market place is offline after today's news—though it's not clear whether this is a result of FBI seizures, or preemptive measures on their part. However, Agora, the second largest, was online at the time of this writing. Other arrests of significant Silk Road drug dealers are also being reported, and more shutdowns and arrests are expected in the coming hours.
Photos via Blake Benthall/Instagram | Collage by Fernando Alfonso III