The Syrian Electronic Army (SEA) has struck again, this time compromising several Twitter accounts connected to British daily newspaper The Guardian. 
The pro-Assad regime group took over the accounts of Guardian Books, Guardian Travel, Guardian Film, Guardian Pictures, and some of the newspaper's staff over the weekend. In total, the SEA compromised 11 accounts, according to Softpedia.
In a blog post, the SEA claimed it carried out the attack after the paper reported "lies and slander" about Syria. It also claims to be in a "state of war with the protection team" at Twitter after the company suspended a number of accounts belonging to the SEA.
Most of the accounts now appear to be back up and running with offending tweets deleted, though some (including @guardianfilm) are suspended while others still feature tweets posted by the SEA.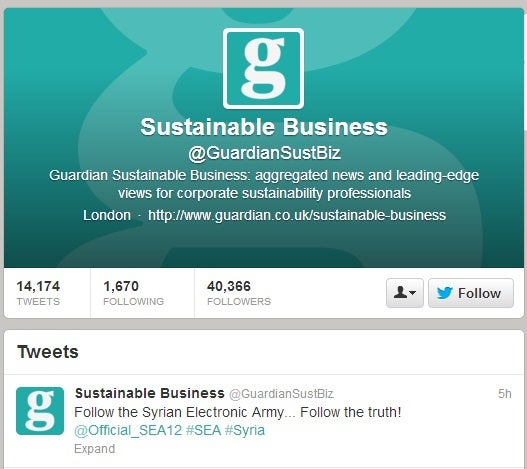 The SEA took over the main account of the Associated Press last week, claiming that President Barack Obama had been injured in White House explosions. That erroneous report was quickly debunked but caused a momentary dip of over $130 billion in the stock market. Three federal agencies are investigating the attack. 
In that instance, the SEA appears to have gained access to the AP's account by targeting its journalists with email phishing attacks. In other words, the hackers sent emails masquerading as messages from trusted sources. 
It appears the same thing happened to The Guardian. Softpedia notes the paper's data editor, James Ball, tweeted about phishing emails on Sunday.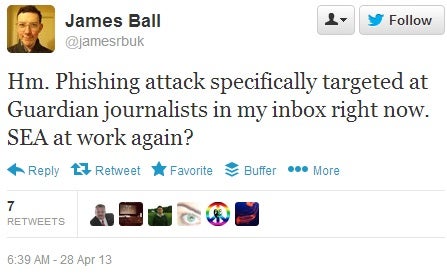 Ball highlighted the effectiveness of the SEA's tactics following the attack.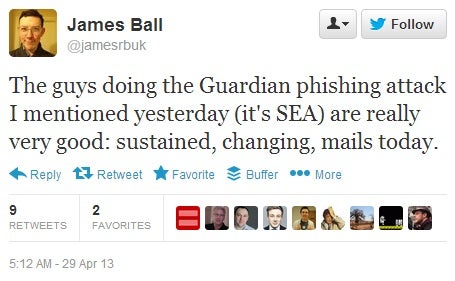 The AP and Guardian hacks are the latest in a long line of prominent Twitter handle attacks perpetrated by the SEA in recent months. 
The Syrian hackers have compromised the BBC, FIFA, CBS News, NPR, and Agence France-Presse, among others. Reports last week suggested Twitter is testing two-factor authentication, which would make hacking accounts more difficult.
Photo by DawsonsWeek/Flickr