A recent undercover sting in Mobile, Ala., provides a window into the secret world of coded language pedophiles use online. And it's shockingly simplistic.
Jurors heard opening statements yesterday in the case of Alan Preston Prine, 60, arrested last November after exchanging more than 200 emails with an undercover officer posing as a 32-year-old housewife offering up her two pre-teen kids for sex. The flurry of emails began with this message posted to the "Casual Encounters" section of Craigslist:
"P.hamily fun serious replies only bama won yes T.erday and kansas state lost don't forget to H. elp the less fortunate this C. hristmas"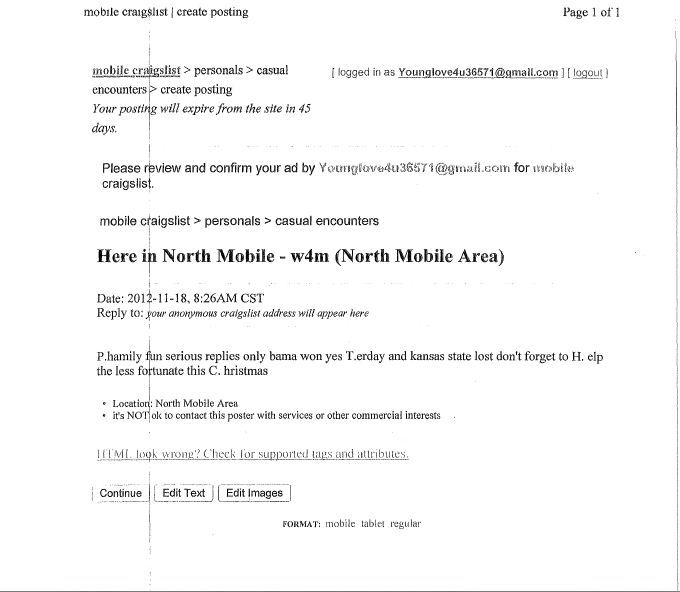 Detective James Morton, who posted the ad, was using the capital letters as a simple code: In pedophile circles, PTHC stands for "pre-teen hardcore." The ad was an invitation, and Prine took Morton up on his offer.
Prine's lawyer is taking the "Internet as fantasyland" defense, claiming his client was simply role-playing. "It is not just officers who pose," he told the court. "People on the Internet pose. This case presents a world of smoke and mirrors."
A world of smoke and mirrors that nevertheless resolves into a pretty damning scene: Police busted Prine, carrying a pizza box, as he approached the supposed 32-year-old mother's apartment on Nov. 20. Earlier, Prine had explained in explicit detail exactly what he hoped to get out of the encounter:
"Are you into that?" Prine had written to the detective earlier. "That," referred to, in Prine's words "sexual interaction between family members."
Did the mom like to participate (in the incest and child rape) or just watch? "I enjoy both," the detective replied, before asking Morton for his age preferences.
"9-plus," Prine said,.
The children were about that old, the detective replied. They were ready and willing, he said.
Prine replied: "Wow, I'm speechless."  
If convicted, Prine faces 10 years to life in prison.
Photo via Anniston/Gadsden