Apprehending one of the most notorious drug cartel enforcers in all of Mexico certainly takes a lot time and manpower on the part of investigators. Of course, if the man they're after happens to be posting evidence against himself online, that helps too. 
Following the arrest last week of Jose Rodrigo Arechiga Gamboa, a top agent for one of Mexico's most powerful organized crime syndicates, new details have emerged about the case. It appears Arechiga had a penchant for posting the evidence of his luxurious and illicitly-funded lifestyle on Instagram, Facebook and Twitter, which may have helped give U.S. officials the evidence they needed to take him into custody.
Arechiga, a lieutenant to Ismael Zambada, the co-head of the Sinaloa drug cartel, was nabbed after arriving at Amsterdam's Schiphol Airport on a flight from South America under a false name. He was arrested by Dutch officials and awaits extradition to the United States to face outstanding drug charges in California. 
The high-ranking cartel agent is notorious in his native country, where he is known by the moniker "El Chino Antrax." The Associated Press says he is one of two leaders of a group of hitmen known as the "Anthrax," as in the deadly biological agent. Their acts of bloody and public violence (among other crimes, Anthrax is suspected of killing three men and hanging them from a bridge in 2011) are so infamous that "El Chino Antrax" is mentioned in several folk songs, or narcocorridos. The songs also reference his taste for sports cars, yachts and Champagne.
However, it seems Arechiga was unable to resist the urge to share his extravagant lifestyle on social media. Tweeting as El Chino Antrax, he was very public about the life he led. Pictures of weapons, boats, cars, and women all regularly appear on his account.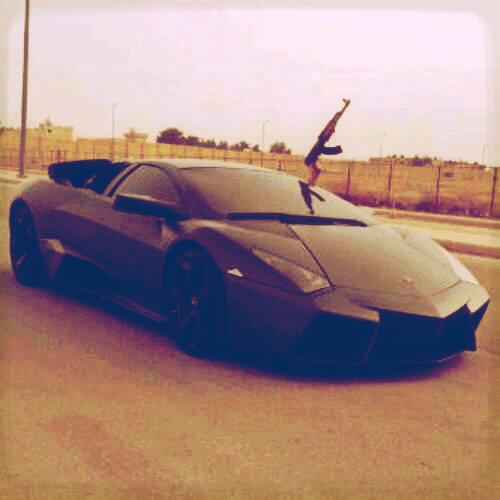 Photos by El Chino Antrax/Twitter 
It's not yet known what role social media self-incrimination may have played in Arechiga's downfall. But the International Business Times reports that evidence gathered from the accounts of suspects themselves have played a part in bringing a number of cartel operatives to justice. Though the cartel bosses themselves show much discretion in their criminal activities, younger members don't always know when to rein in their braggadocio. 
"I would not be doing this if I were them," said a Drug Enforcement Agency Spokesman according to IBT. "But then nothing surprises me about what criminal networks do."
But it's not just professional hitmen who enjoy flouting drug laws on social media. Last year, Instagram was taken over by the weedstache, a hashtag movement in which users took selfies with fake mustaches made out of – you guessed it – weed. And people advertising drugs for sale via Instagram has become so rampant that the social network was force to block certain search terms. 
H/T BetaBeat | Photo by El Chino Antrax/Twitter