The Anonymous activist who exposed two high school football players in Steubenville, Ohio, who raped a 16-year-old girl, is embroiled in a vicious and public argument with his ex-girlfriend that involves accusations of sexual assault.
The ex-girlfriend, a camgirl calling herself Miss Piper, blogged Monday about an allegedly abusive relationship she had with Deric Lostutter, better known as KYAnonymous, nearly 10 years ago, when she was 15.
"I lost my virginity with his hand over my mouth, telling me it wouldn't always hurt like this, but to let him finish and I would be OK," Piper wrote on Tumblr. "I said yes, but when I said no, he pushed down harder and ignored anyone my struggles to remove him. … For two years he could call me up, bend me over and send me on my way anytime he wanted."
Lostutter refused to comment on the accusations. Instead, Lostutter's attorney, Tor Ekeland, denied the validity of Piper's story in a phone interview with the Daily Dot on Thursday.
Ekeland has also represented famed hacker/troll Andrew "Weev" Auernheimer and others accused of computer-related crimes.
On Tuesday, Lostutter fired back at Piper on his public Facebook Page, where he said he had "decided to take her to court in Lexington, Kentucky."
Lostutter also revealed Piper's real name, a controversial act in the hacking and camgirl community known as "doxing."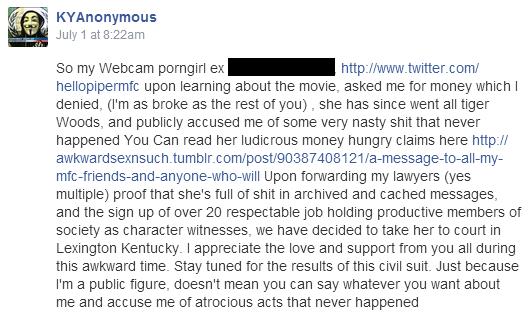 Many camgirls like Piper use aliases online to protect their identities and defend against stalkers. As detailed in a sweeping Rolling Stone feature about Lostutter and the Steubenville case, which is the basis for the movie referred to in KYAnonymous's Facebook post, Lostutter is well aware of the value of keeping one's identity secret.
The feature details Lostutter's alleged Anonymous hacker-related activities against organizations that include the Westboro Baptist Church and his troubled upbringing in eastern Kentucky. It also explains how he used the moniker KYanonymous and the name Kyle Fields online to protect himself against the very people he thought were his hacking allies.
On Dec. 24, 2012,  Lostutter and a small group of Anonymous hackers released the names and personal information of around a dozen Steubenville students who allegedly witnessed the rape of their classmate on Aug. 12, 2012. The release of the names was part of multiple Anonymous campaigns, including OpRollRedRoll, to bring the students and Steubenville school administrators to justice. The campaign included defacing the Steubenville High School athletics website with a video of Lostutter wearing a Guy Fawkes mask.
The release of the names of students who weren't involved, coupled with Lostutter's rising profile in the fiercely egalitarian ranks of Anonymous, led the hacktivists to lash out against their own. By early January 2013, Rolling Stone reported, "Lostutter was on a full blown misinformation campaign to preserve his identity."
On June 10, 2013, Lostutter was arrested during an FBI raid related to his alleged activities with Anonymous. Currently awaiting indictment, Lostutter could face up to 25 years in prison if charged. The two men who raped the 16-year-old Steubenville girl have gotten off much easier. Ma'lik Richmond was convicted of rape in March 2013 and sentenced to one year in juvenile prison. He was released in January. Trent Mays received a two-year sentence on charges of rape and the dissemination of pornographic pictures of the victim.
In April, Brad Pitt's production company, Plan B Entertainment, licensed the rights to the Lostutter Rolling Stone story.  
Piper would not comment on Lostutter's Facebook post, but she told the Daily Dot that she "should be a doing a couple radio shows" soon. 
Is @DericLostutter an anti-rape activist or a misogynist? @HelloPiperMFC will join me & @BLCKMSSH tomorrow @ 10p EST. https://t.co/ZPfuX4lUpg

— Bree :) (@bree_mars) July 3, 2014
So far, Piper says, the release of her full name has resulted in surprisingly little negative attention from "trolls," the kind of people who intentionally make life miserable online. 
"[T]hankfully I did not get the trolls I expected, and I have had so many people defending me, supporting me, and it has lead me to come to this conclusion," Piper blogged. "I am done hiding what he did to me."
Clarification: An earlier version of this article indicated that Lostutter "is facing up to 25 years in prison." Because Lostutter has not yet been indicted, we have changed the language above to avoid confusion about his situation.
Photo by home_of_chaos/Flickr (CC BY 2.0)