The Federal Bureau of Investigation's (FBI) take down last week of Silk Road 2.0 and two dozen other illicit markets has paved the way for enterprising kingpins to rush into the void and give the market what it wants—that's just how it always works. What is extraordinary about this new vacuum, however, is the size and speed of the rush.
In the wake of the latest police action against online bazaars, the anonymous black market known as Evolution is now the biggest Dark Net market of all time. One week after the fall of Silk Road 2.0, the Dark Net is already beginning to realign.
Evolution boasts the most diverse set of product listings ever seen on the Dark Net. Drugs, the standard fare in these kinds of markets, account for only half of what's on sale. In the aisles nearby, counterfeit documents, fraudulent finances, dummy's guides to cybercrime, hacked media accounts, stolen bank accounts, and more can be purchased without much trouble at all.
In stark contrast to the ideologically-fueled bazaars like Silk Road that launched the era of Dark Net markets, Evolution has even fewer limitations on buyers and sellers.
The market was first launched in early 2014 by a team from The Carding Forum, an older but still active anonymous market focused entirely on identity and financial theft. Today, Evolution features 20,221 products for sale, a 28.8 percent increase from just one month ago and an enormous 300 percent increase over the past six months. 

Compare that to the competition. Silk Road 2.0 peaked at around 17,000 products for sale at its height. Evolution is 26 percent bigger than that today. Silk Road 1.0 peaked at about 13,000 products, a number Evolution beats handily, by 55 percent.
Agora, a drug-focused market similar in size and scope to Silk Road, is currently selling 18,800 products, 75 percent of which are illicit substances. Agora is growing fast—they've ballooned 20 percent in size over the last month—and they're clearly profiting off the death of a rival.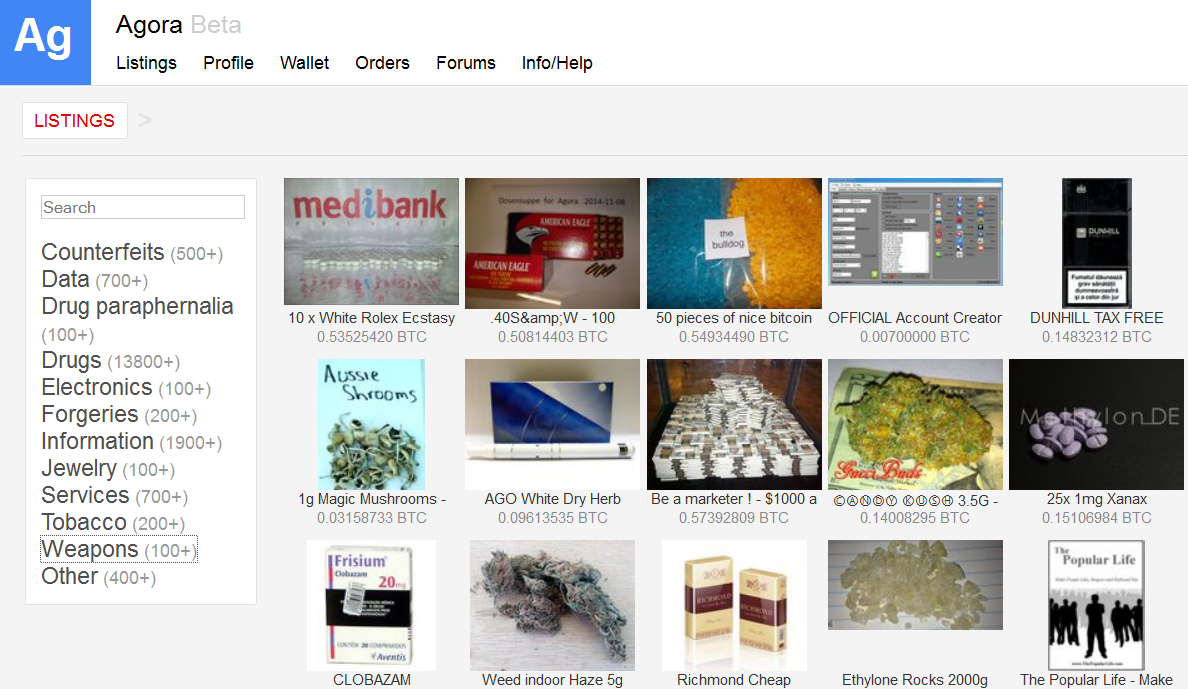 Unlike Evolution, however, Agora has been struggling to deal with the chaotic aftermath of the Silk Road 2.0 bust relative to competition: New registrations are now closed at Agora, and the market regularly deals with downtime.
Evolution, meanwhile, is currently welcoming all comers and is almost always up, operational, and faster than its rivals.
The second biggest market seized by police last week is already planning its reopening. Hackers who own another seized website have successfully stolen it back from the FBI. On top of everything, new decentralized peer-to-peer markets are being developed that may harden Dark Net security against future police action.
There's a Dark Net proverb that gets repeated by anonymous users virtually any time an arrest is made: "The Dark Net is a hydra. Cut off one head and two grow in its place."
With Silk Road 2.0's demise, another head was lopped off by law enforcement. This time, the other, smarter heads happily ate it, grew bigger, and became wealthier than ever before.
Photo via Richard Riley (CC BY 2.0) | Remix by Jason Reed