College is a golden opportunity for cultural exploration, self-improvement, and of course, committing felonies that a bystander can easily record on a smartphone.
The latter seems to have transpired at Oxford, Ohio's Miami University on Sunday, with members of the fraternity Phi Tau allegedly breaking into the house of campus rivals Kappa Alpha, only to be caught on camera by a local bouncer. 
The results are Internet catnip, worthy of an alternate WorldStarHipHop: day-drunk threats, a dimwitted lookout, determined rubbernecking, and assault with a (stolen?) bag of bagels by a dude in a Legends of the Hidden Temple T-shirt. 
"They followed me for 3 blocks trying to grab me and get my phone. Said they would kill me trying to punch and smacking me with a bag of begals [sic] etc.," redditor TriicepsBrah, the cameraman, explained. "After everything is over with my phone inconveniently runs out of power. So my boss plugs it into his computer and copied the video. We spoke to the owners of the house and it was clear that the video would be given to them as well as the cops."
Chatter about the Great Bagel Caper spread on Yik Yak, an anonymous messaging app that caters to college communities, with everyone involved subject to hard-earned derision: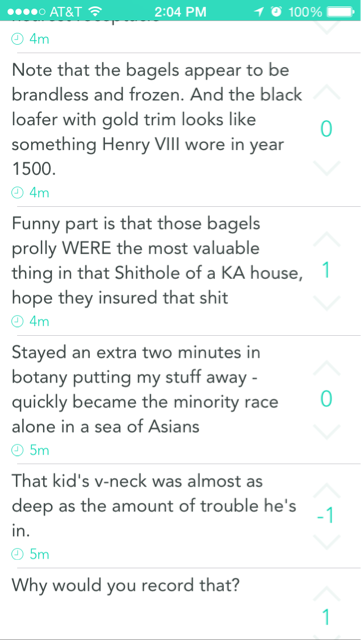 Hope these bros made the most of the fall semester's first two weeks—they'll want something to remember fondly when they hear the charges leveled in court.
Correction: An earlier version of this article mistakenly transposed the names of the two fraternities, indicating that Kappa Alpha had broken into the residence of Phi Tau, rather than vice versa.
Photo by Steven Depolo/Flickr (CC BY 2.0)