It takes about 30 seconds to start to browse Instagram's large catalog of illegal drugs. As always, you just have to know the right hashtag. I started with #weed4sale.
I perused the well-photographed marijuana selection at first and then moved on to the MDMA, cocaine, and red lean (also known as "purple drank") on offer for overnight shipment. That's better service than I can get on Amazon.
These dealers are making real money selling drugs on Instagram. For that, they seem to feel invincible. Using a completely out-in-the-open website, they blatantly post pictures of their faces next to photos of their product, prices, phone numbers, and other contact info. Most often, they tell you to text message or Kik message them for details.
They use traceable services like Paypal and Green Dot prepaid cards to move their money, and then UPS and FedEx are the delivery services of choice for shipping the goods.
Nearly 35 percent of Instagram drug dealers revealed their faces alongside their illegal products, according to a new study from DrugAbuse.com. If their faces weren't enough, they gave away even more evidence to anyone who cared to look: 56 percent showed off all the cash they made in photos as well, on accounts with an average of nearly 400 followers each.
Brilliant drug lords they are not.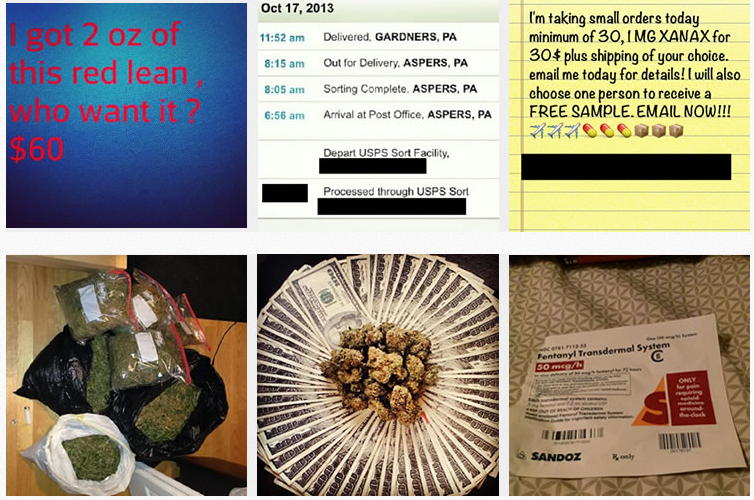 Screengrabs courtesy of DrugAbuse.com

Drug dealing has been big on Instagram for years. The illicit activity gained mainstream attention in the last year after media like BBC and Vice covered the growing trade in great detail.
In November 2013, just one month after the FBI shut down Silk Road and following several news reports on the social media trade, Instagram went on their own version of an anti-drug and gun crusade. They blocked numerous hashtags that dealers used to list drugs and guns (#badhashtag sold hash, for instance) and decreed that anyone who was reported to them for such deals would have their photos available only to those who were 18 and older, making them about as easy to access as porn for teenagers.
Some observers wondered if this was the beginning of the end of black markets on Instagram. Not even close.
In a recent 24 hour study, researchers at DrugAbuse.com recorded the limited but still impressive drug selection they found on Instagram. Boasting a whole lot of purple drank, pot, and ecstasy, Instagram's drug dealers no doubt beat the selection your average street corner dope slinger has on offer.
Instagram pales in comparison to the endlessly diverse storefronts that populate the Deep Web—not to mention the fact that Instagram offers absolutely zero protection from police while Tor's anonymization network, though far from perfect, offers the shield of relative anonymity—but it's easier to use and therefore much more attractive to those looking for instantaneous satisfaction.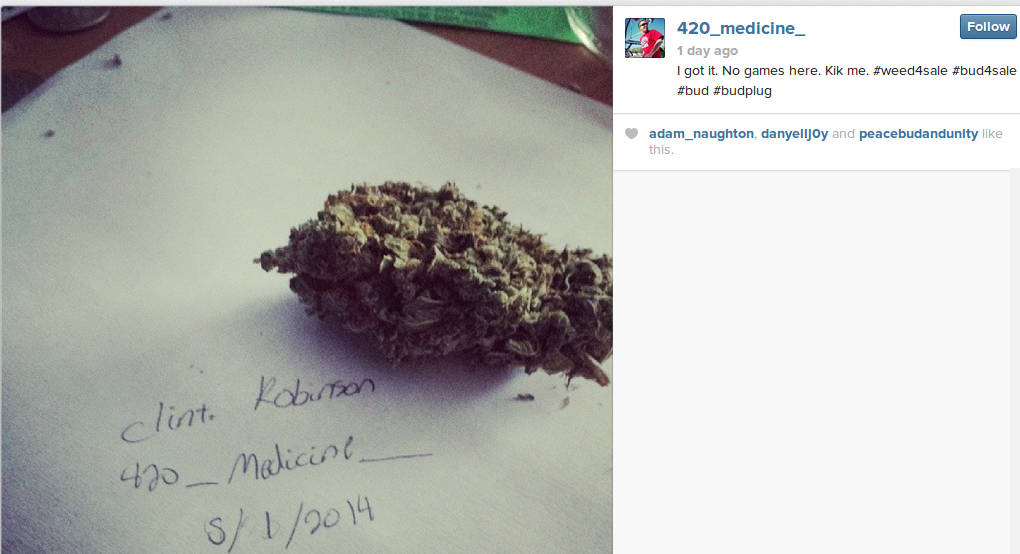 "I got it. No games here. Kik me. #weed4sale" 
You might say buying and selling on Instagram is like Baby's First Drug Deal™.
It's easy to find, simple to execute, and probably going to end up in criminal charges. Police around the world use Instagram photos as evidence, including in investigations against some of the biggest drug lords on the planet. Last year, the biggest gun bust in New York City history began with an Instagram post and has been followed with hundreds of arrests and charges stemming from the site.
Instagram drug dealers tend to have no regard for safety, security, or subtly. Instead, a bunch of product is shoved inartfully in your face. People are just expected to buy up, no questions asked. The amazing part is that they often do.
For more information, here's a nifty infographic courtesy of DrugAbuse.com:
Photo via 666isMONEY ? ? & ?/Flickr (CC BY 2.0)