The Chinese cybercrime underground is bigger and bolder than ever before, according to research from security firm Trend Micro.
Criminal activity has more than doubled in the last year and can be easily found on some of the most popular websites on the entire Internet, the firm, which has been monitoring the country's illicit circles since 2011, reported.
"The barriers to launching cybercrime have decreased," the report explains. "Toolkits are becoming more available and cheaper; some are even offered free of charge. Prices are lower and features are richer."
The metrics come from several key sources, most notably QQ, a messaging app with 800 million users. QQ boasts over 1.4 million groups related to cybercrime, double the number from the previous year.
Over 100,000 messages about buying and selling malware, text message and email spam, DDoS services, compromised hosts and hacking tools like remote access tools (RATs) are often sent in a single day on QQ alone.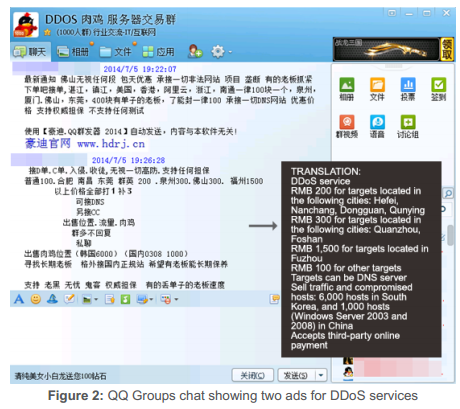 Screenshots via Trend Micro
On average, the cybercrime groups that Trend Micro monitored doubled in size on average from the previous year.
Prices for effective cybercrime tools are downright affordable from a western perspective: A botnet (a network of compromised computers that will do your bidding) of 2,000 slaves costs $596, a trojan to steal bank accounts costs $1,273, and a lifetime DDoS attack kit will run you less than $500.
If you don't like one seller, worry not. There are over 35,000 compromised hosts on sale, 16,471 DDoS services, and 15,365 RATs.
Perhaps the fastest growing market is mobile hacking, so it's no surprise that Trend Micro observed tools like SMS servers and SMS spam are in increasing demand.
H/T Infosecurity Magazine | Photo via Hector Garcia (CC BY SA 2.0)