A pro-gun control group has launched a public campaign aimed at convincing Facebook to take proactive steps to prohibit gun sales on its social network as well as on the photo-sharing site Instagram, which the company purchased in 2012.
"Facebook and Instagram are effectively hosting online gun shows—allowing private sales and trades that are not subject to background checks," said Moms Demand Action for Gun Sense in America founder Shannon Watts in a statement. "It requires more information to open a Facebook account than it does to purchase a gun in a private sale on their platform."
When attempting to purchase a gun from a retail location in the United States, buyers are required to pass a background check. If the buyer is found to have committed felony, is under a restraining order or fails to meet a handful of other criteria, they won't be able to complete the transaction. However, in most states, such precautionary measures aren't required when a firearm is sold from one private individual to another.
Gun control activists have worried that social networks like Facebook and Instagram have become an avenue where people who would otherwise be barred from obtaining a gun could easily get their hands on one. On Facebook pages like Guns For Sale, people can post firearms they have for sale as well as their contact information so interested buyers can reach them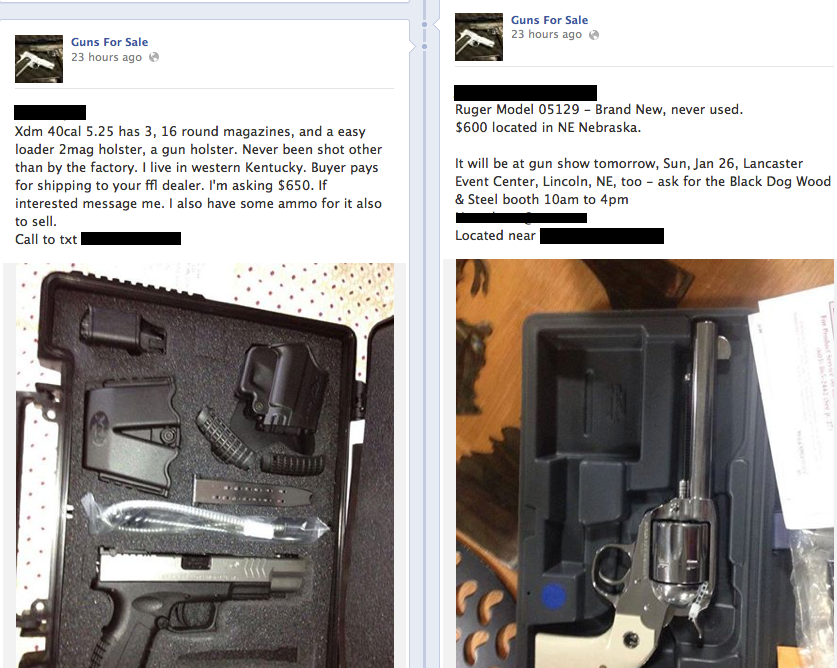 A similar trend has caught on with Instagram, where some users have taken to using hashtags like #guns and #forsale to advertise available firearms.
"Private gun sales between anonymous parties are a clear threat to public safety, and must be added to the list of prohibited content," Watts insisted. "We are shocked and disappointed that the platforms we use to share photos of our children and stay connected to friends and family are also being used for unregulated gun sales and trades."
Moms Demand Action is urging supporters to post on social media sites like Facebook, Twitter, and Instagram using the hashtag #EndFacebookGunShows and is collecting signatures on an online petition aimed at convincing Facebook and Instagram CEOs Mark Zuckerberg and Kevin Systrom to halt the practice.
Selling guns is banned by the Craigslist terms of use and most types of weapons are similarly prohibited from being sold on eBay, although the latter does allow for the sale of firearm accessories are allowed under certain conditions.
A Facebook representative told the New York Daily News that, while it is possible to find people offering guns for sale on the site, Facebook doesn't ?facilitate any sales" itself.
Facebook already has some some policies in place to try and bar gun sales being facilitated by its network. For example, users cannot place ads or promote sponsored stories that promote firearms of any kind or link to places where users can purchase weapons of any kind. Ads and sponsored stories are allowed to promote ? blogs or groups that exist to help connect users whose interests are related to these products are allowed as long as the service does not lead to the sale of any weapons or explosives."
In a poll conducted in the wake of the Sandy Hook shooting last year, 92 percent of Americans said they supported expanding background checks to include private gun sales; however, efforts to institute such a law on national level have never able to surmount the gun lobby's considerable political power.
Photo by Augustas Didžgalvis/Wikipedia Commons