Retailer Zara has pulled an item of clothing from its online store bearing a worrying resemblance to the uniforms worn in Nazi concentration camps. When approached for comment, the clothing retailer said it would "destroy" the offending item.
Part of Zara's kids' line, the long-sleeve T-shirt features red-and-blue horizontal stripes emblazoned with a yellow, six-pointed star. Apparently inspired by classic Western films, the star is supposed to be a sheriff's badge—but when paired with the stripes, it has been compared to the uniforms Jewish people were forced to wear during the Holocaust.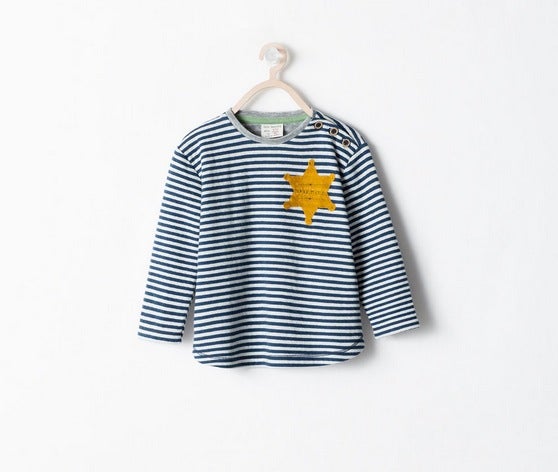 Photo via 972mag
"It's a SHERIFF shirt for your three-year-old," Israeli journalist Demi Reider wrote, "obviously. What else could it be?" The T-shirt was available in Israel, Sweden, France and Albania. Zara has been criticized heavily on social media for it.
#zara's faux concentration camp toddler wear is just another example of why we need to teach more history in schools not less.#Holocaust

— Harry Leslie Smith (@Harryslaststand) August 27, 2014
So much for "Never Forget": Zara claims this Holocaust shirt for kids happened by "accident" https://t.co/mgSs7eaKVK pic.twitter.com/9ulnlKRp81

— Neetzan Zimmerman (@neetzan) August 27, 2014
Zara told 972mag they intended to "destroy" the offending item. According to 972mag, the word used, "ויושמדו," was a poor choice. 
The exact Hebrew word is "ויושמדו." While it can also be translated as "will be destroyed," hashmada is the exact word used to describe the Nazi genocidal practices – for example, Mahanot haHashmada, extermination camps. And since this is the precise issue on which the apology is being offered, few Israeli readers would miss the connotation. You'd think Zara would take the time to thumb through a thesaurus, or something.
A Hebrew-speaking source told us the term has no direct Holocaust connotations "unless you're overly sensitive." 
"There's no better word for 'to destroy' in this context," he said. "If they chose another word, it would make it seem like they were comically trying to avoid using this particular word."
The retailer has also apologized on Twitter:
@eylanezekiel We honestly apologize, it was inspired by the sheriff's stars from the Classic Western films and is no longer in our stores

— ZARA (@ZARA) August 27, 2014
Controversial retailer Urban Outfitters has previously been criticized on similar grounds. releasing a $100 T-Shirt with a "star of David" emblem on the same week as Holocaust Memorial Day.
Photo via José Manuel Ríos Valiente / Flickr (CC BY-ND 2.0)