After more than five months, $500 spent, and more than half a million views, YouTube has finally deleted the video that I blatantly juiced with fake views all winter.
The whole kerfuffle arose back in December, when the Daily Dot noticed that YouTube had cleaned house on the view counts for a number of major music companies that had allegedly violated the site's terms of use, which prohibit users from accumulating fake or falsified views. Major labels Sony/BMG and Universal Music Group were among the largest to take a hit, losing a cumulative total of 2 billion views in the process.
Curious as to what specifically served as the breaking point of falsities for getting a video deleted, I purchased 60,000 views for a video in which I performed the Cinnamon Challenge. It was simple really. There are dozens of sites, found through simple Google searches, that offer views by thousands in a matter of minutes. It's cheap too, roughly $1 for every thousand views.
I exhaustively detailed my experience in YouTube's black market for this site. (Kenzo, my fake views broker, would later add another 100,000 views to the video for free). I told a YouTube representative what I was doing before I did it, published the story, and waited—for too long, really—for the site's cleaning service to come around and take my video down.
But the takedown never happened.
I called a guy I knew named Fletcher, an online marketing specialist who'd spent years gaming YouTube, and asked him why YouTube had ignored me. Fletcher said the site didn't care about any inflation so long as I wasn't making money off the views. So I installed AdSense, Google's revenue-generating advertising program, a few days later, slapped a few banner ads on the sucker, and crossed my fingers in hopes that YouTube would catch on.
Again, nothing happened.
I started to get desperate. I purchased another 345,000 views for $170 and hoped that the new tally, which put the video's view count over 500,000, would finally get the site's attention.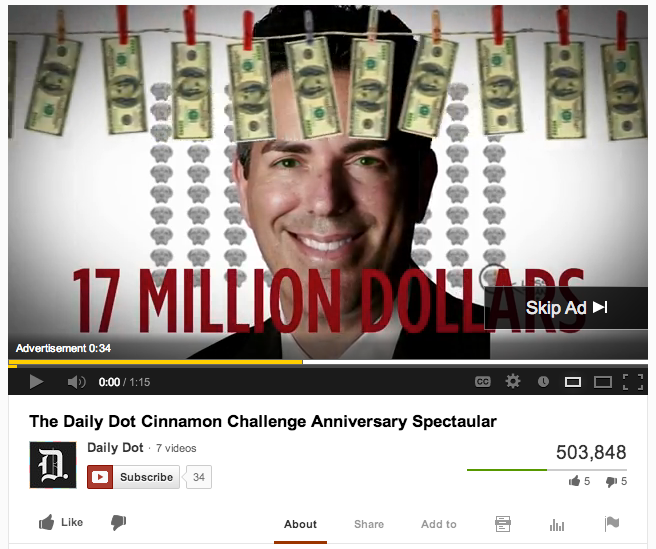 That was in late April, more than 150 days before I finally received an email from the Daily Dot's community manager informing me that our video was no longer active. The email came as a forward from YouTube; you can read their statement below.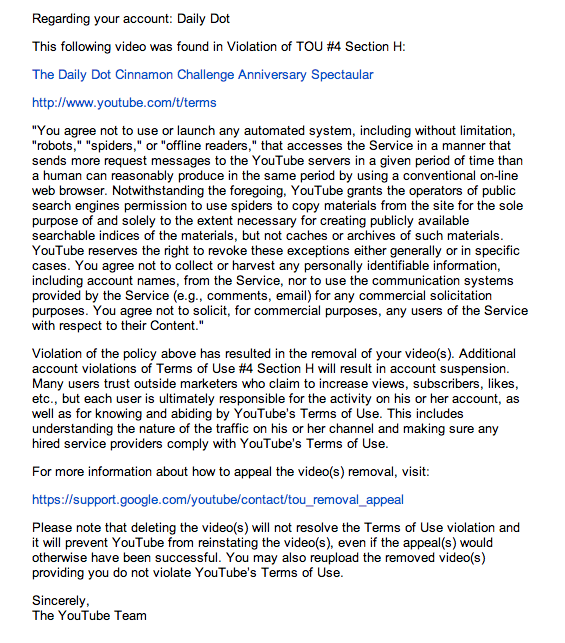 Five months is an incredibly long time for such blatantly fake views to remain on YouTube, especially considering I had several frank conversations with company representatives about the matter. If I were a rap artist, for example, just looking to gain some cheap publicity, I'd be long gone onto the next video, using that fraudulent virality to potentially catapult my career to legitimate views and success.
I emailed my YouTube contact this weekend to inquire about what finally triggered the deletion but have yet to hear back. I can only assume that site spiders finally arrived on my video in their massive database of inorganic clips. The site's had a rough go with the phony view counts lately: in August, Billboard magazine editorial director Bill Werde, who certainly understands the relationship between the site and his publication's esteemed singles charts, slammed Lady Gaga—a favorite on the YouTube Fake Views Watch List—for "gam[ing] the system" to top the charts.
Because of YouTube's standardized silence on the topic, it's tough to tell if the deletion of my video is simply the result of YouTube's engineers finally getting to the video, or if the site is actually making headway on its eternal quest to be a more honest, accountable, and organic video hub. Last week the site made a serious crackdown on racist and misogynistic video comments; the origins of the Cinnamon Challenge video's deletion could be rooted in the same place.
Chances are, however, that the video got deleted because it randomly showed up on some behind-the-scenes individual's flag list last week. We brought in less than $1 through AdSense, and the five months in between its juicing and subsequent deletion suggests that it never triggered any alarms.
The final tally?  505,791 views, 17 comments, 18 likes, and 22 dislikes, nearly all of them phony.
Now, my video's gone, and I'll never get the chance to watch myself vomit a spoonful of cinnamon again.
Illustration by Fernando Alfonso III