A video game studio censored negative YouTube reviews of its latest title, using spurious copyright-infringement claims to get its way. And now the gaming world is hoisting its controllers in revolt.
One of the first YouTube reviews to be targeted was by popular gaming commentator TotalBiscuit, who trashed Wild Games Studios' first-person shooter Day One: Garry's Incident. The video was taken down Oct. 18. TotalBiscuit then created a 14-minute video explaining the controversy.
"[W]e contacted them for an explanation and have heard nothing. Giving them til Monday to respond before goin' nuclear," TotalBiscuit states. "It should be pointed out that US Fair Use doctrine exists in particular to protect criticism from being censored in such a way."
TotalBiscuit's latest video, posted Sunday, is closing in on 1 million views—thanks to three huge posts on Reddit trashing Wild Games Studios. 
It's a phenomenon known as the Streisand Effect: Attempts to hide information from the public only bring more attention to it. One of the most recent and notable examples happened in February, when Beyoncé tried to have unflattering photos taken of her during the Super Bowl XLVII halftime show removed from the Internet.
Day One was released on Steam, a digital game-distribution system created by Valve, about a month ago, after its Kickstarter campaign failed. Critics panned the game. On review aggregator Metacritic, Day One has a 0.5 user rating out of 10.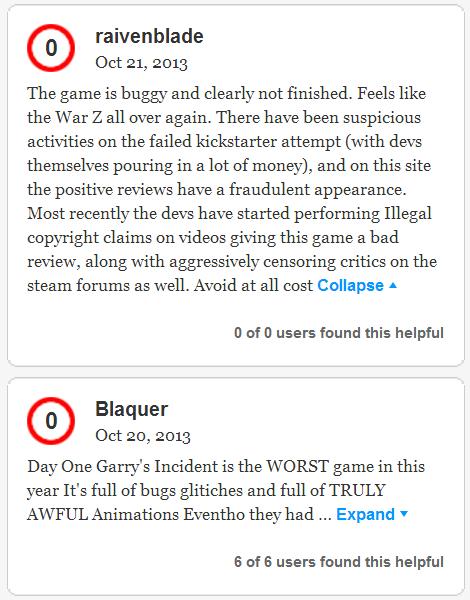 One of the developers of Day One explained the reasoning behind the YouTube takedowns on the Steam community forum.

Stifling free speech through copyright takedowns was a tactic used by Sega in December against YouTube users discussing the Sega Saturn roleplaying game Shining Force III. Some of the videos that were removed didn't even contain footage of the game. Sega had the videos removed in preparation for the release of Shining Ark, the latest Shining Force installment. It is unclear why Sega took down all the videos. Destructoid speculates that "Sega is afraid that consumers searching YouTube for trailers will find old gameplay footage instead and confuse the two." When he learned about the copyright claims, TotalBiscuit removed all Sega-related videos from his YouTube channel.
Following the release of Shining Ark, Sega announced in March that it would no longer "remove Shining Force videos uploaded to YouTube by users living in North American and European territories."
Following the public-relations nightmare Wild Games Studio created for itself, the Quebec-based firm has withdrawn its original YouTube complaint against TotalBiscuit, Kotaku reported. 
Screengrab via YouTube