Eric Nash raised $25,000 in Kickstarter donations for a stylized set of playing cards featuring vintagely gothic, mental asylum-themed illustrations by a Serbian artist named Milan C. Another happy crowdfunding success! Except for the part where he cut off all communication with his 810 backers and, presumably, spent their money on something else.
Now the government of Washington, home to at least 31 of those jilted gamers, will hold him personally responsible for the scam. The first U.S. consumer protection lawsuit to touch upon the crowdfunding phenomenon, filed by State Attorney General Bob Ferguson, names both Nash (here revealed to be one Edward J. Polchlopek III) and his Nashville, Tenn.-based company, Altius Management, as defendants. 
Brought to bear in the class action is RCW 19.86.020, a widely applicable clause of the state's Consumer Protection Act that outlaws "[u]nfair methods of competition and unfair or deceptive acts or practices in the conduct of any trade or commerce." Each violation carries a civil penalty of up to $2,000, which came as great news to the victims who have gathered in the "Asylum" page's comment section to both publicly shame Nash and organize their legal strategy. (Seth Nemec, the creator of a Kickstarter-funded board game called "Odin's Ravens" who pulled off a similar smash and grab also became a communal target there for the people he swindled.)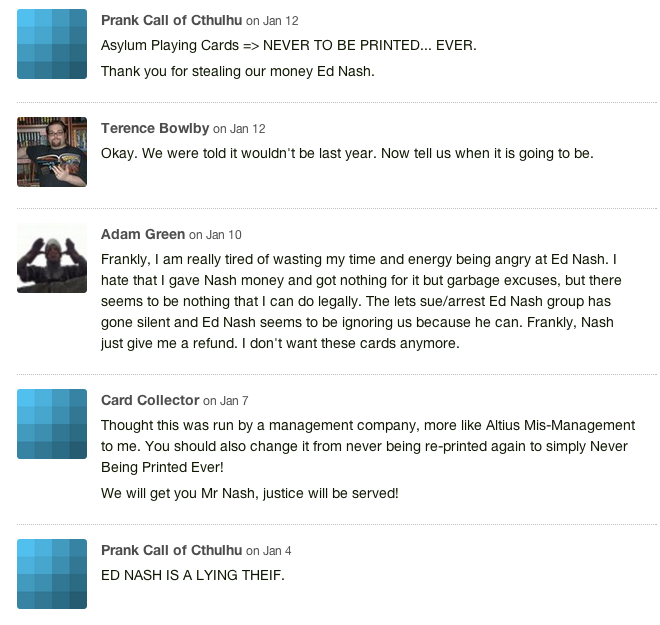 While the same social networks that facilitated Nash's initial success are now proving instrumental in his downfall, the not-so-mysterious con artist is still quite active online. There's a professional-looking LinkedIn profile choked with endorsements, he's sharing dancing-granny videos with his Facebook friends, and he's mock-mocking peacocks on Instagram. What remains of the Altius website, meanwhile, is virtually meaningless business jargon. According to LinkedIn, the company also has a vice president, "Mike S.," who is not named in the suit.
a
Kickstarter, whose terms of use clearly explain a project creator's legal obligation to investors, provided this carefully empathetic statement to GeekWire: 
Tens of thousands of incredible projects have been brought to life through Kickstarter. We want every backer to have an amazing experience, and we're frustrated when they don't. We hope this process brings resolution and clarity to the backers of this project.
The Washington State Attorney General's office sounded, by contrast, almost bloodthirsty:
This is a new frontier. We hope this sends a message to other potential project creators to take their responsibilities seriously.  We look forward to bringing more cases, if necessary, to protect consumers.
Alternatively, you can always just decline to give strangers your hard-earned cash for something that doesn't exist yet.  
You can read the full suit below. 
State of Washington vs. Asylum 5/1/2014
 H/T GeekWire | Photo by Carl Jones/Flickr (CC BY-NC 2.0)