How is it that a Facebook page called BitchyQuotes is 250 times more successful than the Facebook page for Facebook? How does a collection of slightly humorous photos called No Hope for the Human Race have more fans than Burt's Bees, and 547 times the engagement of Old Spice?
"There is a concept floating around that for large amount of people Facebook has become 'the Web,'" offered Wojtek "Voytec" Wacowski, the founder of Being Liberal, a popular political page on the social network. "[A]nd they prefer when all interactions happen inside of the walled garden of Facebook."
In essence, instead of creating a traditional blog or website through Blogger or WordPress, people are increasingly turning to Facebook to create themed pages, based on the same sort of single-subject viral fodder and image repositories that have powered the success of Tumblr. It's all about specialization and finding a niche (or having enough broad appeal to entice the masses).
Take the Being Liberal page as an example. It's a hub for all things distinctly left of center, a compelling collection of images, memes, and videos shared by fans of the page and cross-posted from other like-minded groups on the Internet.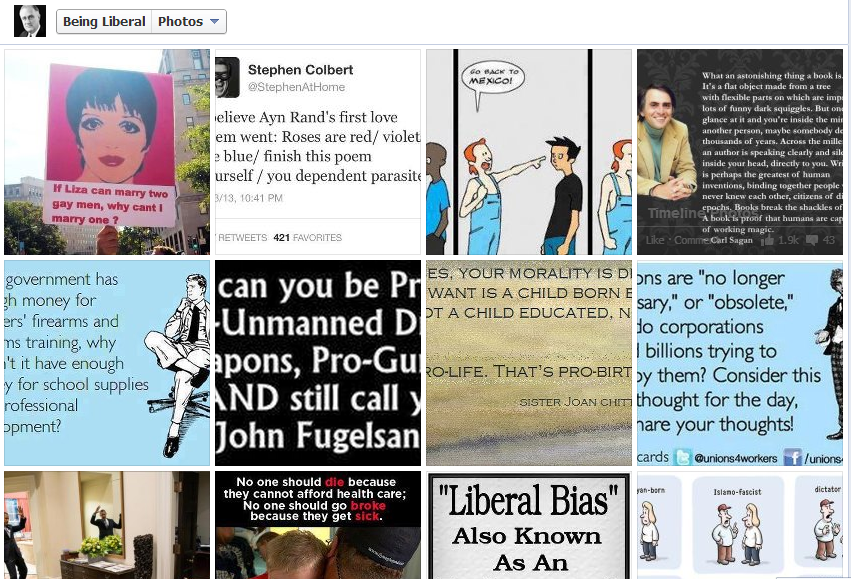 The trend may have originated with university meme pages, which utilized popular memes and related them to a specific university's culture or town, with successful pages for the University of Texas, University of Montreal, and New York University. They were the initial forays into targeted, image-based content designed to be easily sharable and social.
Now, there are mini-websites for politics (The Other 98 percent, Gun Owners for Liberty), science and technology (I Freaking Love Science, Fantasy and Sci Fi Rocks My World, The Dork Side); humor (Now That's Funny Shit, Quotes Central); and identity and cohort groups (You are SO MEXICAN If, Intelligent, classy, well-educated women who say F*ck a lot.)
Facebook was designed to be about a person or brand in a way that's different than the rest of the Web. These pages, however, don't fit into any real category: Are they fan pages? Communities? People?
Regardless, they've become some of the most engaging places on Facebook—and even the wider Web for the matter.
In 2011, Facebook introduced a new metric called "people talking about this" (PTAT). It measures not only the pure number of likes or fans a page has, but how compelling the content is and the level of engagement of its fans. This number takes actions into account: liking a page; posting to a page's wall; liking, commenting on, or sharing a page post or other content; answering a question posted; and mentioning a page in a post. The PTAT Metric, calculated by dividing the PTAT number by the number of likes, is the best way to measure depth of engagement of a Facebook page.
With the introduction of PTAT, you can see the problem huge brands face when connecting and engaging with their customers. Many brands, while they have millions of likes, have such low PTAT statistics that they almost aren't worth mentioning.
The Coca-Cola Facebook page has 57 million fans, and 567,000 PTAT, giving them a PTAT Metric of 0.99 percent. The Skullcandy page, mentioned specifically by Inc. magazine for being a standout brand page, has a respectable 1.9 million fans—but a PTAT metric of 0.79 percent. Burt's Bees, by contrast, is one of the more successful brand pages, with a PTAT metric of 2.13 percent.
Such statistics pale in comparison to truly engaging pages. George Takei (the actor, with his page serving as a general interest page rather than his personal one), has 3 million fans and a PTAT metric of 106 percent. BeingLiberal, with half a million fans, has a 150 percent PTAT metric. BitchyQuotes—253 percent. Oozing Awesomeness since 1986 (which is run by a single person and is incredibly similar to a personal Tumblr)  boasts almost 400 percent.
It's important to keep in mind that 'likes' can be gamed, or in some cases, purchased. What may seem like astronomical numbers could, in reality, be a much more modest following. Regardless, brands should be asking themselves: What is more important, a high number of likes or a more interested community? It's the same quality-versus-quantity quandary that many dotcoms struggle with when trying to secure venture capital.
According to a handful of operators for these social website pages, Facebook provides a no-cost platform and idiot-proof setup (superior to hosting companies), and removes the middleman of social media-sharing buttons and links plastered on every post.  
The advantage of being on a social platform isn't just the ease in which your content can be shared, but the ease in which your content can be created. Many of the most popular Tumblrs survive and thrive based solely on user-generated content (most recently, Teoing).
"The SINGLE most important source of content are the liberals who send me links and post on our wall," Wacowski said. "Being Liberal Facebook page could not exist without the feedback and content provided by fans."
Of course, the major question facing any Web enterprise is monetization. While these pages have an eager, widespread audience and a nearly unlimited stream of content that can be shared without even leaving the page or even dealing with a pop up, because they exist entirely inside the "walled garden of Facebook" they cannot display ads. In other words, they cannot gain income from traditional online means.
Some pages utilize an every-so-often promotional post, maybe a link to an Amazon product with a referral tag, or maybe a related T-shirt or poster. When Facebook changes its algorithms, most recently with EdgeRank, it hurts brand pages and also forces these mini-websites to adapt. They are at the whim of Facebook.
"I definitely saw a huge drop off when the 'pay to promote' feature came along," noted Thomas Buckley, administrator of the humor page Dude. Wait, What? "Suddenly, lots of people were saying my pics weren't showing up in their newsfeed and they had to actually go to the page wall to see them now. My growth dropped a lot."
It's unclear if this is just the tip of the iceberg for websites hosted entirely on a social media site, or if it's a short-lived fad until a different type of platform emerges. For now, though, enjoy thinking about the thousands of people employed and the millions spent by brands on their Facebook pages, only to be beaten by a teenager reposting pictures of fake iPhone texts.
Photo by electricnerve/Flickr; illustration by Fernando Alfonso