Corporations drop ads into your Twitter feed all the time, in the form of promoted tweets. But what would happen if you turned the tables on a company that gave you terrible service by taking out Twitter ads of your own?
One man spent $1,000 to find out. 
Hasan Syed tweeted his frustration after British Airways lost his father's luggage and failed to resolve the issue quickly, and he bought $1,000 worth of promoted tweets in the U.K. and New York City areas Monday evening to tell others about his shoddy experience. 
Don't fly @BritishAirways. Their customer service is horrendous.

—  (@HVSVN) September 2, 2013
Syed's promoted tweets appeared in users' timelines more than 76,800 times, he revealed Wednesday. While people clicked on the handles, hashtags, and image links he included in his tweets more than 14,000 times, he saw 10 or fewer retweets or replies to any of them. 
Checkout @British_Airways state-of-the-art baggage handling system pic.twitter.com/6kft4NTcB0

—  (@HVSVN) September 3, 2013
.@British_Airways To Fly. To Serve. pic.twitter.com/BMuuJLFXLV

—  (@HVSVN) September 3, 2013
Though Syed used British Airways's handle in his multiple complaints, the company did not respond until Tuesday morning.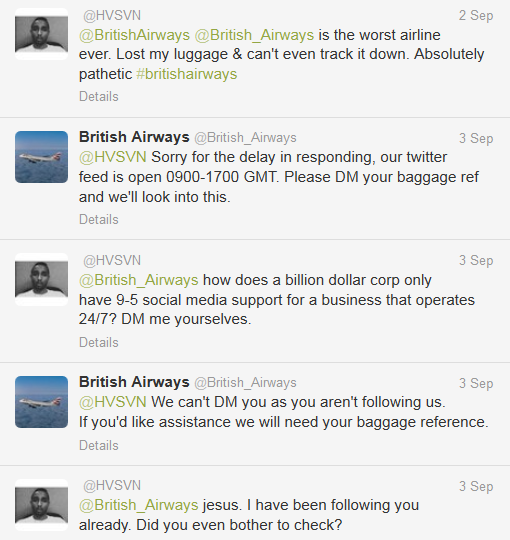 Syed's sole aim was to get the luggage back by shaming the company with promoted tweets and image macros until they found the bag. In that sense, his campaign was a success. 
I got what I wanted. I win.

—  (@HVSVN) September 4, 2013
H/T Tick Tock Social | Photo via Strange Luke/Flickr