Every woman knows that the single most embarrassing body-related issue isn't having cellulite, or love handles, or even a big butt. It's having an insufficient thigh gap. Your friends will laugh at you and no one will sleep with you and you can't wear tight pants to the grocery store without security frisking you to see if you've smuggled a ham in your crotch. The thigh gap is the only thing that matters.
That's why the national clothing retailer Target is promoting a healthy body image for women and children everywhere by taking the thigh gap to the extreme and chopping off their models' vaginas.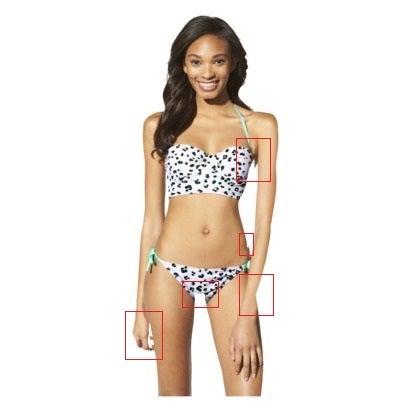 Via Imgur
This ad for an Xhiliration junior women's leopard-print "midkini" recently appeared on Target's website. As you can see from the photo, the model's crotch is concave to the point of near non-existence, as if it got scared by a loud noise and sucked itself back into her body like a turtle retracting its head into its shell. 
The person who Photoshopped the ad also shaved flesh off the model's hips, thighs, and arm, as well as inserting what appears to be a jagged edge of flesh underneath her arm. This is because Target models have sideline careers as military assassins who store their weaponry in their armpits.
Somehow, it gets worse. Here's another model. The images are still online.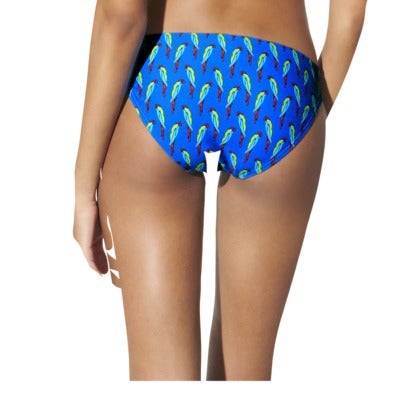 Because the garment was sold as part of Target's juniors line, which is targeted at teen girls, advertising-watchdog sites and feminist groups claimed that it promoted an "absurd image of a crotch that absolutely does not and cannot happen naturally" and perpetuated the media's "extremely dangerous and harmful" fascination with the thigh gap. Following the controversy, Target apologized for the "unfortunate error" in a statement to BuzzFeed, adding that the image was removed.
To which we respond: No need to apologize, Target! We totally understand! You have a responsibility to promote a healthy body image to women and children everywhere, and if your Photoshopper makes her look like one of the Tripods from War of the Worlds in the process, then that's a small price to pay for taking a brave stance against the scourge of fat vaginas everywhere.
H/T Reddit/Jezebel | Photo via JeepersMedia/Flickr (CC 2.0)