Last month, I tweeted a photo of a new Taco Bell item. It was a waffle with meat and eggs, drenched in syrup. 
*squints, nods* MT @gabebergado What a time to be alive. @TacoBell to roll out breakfast menu https://t.co/jOC9YvPtQr pic.twitter.com/Cvm73RNUCf

— Cooper Fleishman (@_Cooper) February 24, 2014
Little did I know, Taco Bell had identified me (and 1,000 others) as an influencer, probably because of my amazing Klout score and hard-hitting journalism about naked people wearing horse masks. I wasn't just anyone with a Twitter account—I was someone trusted to spread the word about a brand.
Fast-forward three weeks.
I was coming back from lunch on March 19 when I saw this package on my stoop. "Open me now!" it said. "It's really important."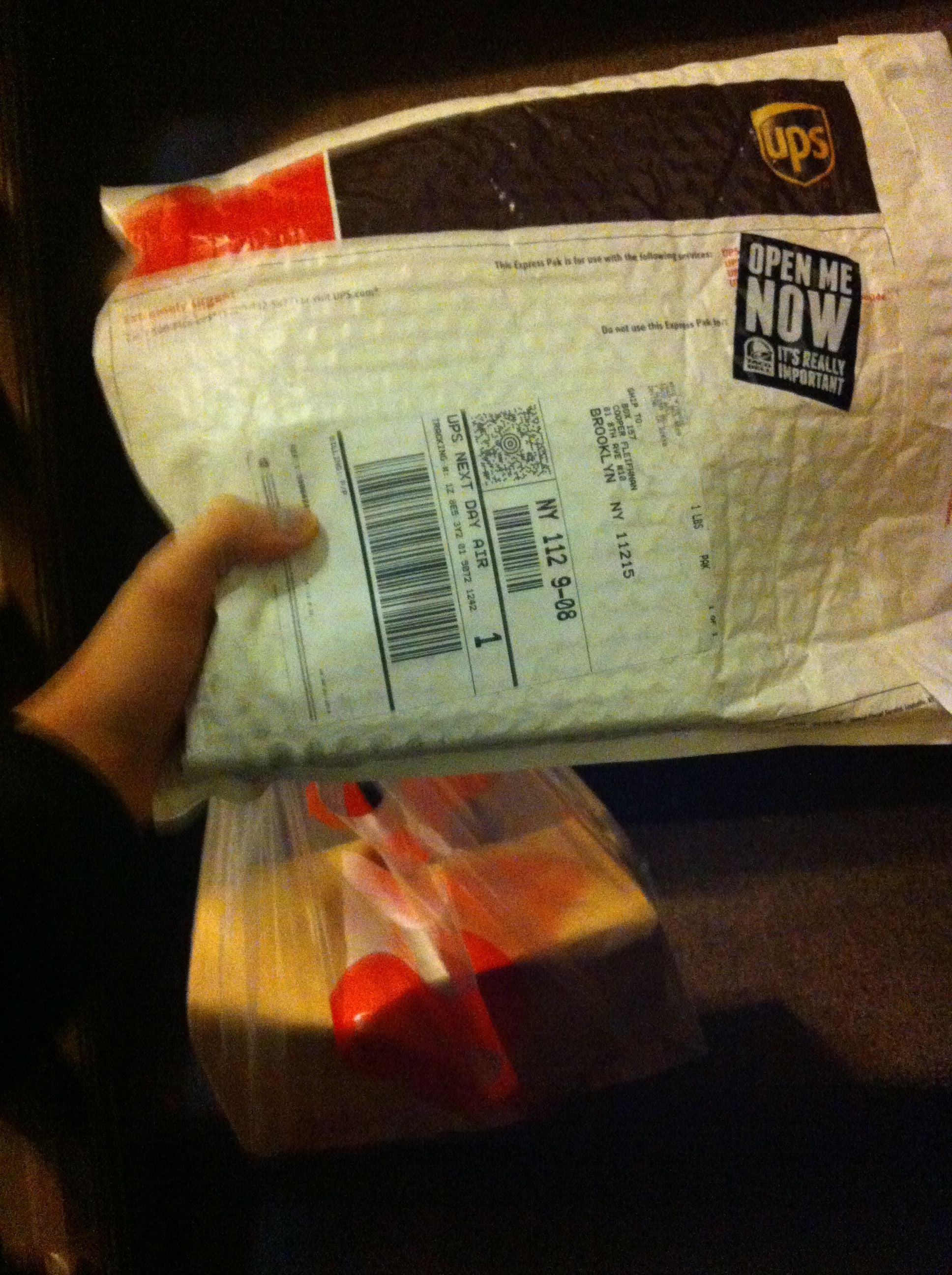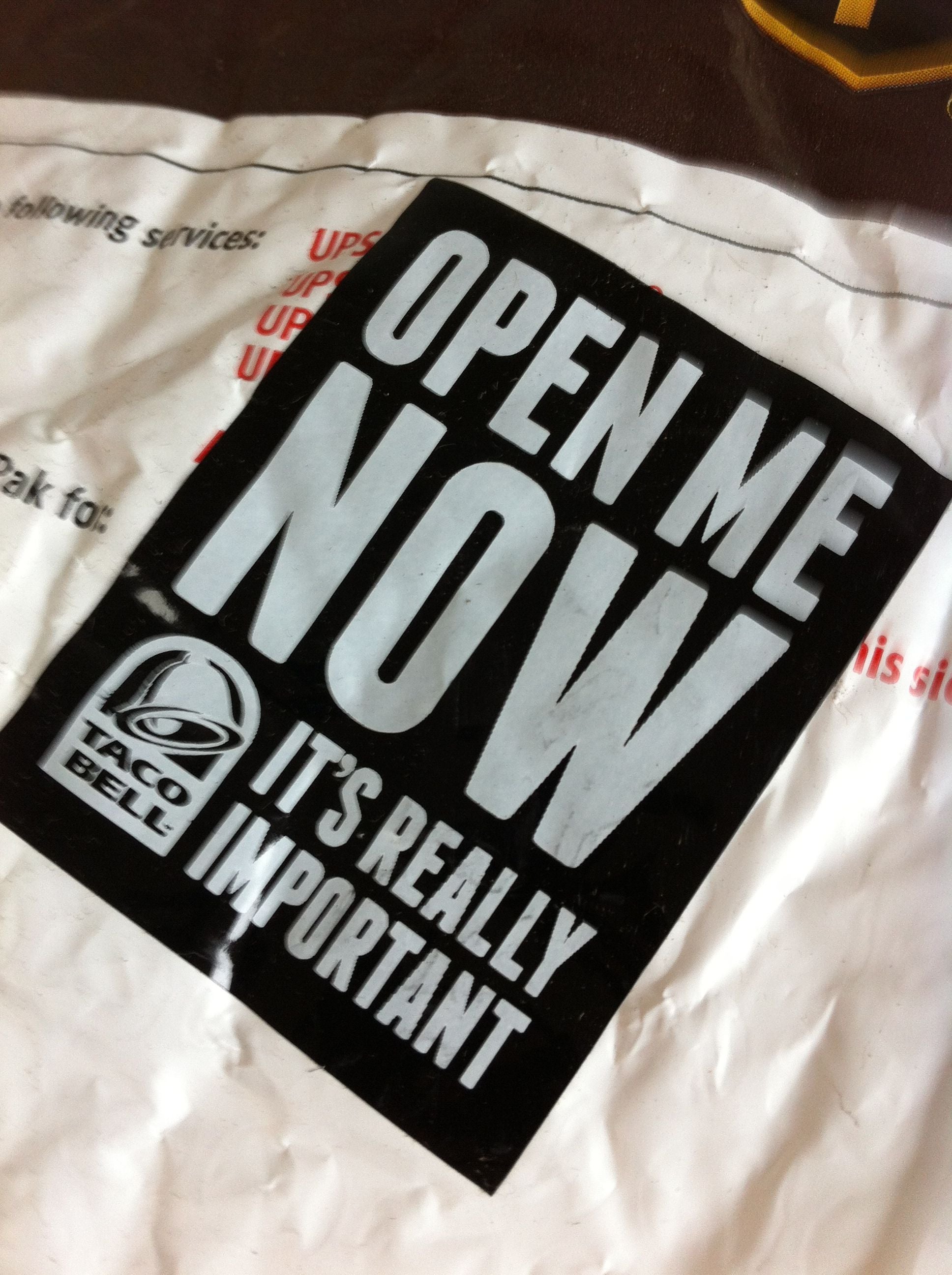 Inside was a box.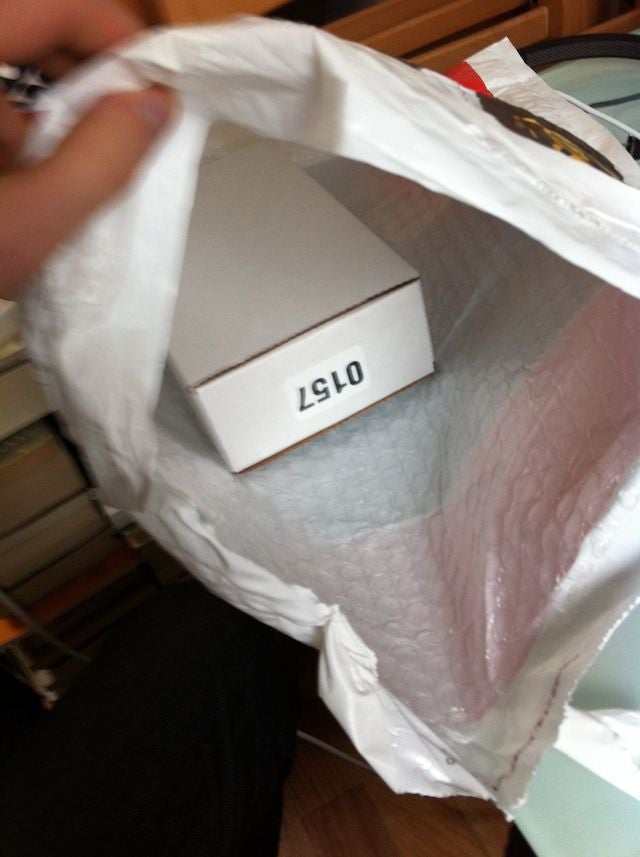 Inside that box was a phone. Not just any phone—a #BreakfastPhone.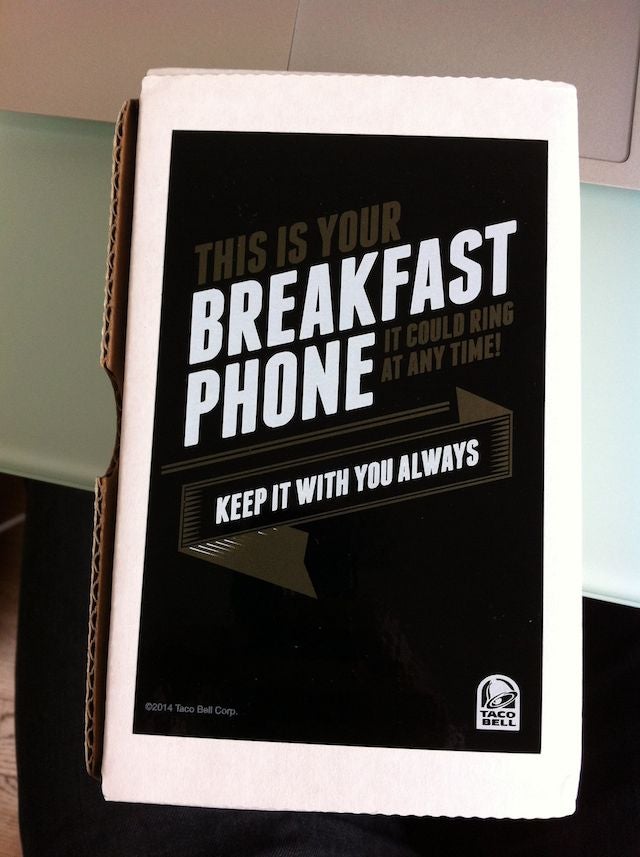 It's a prepaid burner phone, a Tracfone Samsung T404G.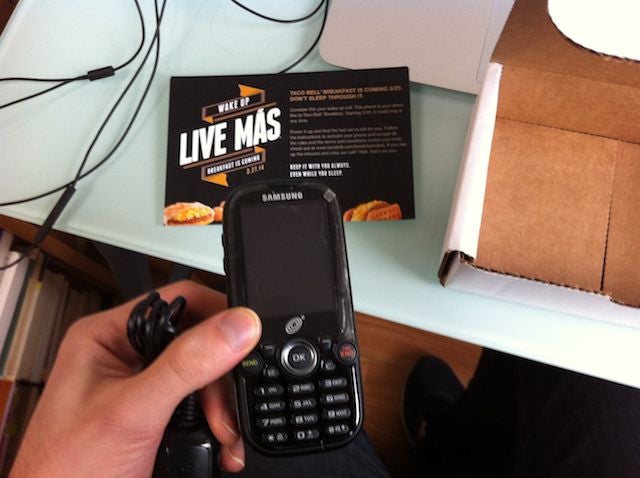 With it was an announcement.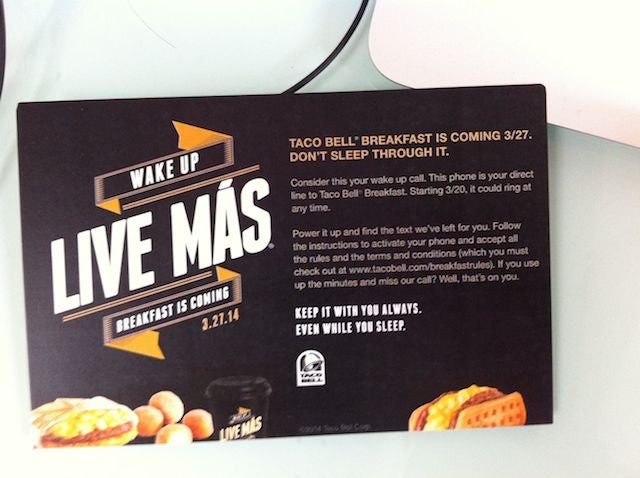 But when I turned the phone on, it was broken.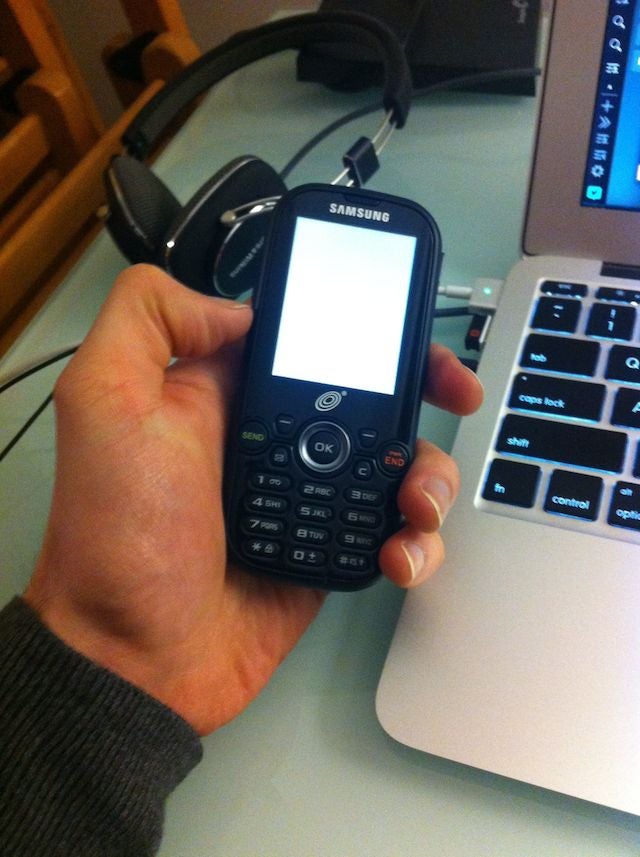 I sent frantic messages to Taco Bell.
I tried putting the SIM card in my ancient LG phone, which I still own because I am a hoarder.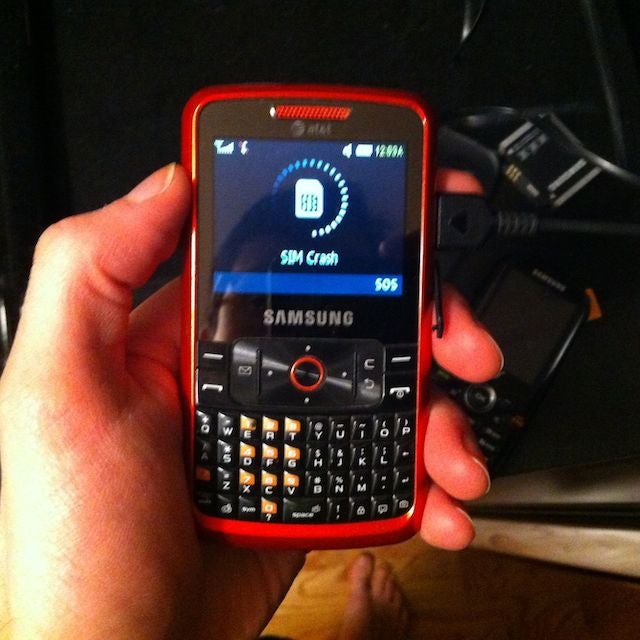 Nope.
A hero at Taco Bell sent me a new one.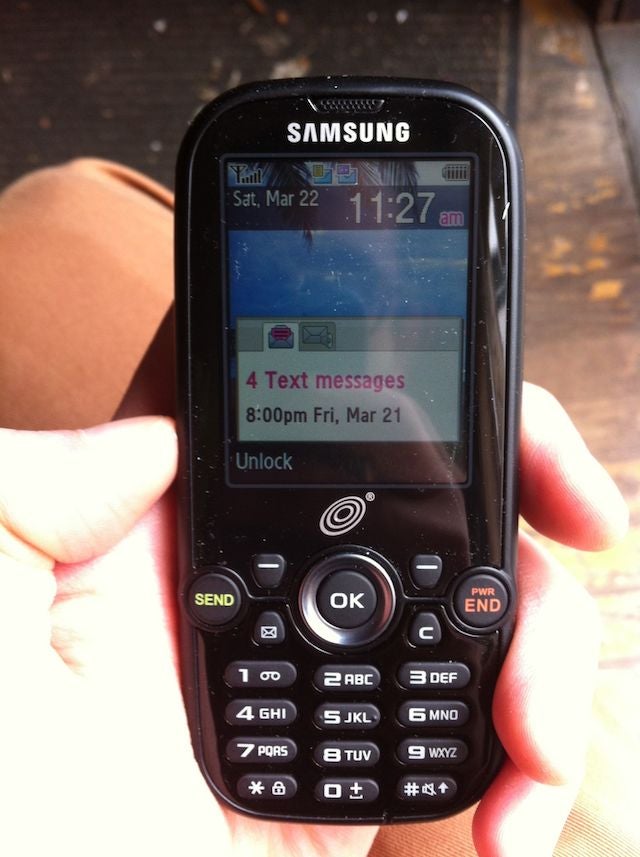 Taco Bell asked me to keep the phone by me at all times. They were not kidding! I got messages as early as 7 in the morning, asking me to tweet #WakeUpLiveMas with photos of the sunrise. I slept through many of the messages and ignored calls while I was working. Slowly, the voicemail began to fill up with messages. I was underwater. I couldn't handle the responsibility.
So I waited. 
The breakfast menu was released Thursday, March 27. I went to a location around the corner from our office, on 30th Street and 8th Avenue. I expected a massive line, but there was none.
That wasn't for a lack of activity, however. I spoke to the store manager, Masud, who said the president and CEO of Taco Bell had just arrived, dressed in suits. He showed me a photo, and indeed, it showed people dressed in suits.
Masud also said Viacom had placed a thousand-dollar taco order to feed the entire company. It wiped out the store for a little bit, he said.
I asked what the most popular item was. He said it was the breakfast Crunchwrap, because it's "more food." I like a lot of food. I ordered one.
I asked the cashier, Happy, what her favorite item was. She said she was a vegetarian, so she just got the hashbrowns.
My turn. The order—a waffle taco and Crunchwrap—cost me about seven bucks.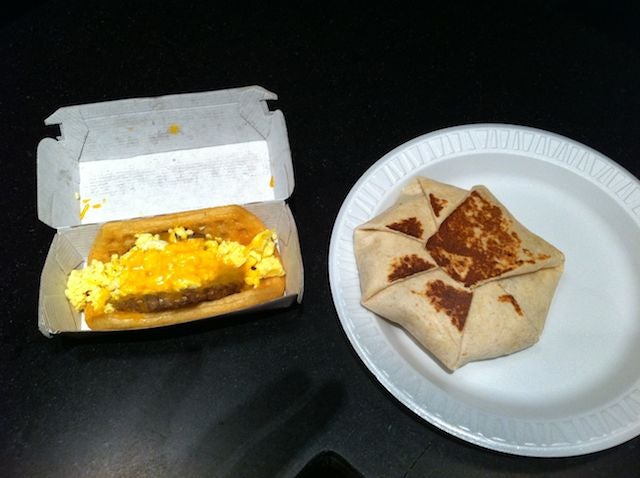 Here's a close-up of the waffle taco.
The verdict? Surprisingly good! I practically inhaled the waffle taco. It tasted like a sausage-egg-and-cheese sandwich you'd get from a bodega, but the waffle shell gave it a nicer texture. The cheese and egg and meat were well-proportioned. I didn't add any syrup. Honestly, it doesn't need it—it happens to be sweet enough already. My standards for early-morning face-stuffing are low, but I'd probably get it again. 
Also, an hour after eating one, I feel fine. I was legitimately worried I wouldn't.
Here is the Crunchwrap with bacon: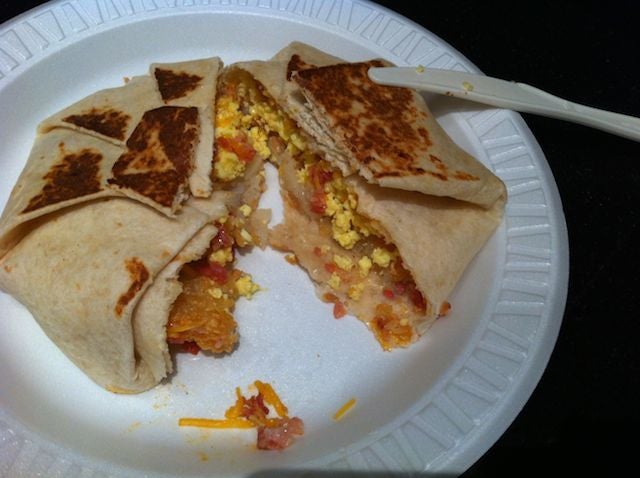 It's egg, bacon, cheese, and a hashbrown. Unfortunately, the hashbrown wasn't very crispy, so it didn't have much texture. Also, I made the mistake of cutting it in half, which made all the ingredients spill out.
It's tangy, with a little kick to it, said our writer Michelle. "There's some sort of sauce in there—probably the quesadilla sauce," she deduced.
"I'd get it again, but I wouldn't go out of my way to get it," Michelle added. That sounds about right.
Can Taco Bell compete in the world of breakfast, dominated (for me) by bagels and lox? Maybe—it's convenient, easy to eat, and a decent choice in a pinch. Also, it's the most Instagram-friendly breakfast food on the market. It got people talking like no oatmeal ever could.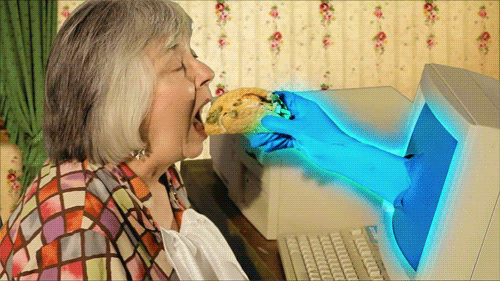 Illustration by Jason Reed