The social media manipulators who fooled Time and CNN into reporting on hoaxes are now lifting their content.
Swenzy's latest scheme is a blog called FoxWeekly. Since March 4, the site has pilfered dozens of copyrighted articles from the BBC, Fox News, the New York Times, CNN, the Associated Press, and Bloomberg. It's copyright infringement, plain and simple.
Here's one BBC story: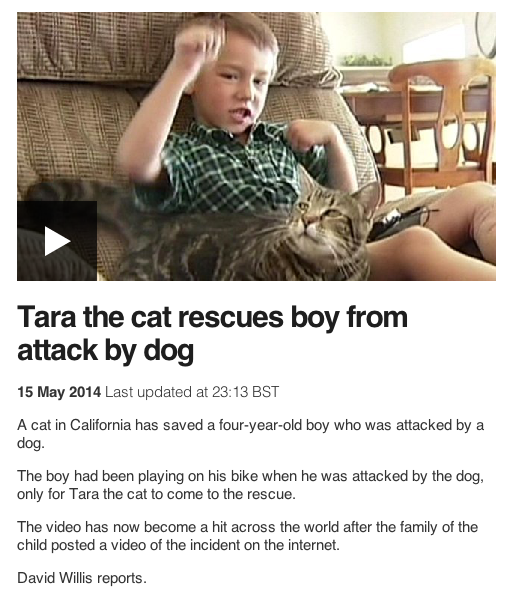 And the word-for-word copy, published on FoxWeekly:
Here's a FoxWeekly article on North Korea. Compare it to the New York Times piece it was lifted from. (Click to expand.)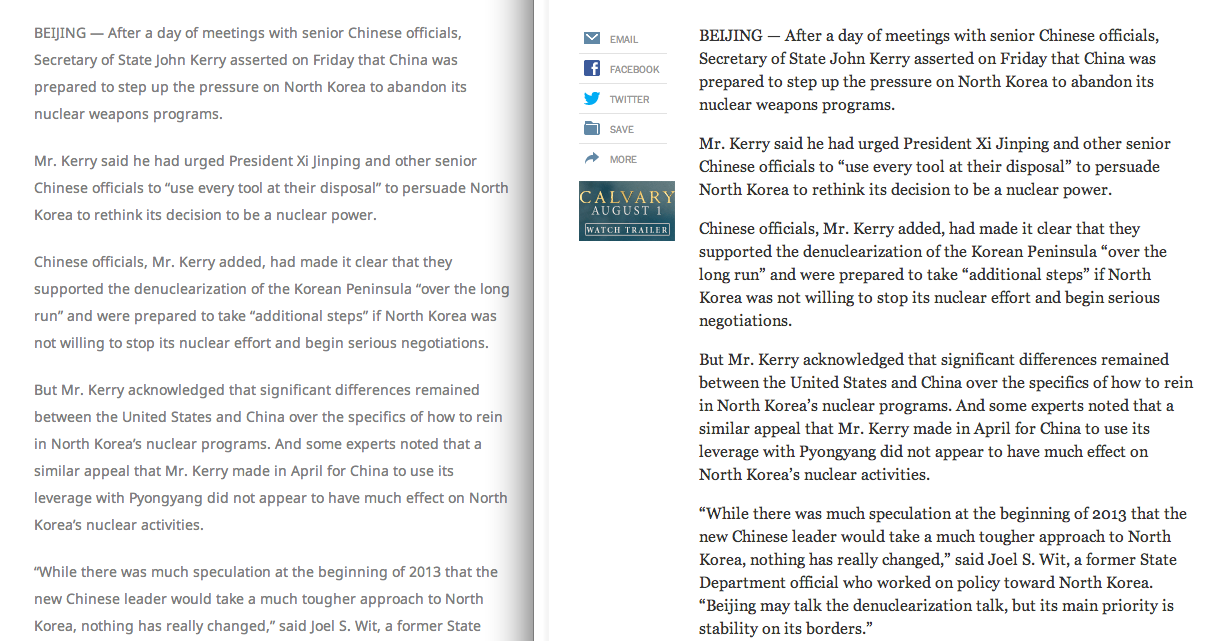 Here's an article ripped from Bloomberg. Original here.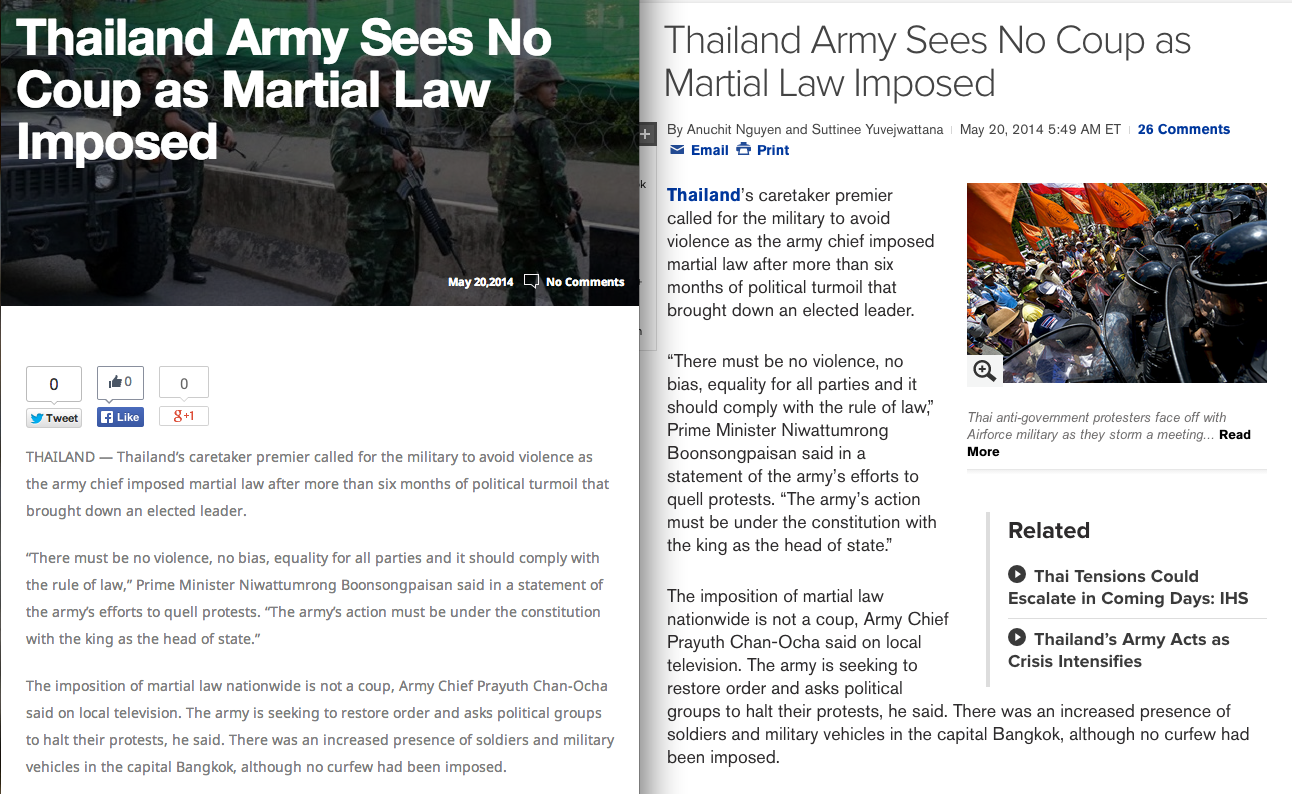 FoxWeekly articles usually list a source. It's rare to find one that links to the original article, however. And at the bottom of some stories, you'll find an attribution box that confirms these stories come from other sources. The box does absolutely nothing to remove the infringement.

FoxWeekly was founded by a man who interchangeably calls himself Joey, joey b, and juice7292—the same names used by Swenzy's mysterious founders.
The four other FoxWeekly "writers" are named Francis Kyle, Danny Rogers, Luis West, and William Howard. None of these writers, including Joey, has any kind of digital-news footprint.
The few original articles these writers have produced are music-related press releases.
The best example is titled "Soulja Boy, the New Prince of Hip-Hop."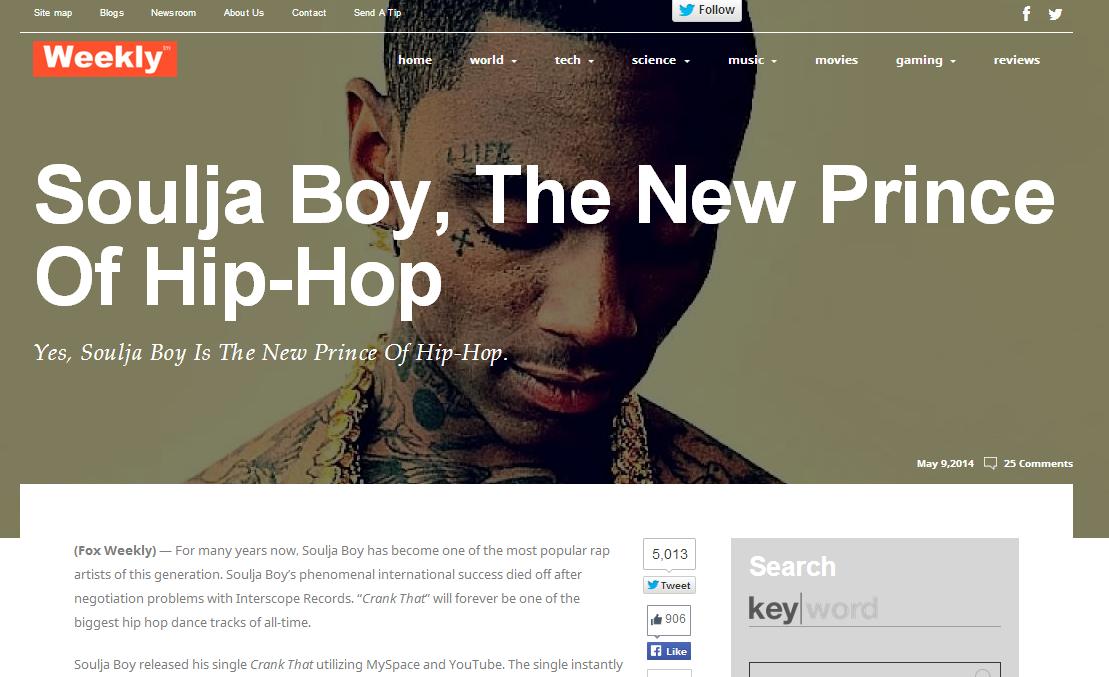 The article is intended as an SEO play, but also to build FoxWeekly's "brand" through social shares. This story did exactly that.
It was posted on Soulja Boy's official Facebook page on May 13. It collected 104 likes.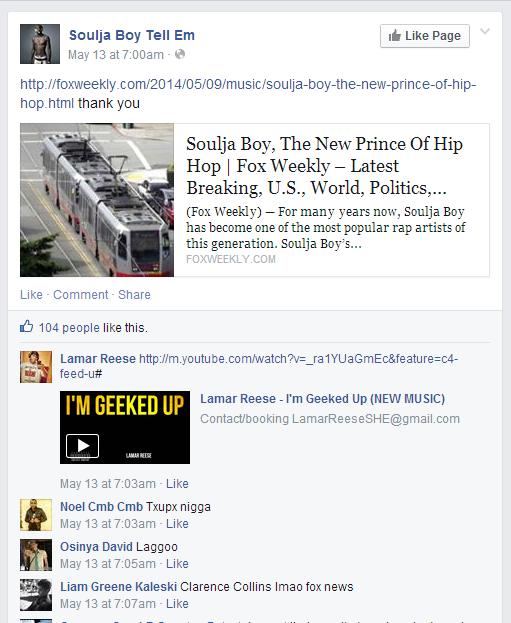 The rapper also tweeted it to his 4.5 million followers.
Thank you https://t.co/N7ENHktrda pic.twitter.com/xNLCKU2gno

— Soulja Boy (@souljaboy) May 13, 2014
On the unlikely chance that FoxWeekly ponied up the thousands of dollars required for an Associated Press subscription and access to its journalism, the Daily Dot reached out to them, CNN, and the Times to double-check. So far the Times is the only news organization who is investigating FoxWeekly.
The only other original articles on FoxWeekly deal with Swenzy's storied history.
Before Swenzy, the company was known as SocialVevo. Before that, it was just a group of YouTube botters who first gained notoriety in 2012 with a rap video called "Pickles." 
In the viral YouTube video, a man named Jacob Povolotski—also known as "Yasha Swag"—bounces around singing nonsensical crap. The popularity of the video wasn't organic—it was thanks to thousands of fraudulent views fabricated by these men.
In early 2013, the group branded itself SocialVevo, named after the massive video hosting service powered by YouTube. SocialVevo began launching Internet hoaxes targeted at NASA, Family Guy, and Grand Theft Auto. Each hoax was a classic bait-and-switch, driving thousands of people to Swenzy's homepage, where it sold Facebook likes, YouTube views, and Twitter followers. Swenzy was able to dupe legitimate news sources such as CNN, Time, and Gawker into reporting on its hoaxes—for example, Family Guy's supposed "countdown" to an announcement about Brian the dog.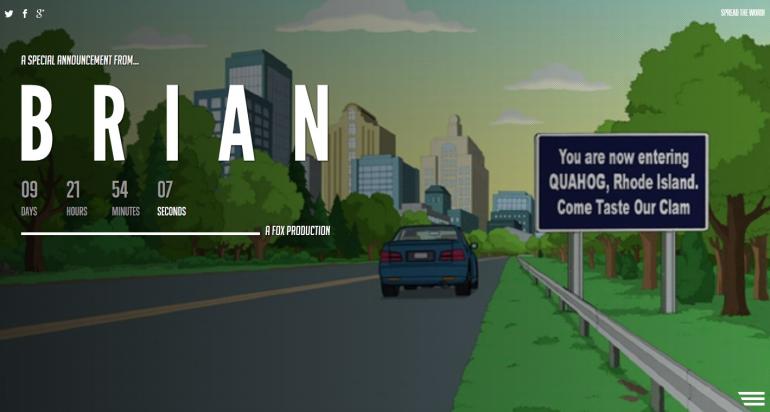 In January, after we reported on the Family Guy scheme, Swenzy launched a spam attack against the Daily Dot, flooding our official Twitter account with more than 75,000 fake followers. 
The group, which had changed its name after Vevo threatened to enforce its trademark against them last fall, suddenly found itself on the New York Times' radar.
On April 20, Times tech writer Nick Bilton included Swenzy in a story on buying influence and social media followers.
"A man I spoke with who would identify himself only as 'Simon Z' operates Swenzy, which he says is based in the United States," Bilton wrote. "It sells followers, likes, downloads, views and comments on social sites. He says his company is using artificial intelligence and other digital maneuvers to stay ahead of the bot hunters at big Internet companies like Google, Facebook and Twitter, which spend plenty of time trying to scrub bots from their sites. Sometimes it works—at least for a while."
Swenzy had its .com domain shut down by Facebook Saturday after the law firm Perkins Coie contacted the site on its behalf. Swenzy claims that Facebook had its business page and .com domain taken down for violating its rules against selling likes.
Swenzy has since switched to a .net domain. It no longer publicly offers any Facebook-related products.
The Daily Dot has reached out to Facebook and Perkins Coie for a comment.
This story and headline have been updated for clarity. We've also included several example screengrabs.
Illustration by Jason Reed