Some users are peeved Pinterest didn't give them more of a heads-up.
During an on-stage interview at the South by Southwest Interactive conference in Austin, Texas, Tuesday, Pinterest cofounder Ben Silbermann hinted that users could expect to see new profile pages as soon as "next week."
Three days later, the online image board has delivered on this promise early. In its first significant visual change since hitting mainstream awareness, Pinterest has just rolled out profile-page redesigns for all users. It hasn't released an official statement, but the change is obvious: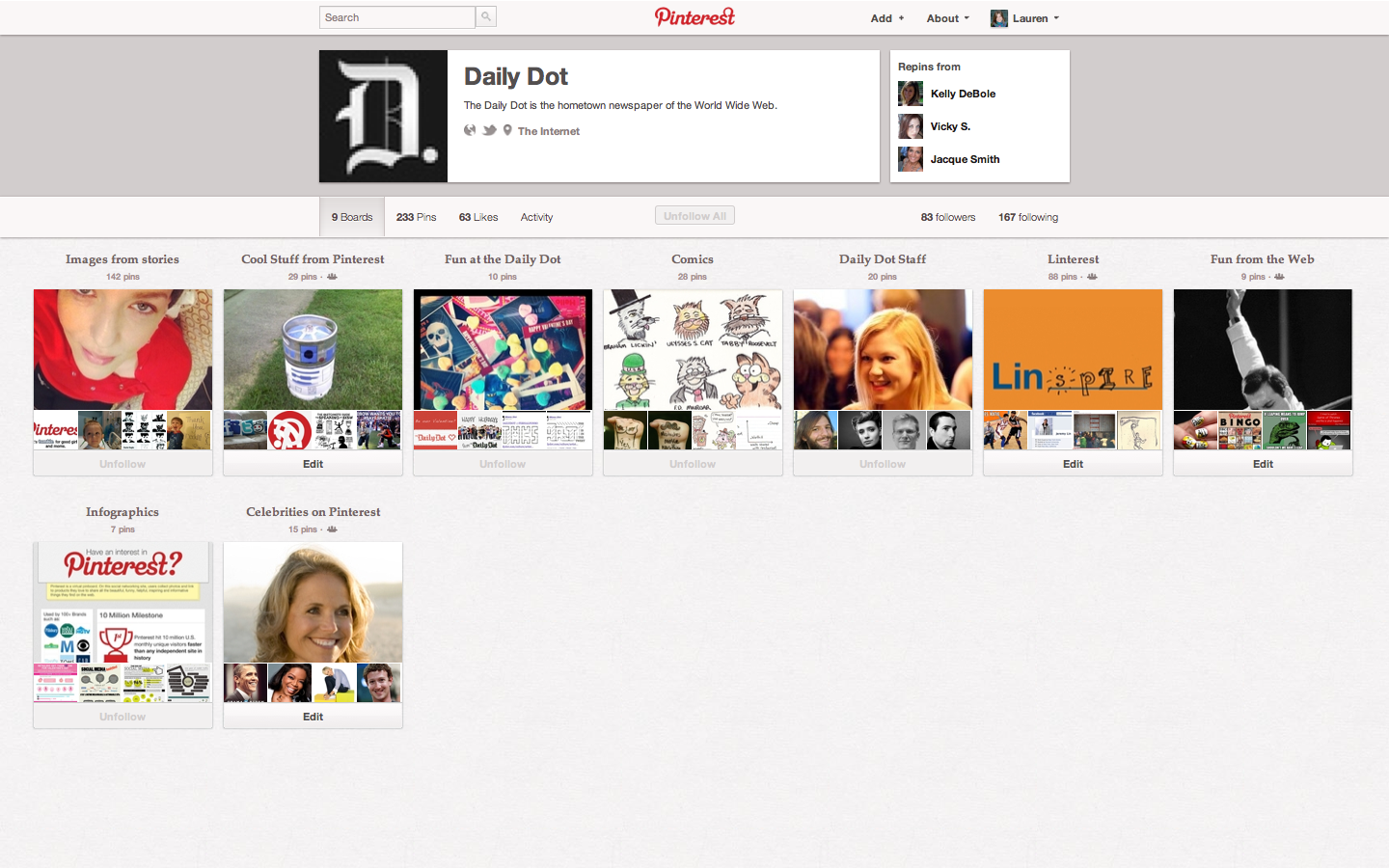 User profile information now appears as a horizontal bar above the pinboards. Previously, the profile showed up as a vertical column on the left.
The redesign has done away with the old nine-square grid of pinboard previews. Instead, a user's most recent pin is featured, taking up most of the preview space. So if a user has tricked out his or her board previews with an aforementioned image-slicing hack, it is now gone.
"[P]retty nice except it totally ruined the sliced collage/picture thing I had made," wrote Kimberly Reynolds in #PinChat.
LLSocial blogger Josh Davis has noted one other bug: Some users who previously had lengthy bios in the old profile format may now find them missing.
"Even in the Pinterest control panel, the full original description was gone," he wrote. "It isn't a big deal, but a little notice from Pinterest (even an email) would have been helpful."
The sleek new look has prompted The Next Web reporter Jon Russell to observe "the new layout bears more than just a passing resemblance to Facebook's new profile pages."
Pinterest's quick turnaround on a feature Silbermann only hinted at a couple days ago has us wondering if the cofounder's other promised improvements will be going live soon. Silbermann also told the audience at SXSW that new mobile versions of Pinterest and and an improved video-pinning feature were in the works. Perhaps these will also show up sooner than we expected.
Pure, uncut internet. Straight to your inbox.