Update: Kickstarter suspended this project following our inquiries. See the full update details below.
A wildly successful Kickstarter project has been accused of deceiving its backers and attempting to pass off pre-existing third-party products as its own designs.
The company, Panda, is run by a "group of college friends" who, two years ago, ran a successful campaign to crowdfund "eco-friendly" bamboo sunglasses on Kickstarter. The original sunglasses project raised $19,485—more than six times the $3,000 the team sought to raise. The glasses are now available to the general public on their website at $120 a pop.
On May 6, 2014, the company launched a new Kickstarter campaign—this time to fund the development and production of watches incorporating their "iconic bamboo aesthetic." In the two weeks since launch, the campaign has shot past its original target of $20,000, and has now raised almost $70,000 from 626 backers, with 16 days to go. Funding pledges start at $99 for a single watch.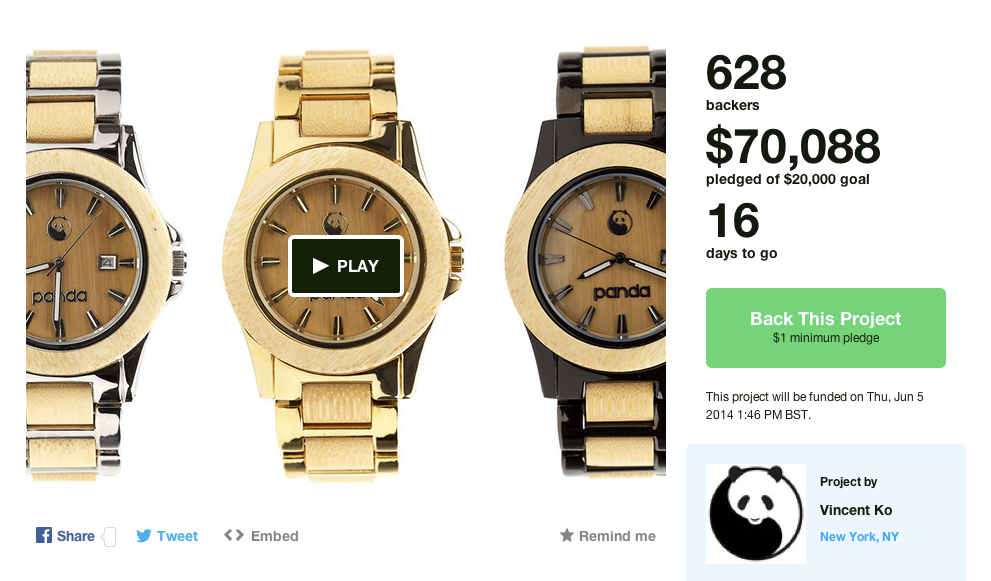 On the face of it, this is just another successful Kickstarter campaign, from a tried-and-tested company, with a business model built on crowdfunding. However, among the project's backers, discontent is brewing.
In recent days, commenters on the project's Kickstarter page began to notice uncanny similarities between Panda's own bamboo watch design and bamboo watches already available on wholesale website Alibaba, and online auction house similar to eBay.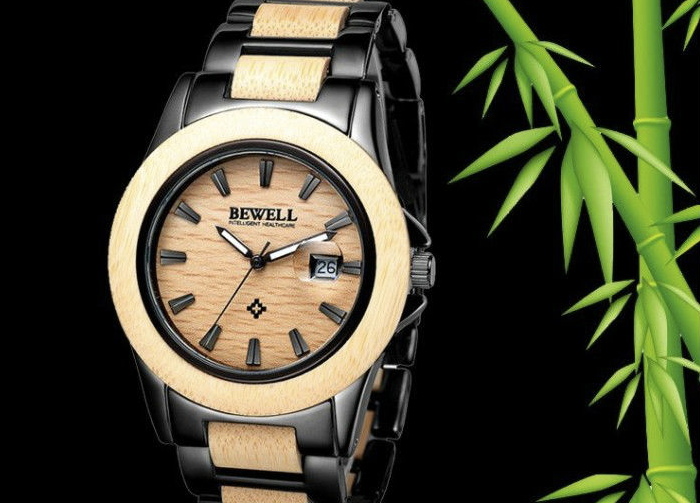 A screengrab from the Alibaba product page.
Even a layman can see the distinct similarities between the two products, with the only apparent difference between Panda's model and that of the wholesale watches being a redesigned face plate with the Panda logo added. One commenter, Caroline, accuses the company of "ordering a batch of watches from a Chinese wholesale manufacturer, sticking your logo on the dial plate and selling them for 3-4 or more times the wholesale price."
The model available elsewhere on the Web is manufactured by Bewell, and retails for between $15-19 on Alibaba—meaning that if the accusations are correct, Panda is offering them on Kickstarter for a more than 400 percent markup.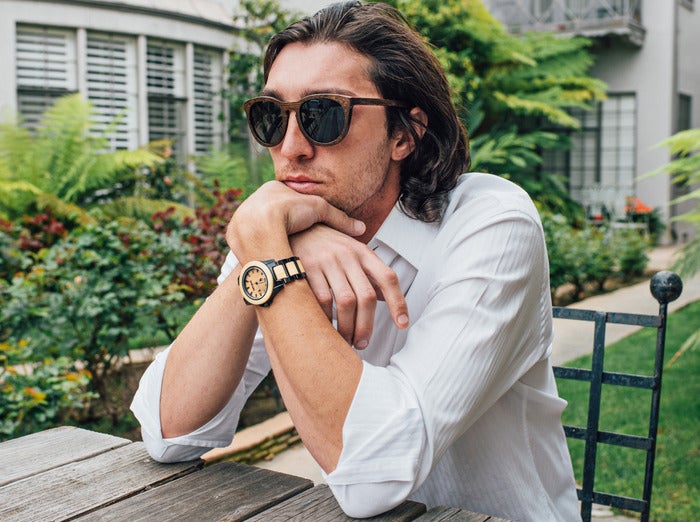 A promotional image from the project's Kickstarter page.
Project founder Vincent Ko has responded multiple times to inquiries in the comments section since the allegations first surfaced—but has not yet explicitly addressed the issue of whether Panda's product is simply a rebranded version of the watches Bewell has been selling since 2013, long before the campaign's launch. He has, however, implied that the Panda team isn't simply assembling these watches in their garage.
"In order to deliver our vision of watches we have to work with strong manufacturing design partners," Ko wrote in a comment on Kickstarter. "…[W]e have partnered and collaborated with many different people and companies along the spectrum of sourcing, designing and manufacturing."
Redditors on the r/kickstarter subreddit have also since pointed out that bamboo sunglasses strikingly similar to the ones that Panda sells can be found wholesale on Alibaba.
It's not clear whether this is against Kickstarter's Terms of Use, though the project may violate two stipulations of Kickstarter's campaign guidelines.
First, the guidelines state, "Projects cannot resell items or offer rewards not produced by the project or its creator." If the wholesale accusations are correct, that would seem to put Panda's watch project in violation of this rule—though it's unclear whether slapping on a new watch face constitutes an entirely new product in Kickstarter's eyes.
The second applicable rule in the guidelines may be equally problematic for Panda. It states:
Show your work

Projects must be clear about their state of development, and cannot be presented as preorders of finished products. Projects must show details (photos, videos, sketches) of their progress so far, along with a prototype demonstrating the product's current functionality. Projects must explain how the final design is likely to differ from the prototype, and include a production plan (i.e., how you're going to make it) and an estimated timeline.
The Panda team has at least attempted to abide by this rule, having posted this "Earliest Watch Component Prototypes" photo on the campaign page: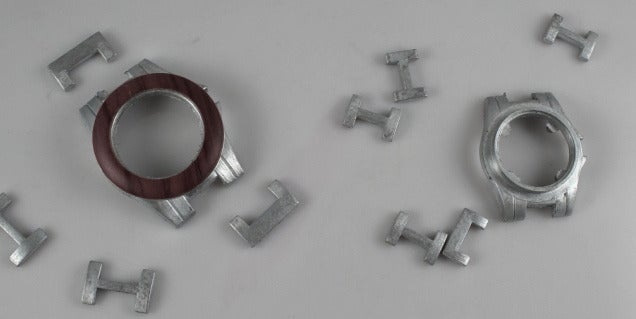 Of course, skeptics will say that it would be easy to create the look of this "prototype" by simply scratching the paint off an already-complete watch, and taking it apart. Panda also does not include any design or prototype footage in its promotional Kickstarter video.
Kickstarter user Robert Khoe, who has backed more than 460 campaigns to date, claims in the comments that previous campaigns have been "suspended by Kickstarter because the creator tried to resell an existing product from Alibaba." We have reached out to Kickstarter for clarification on its rules, and will update with whatever response we receive.
Either way, the comments left on the project's page make it clear that rebranding an existing product goes against what backers perceive to be the spirit of crowdfunding.
"The idea behind Kickstarter is to create something new and 'unseen,'" writes commenter Xuan-Viet Vu. "I backed several campaigns at [Kickstarter and Indiegogo] and all these products had something special and did not exist before. With Panda Watches, it's a different thing."
Multiple backers have since dropped their pledges to $1, or cancelled them entirely, whilst awaiting a formal response to the claims. Meanwhile, outspoken commenter Caroline asserts that Panda is "deliberately ignoring [their] backers' concerns about the authenticity of [their] watches."
Crowdfunding has seen numerous success stories in the past—most notably Oculus Rift, a virtual reality headset that raised almost $2.5 million in 2012, and was subsequently bought out by Facebook earlier this year. But it's also easy for naive or unwary backers to fall prey to frauds and hucksters, as was the case when Healbe successfully raised more than $1 million on Indiegogo to fund a health tracker that scientists say is medically impossible.
The Daily Dot has reached out to Panda for comment, and will update this story with any response we receive.
Update: Kickstarter has suspended the Panda watch campaign and issued the following statement:
As you can see, this project has been suspended, which means all pledges have been canceled and no money will change hands. Reports from our community and others help our moderators keep Kickstarter safe and effective.
The Daily Dot also spoke to Vincent Ko from Panda on the phone. He told us that while the watch body components were indeed manufactured and supplied by Bewell, the internal mechanisms are provided by a different, un-named Japanese company. He also alleged that competitors could be behind some of the negative comments from backers.
We are awaiting a formal statement from Panda and will update accordingly.
Photo via Chen Wu/Wikimedia Commons (CC BY 2.0)