Nearly three years after 4chan founder Christopher "moot" Poole launched his art products Canvas and DrawQuest, he's been forced to shut them down.
"No soft landing, no happy ending—we simply failed," he wrote on Tumblr.
"Building any business is hard, but building a business with a single app offering and half of your runway is especially hard (we created DrawQuest after the failure of our first product, Canvas)," Poole said. "I've come away with new found respect for those companies who excel at monetizing mobile applications."
Poole launched Canvas in January 2011 as the safe-for-work alternative to 4chan—a place where people could paste cute digital stickers on photos or create original works of art using built-in editing tools. 
By June 2011, Poole has raised more than $3 million for the New York–based venture. Six months later, Canvas employed six people in a spacious Union Square office a few blocks from Tumblr, had collected 1 million posts, and had facilitated the exchange of more than 5 million stickers. 
A solid chunk of those stickers had been given out to Joe "photocopier" Palfreyman, of Manchester, England. In November 2011, Palfreyman took home first place in Canvas's first official drawing contest, beating out more than 300 other users. Palfreyman's illustration of a whale jumping out of the water to eat some cookies has collected more than 1,500 stickers and won him a print of his art shipped to him in England, courtesy of Canvas.
One of Canvas's other 70,000 registered users was Jason "shooper" Reed, who won a image remix contest we had sponsored on Canvas in the fall of 2011, and who later became a freelance illustrator for the Daily Dot. Like Palfreyman, Reed was an early 4chan user who had been looking for a place to express himself artistically, where he wouldn't be barraged with obscene images and language. 
"I'll always remember Canvas fondly," Reed told me. "If it wasn't for that 'Turkish Cat GIF' thread, I'd likely still be toiling in complete, rather than relative, anonymity."
One user, named bhudapop, painted a remix of the Turkish cat and mailed it to me. It is currently hanging in the home of Daily Dot editor-in-chief Nicholas White.
Canvas was different than competitors like 9gag because of its ability to interpret breaking news with images. In January 2012, Arizona Gov. Jan Brewer was photographed greeting Barack Obama at the Phoenix airport with a wagging finger. She was upset over how the president responded to her book Scorpions for Breakfast: My Fight Against Special Interests, Liberal Media, and Cynical Politicos to Secure the Border. Canvas latched on to the awkward image and created several notable remixes that landed in the Washington Post.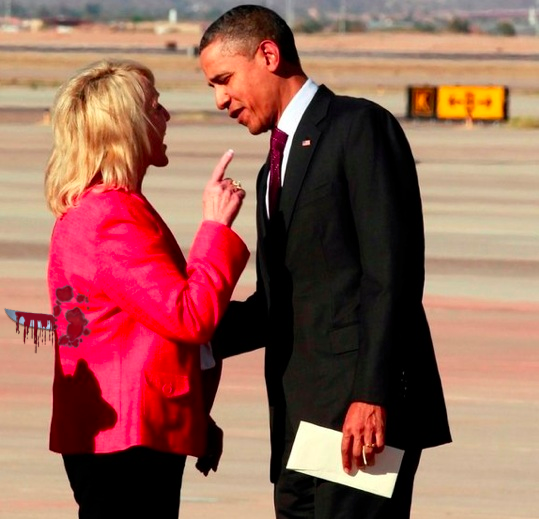 Canvas followed up that success with some stellar remixes during a May 2012 protest in Chicago over the NATO summit. One controversial photo emerged from ruckus, showing a police officer reaching for a camera with his right hand clenched.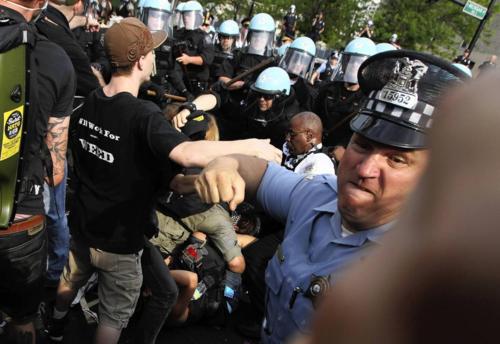 These were some of the remixes the community made of the image: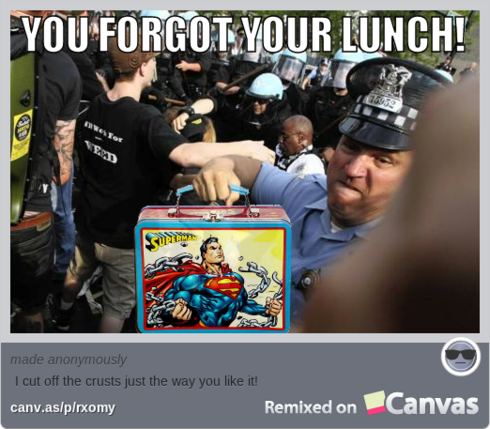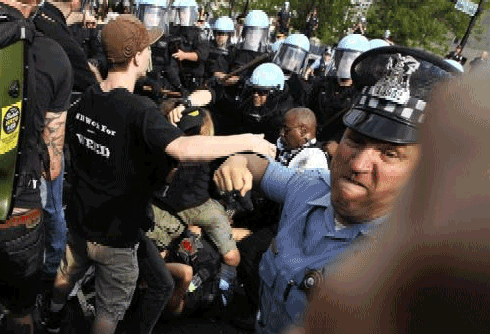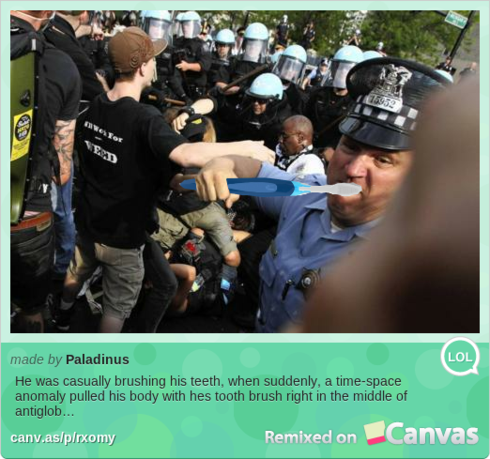 It was fun while it lasted. In February 2013, Poole launched DrawQuest, partially inspired by a Canvas feature called Monster Mash, which allowed artists to collaborate on drawings. Over the next 11 months, the app was downloaded more than 1.4 million times in a year and used by about 25,000 people a day (400,000 in the last month alone). But like Canvas, Poole was not able to "crack the business side of things."
"With that said, life goes on, and the best path forward is not a wounded one, but a more learned and motivated one," Poole added on Tumblr. "I'm definitely not itching to start another company any time soon—it will take time to decompress and reflect on the events of the past four years—but I hope that if I do some day decide to pursue a new dream, I'll be in a much better position to."
Poole will continue to run 4chan, which recently celebrated its 10-year anniversary, and promises to write more about his startup experience. 
As a fitting end to Canvas, some of its most influential users have been making their final goodbyes with images, stickers, and kind words. (Click to enlarge.)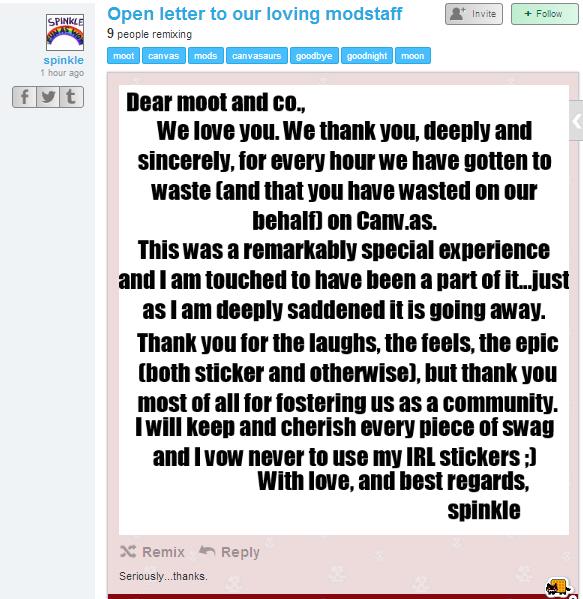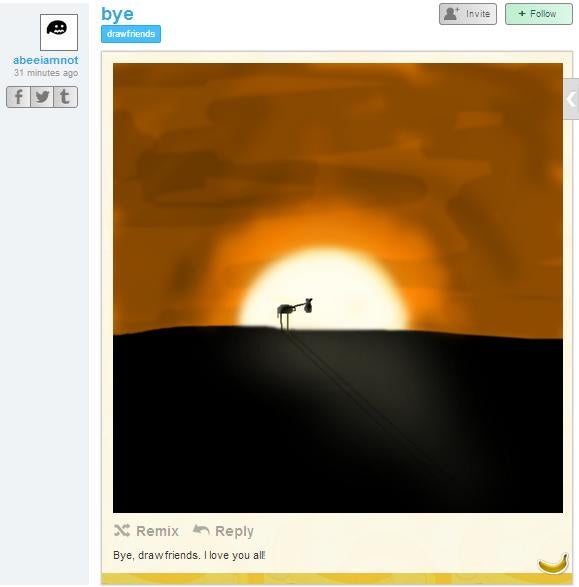 Illustration by Jason "shooper" Reed