For online businesses, reviews mean everything. An extra star on your business's rating on eBay, Yelp or TripAdvisor can mean the difference between profit and bankruptcy. So, it's no surprise that companies will go to extreme lengths to protect their honor—as one Reddit user found out this week.
Reddit user trevely says he purchased a Medialink Wireless-N Broadband Router from Amazon last September, but had multiple concerns about the product as soon as he received it. First, he says, the device was simply a rebranded version of the technology sold by Tenda; and secondly, something appeared to be amiss with the Amazon reviews of the product.
Photo via Medialink/Amazon
On September 26, 2013, he posted a review on the product's Amazon page airing his suspicions—a review that grew to become the most popular, by a considerable margin, with more than 7,000 readers having "found it helpful," at the time of this writing. Though he has since altered the review, it originally read:
It's unfortunate that so many people have been taken in with this product, but I'm here to warn you: A lot of these reviews are fake. Just search Google for this company, Medialink, and you'll find almost no history and no reviews from legitimate websites. In fact, if you are wondering why this product looks IDENTICAL to another $20 router sold at Amazon by a company called Tenda, that's because it is the SAME router, just rebranded and with a different color. In fact, the FCC filings for MediaLink confirms that it is the same product. Look here: [ link removed ] Save yourself the money and go with an established router brand, like Asus, TP-Link, Linksys or Cisco.

Furthermore, how likely is it that a router from a company that doesn't actually make their own products suddenly jump to the top of Amazon with 73 percent 5-star perfect rating? It's very likely that they are paying for reviews. It's unethical, but think about it: They only sell these routers on Amazon, so the whole success of their company depends on Amazon reviews.
Medialink has now responded—with legal threats.
In a Reddit post Tuesday, trevely shared photos of a legal notice he received in the mail from Mediabridge Products, LLC declaring the company's intention to take him to court for "defamation."
Click here for the full imgur album containing the letter.
Treveley's review is "blatantly false, defamatory libelous and slanderous," the letter reads, resulting in "substantial and damaging confusion for Mediabridge/Medialink and its customers."
These claims "constitute trade libel," it continues, and "can only be viewed as an attempt to improperly and intentionally interfere with Mediabridge's business, disparage the excellent reputation of Mediabridge in the industry, and/or gain for someone else an unfair and illegal competitive advantage; or to gain notoriety for yourself, at Mediabridge's expense."
In order to avoid the coming litigation, Mediabridge demands the review be removed entirely within three days of receipt of the letter, for trevely to "cease, desist and refrain" from any further "injurious conduct," to never again buy any of the company's products, and to never "publicly comment" about any of their products.
After posting the letter on the r/legaladvice subreddit, which is dedicated to providing legal assistance to redditors, treveley has been met with a wave of support. Mediabridge's conduct is potentially harassment, user dongsey-normus says, and to harass or bribe a customer in order to make them change their reviews is a "terminatable offence" for Amazon sellers.
The Amazon page on Prohibited Seller Activities and Actions clearly states that sellers "may not ask buyers to remove negative reviews."
Were Mediabridge to sue treveley, the lawsuit may be considered a SLAPP, or "Strategic Lawsuit Against Public Participation." These types of lawsuits are designed to silence members of the public who speak out but may not have the resources to fight for their free speech rights. Lawsuits against negative online reviews often fall into the SLAPP category.
While Flordia, where treverley says he lives, has a narrow anti-SLAPP law, New Jersey, where Mediabridge is based, has no such statute. Either way, courts in the U.S. are often wary of SLAPPs.
Treveley says he has reached out to Amazon by email, chat and phone, and he has also edited—though not deleted—his review. The new one reads as follows: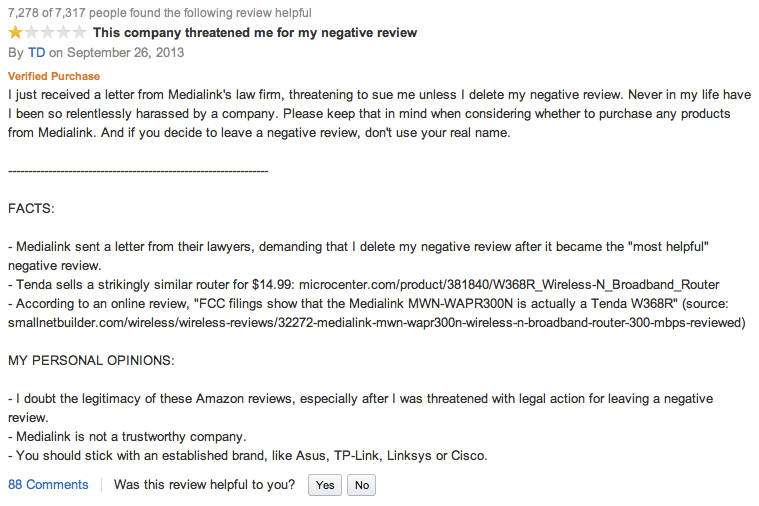 Redditors have flocked to the coment section of the product, apparently angry with Medialink's response, and are flooding it with negative reviews of the router.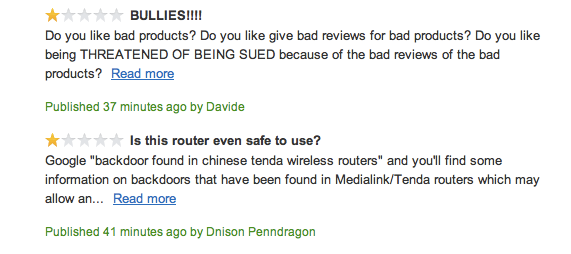 Amazon review sections have become prime spots to ridicule products the Internet disapproves of, with satirical reviews appearing on products ranging from pepper spray to toilet roll holders with a built in iPad stand.
They've also played host to controversy, with authors now officially banned from reviewing books in their own genre after a popular novelist was found using fake sockpuppet accounts to try to discredit rival authors. More recently a Daily Dot investigation found that the sale of counterfeit goods on Amazon is aided by the review system, which gives all products listed as the same an identical ranking, regardless of their validity—dangerously muddying the water for customers trying to make informed purchases.
The Daily Dot has reached out to Amazon and to Mediabridge for comment, and will update this story with any response we receive.
Photo via Sam Howzit/Flickr (CC BY 2.0)