Two indie comic artists received a valuable lesson on the fine art of crowdfunding when a scammer copied their Kickstarter campaign word-for-word to a rival site. And the scammer was a real public relations hustler.
"It was actually kind of educational," Ken Lowery, one of the artists, told Comic Alliance.
Lowery and his partner, Robert Wilson IV, launched the Kickstarter on April 15, 2013. Their project—a one-off comic about a psychic medium investigating a long-term haunting in her neighborhood—met its goal quickly, about three days after launching. That was when Wilson received a curious Google Alert (he has one set to his name, which might seem vain but, as this case shows, is pretty damn useful).
The message told him that a Robert Wilson IV was also running a fundraising campaign on Indiegogo. As the only Robert Wilson IV writing a comic called "Like a Virus," he was reasonably confident the thing was a scam.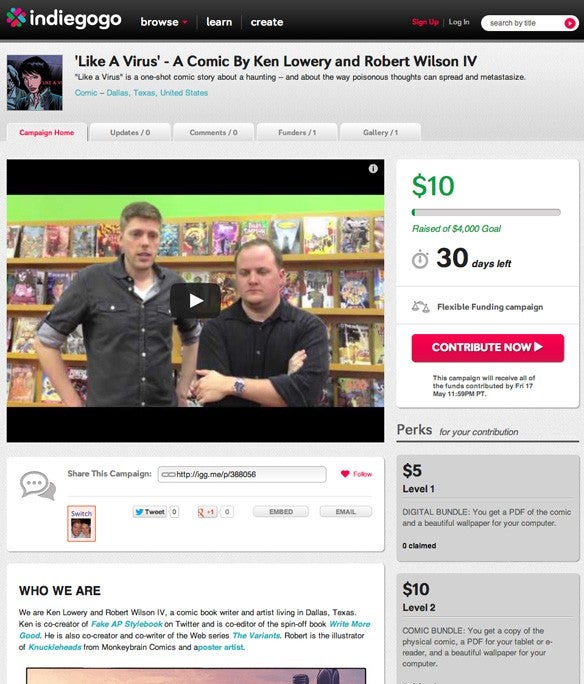 Screengrab via Comics Alliance
So he investigated it, and what he found was somewhat astonishing: The scammer had copied every single aspect of the duo's Kickstarter campaign, right down to the rewards for donations and the images. Once discovered, it didn't last long: With some friends, they launched a campaign to report it to Indiegogo, and soon enough it had been deleted. It had only raised $10.
But Lowery and Wilson still had the unenviable task of going to a half dozen comics forums where the industrious scammer advertised the campaign.
Lowery told Comics Alliance: "I was happy to see that by the next morning, most of those fake threads had been deleted, although according to my Google Alerts, they were still posting about it elsewhere even after the campaign had been shut down."
"They had a better broad PR strategy than we do!" Wilson added. 
Who did it? Lowery and WIlson aren't sure. Their only hint: Whoever it was did not speak English as a first language. In the few sections on Indiegogo that differed from Kickstarter, where the scammer had to write his own text, the writing was nearly illegible. That leaves about 6.5 billion potential suspects.
Screengrab via IndieGogo