Funding in Kickstarter's Games category has skyrocketed this year, up $47 million from 2011. 
In some ways, using Kickstarter is a lot like playing a game. You pick a project to back, put money toward it, and if it gets funded, you win a prize.
That might be one of the reasons that the Games category does particularly well on the network. This year, users have already pledged more than $50 million toward gaming projects, at least $8 million more than in any other genre, Kickstarter reported.
In a blog post, Kickstarter posted graphics to illustrate that even as quickly as the site itself has grown since its founding in 2009, the Games category has grown more dramatically—from the eighth most-funded category in 2011 to the first. From Jan. 1 to Aug. 31, users have pledged $47 million more to games than they did last year.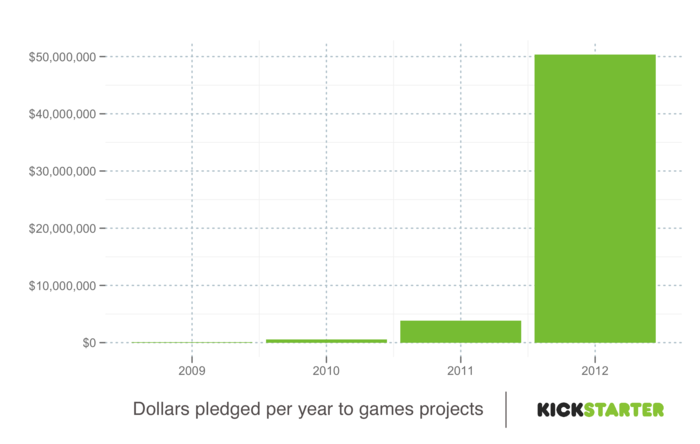 It's not just that the most money is going toward games. It's also that users are making the largest donations and funding the largest projects in that category. Out of 11 total projects on Kickstarter to date that have broken the $1 million mark, seven were in the Games category, and an eighth was for a comic inspired by a game.
As for why this is happening now, Kickstarter cofounder Yancey Strickler and engineer Fred Benenson—the authors of the blog post—have their own theory:
"The catalyst for the category's growth happened in February, when a video game project called Double Fine Adventure raised $1 million in its first 24 hours. The gaming world hasn't looked at Kickstarter the same way since. Double Fine signaled to game developers that they could use Kickstarter to do something that previously seemed impossible: make the game they wanted without outside interference."
Commenters on the post have their own ideas, however. Taylor Pratt hypothesized that games are more likely to attract die-hard fans.
"Board and card gaming is a great fit for kickstarter because it's very niche-specific," he wrote. "Most people have zero interest in backing a board game, and those who do have very high quality standards, but those who do will back projects with great enthusiasm."
Another commenter, Harald Korneliussen, noted that gamers spend a lot of time online.
"[B]oard gamers also have a big online presence," he said. "And if you've been to boardgamegeek, you know we love discussing mechanisms, auctions, etc. Kickstarter's funding model is a great "game" mechanism in itself, and we love great mechanisms. And stats, oh man, stats. [Kickstarter statistics tracker] Kicktraq was started by a board gamer, and that was no accident."
Photo by viZZZZual
Pure, uncut internet. Straight to your inbox.