Instagram, more than anything else, is about the community. 
Pretty filters may have helped hook people initially, but the mix of quality photography and right-here-right-now snapshots has led to a thriving community of more than 100 million people and millions more compelling images.
Instagram might have cooked its own goose, however, with recent updates to its terms of service (ToS). It led many to believe that Instagram would have the right to sell their photos. That's not possible: You retain the copyright on images you share on Instagram.
Instagram cofounder Kevin Systrom attempted to clear up some concerns, and promised to fix any mistakes in the ToS. "Our intention in updating the terms was to communicate that we'd like to experiment with innovative advertising that feels appropriate on Instagram," he wrote, noting that advertising isn't the only way to build "a self-sustaining business."
It's not clear what Instagram has in mind for its ads. Much like parent company Facebook, it may want to personalize those ads as much as possible. Instagram may note that your friend follows Starbucks, for example, and suggest you do the same. What is for sure is that Instagram will not sell your photos, it has no plans to use your photos in ads, and that if your account is private, only people you've approved to follow you will ever see your photos.
For those who are concerned, there are some alternative photo-sharing platforms out there. EyeEm, Hipstamatic, and even Flickr, the elder statesperson of photo-sharing communities. If quick photo filters are your bag, Twitter has them on its mobile apps now. For those a little more adventurous, Cinemagram and GifBoom let you create GIFs on the go. Just be sure to check those services' privacy agreements first.
Who knows, perhaps this might even get people to share photos on Google+. The Google-owned photo-editing app Snapseed has built-in sharing options to that community. However, there's no way to check out your friends' pics from within Snapseed; you'll have to venture to Google+ instead.
In any case, many people are angry about Instagram's move. A petition to Instagram to change its ToS (created before Systrom's statement) brought more than 7,400 signatures. Several shared screenshots of their deleted accounts with Anonymous through the collective's #BoycottInstagram operation. Around 2,100 Instagrams bore the #boycottinstagram hashtag by noon ET Wednesday.
For the record, there are either no photos using the #fuckinstagram hashtag (unlikely), or Instagram has chosen to hide the tag (more likely).
If you do take the plunge and delete your Instagram account, note that once you do, there's no way to get it back.
Actor Seth Green, a photography enthusiast, claimed he might delete his account and debated the issue with followers, questioning which alternative services have a solid social structure.
His was one of many reactions to the changes. Here are some of the best (many of which are from Twitter, where everyone goes to complain about things happening elsewhere on the Web, it seems). 


Photo by @simonmullan/Instagram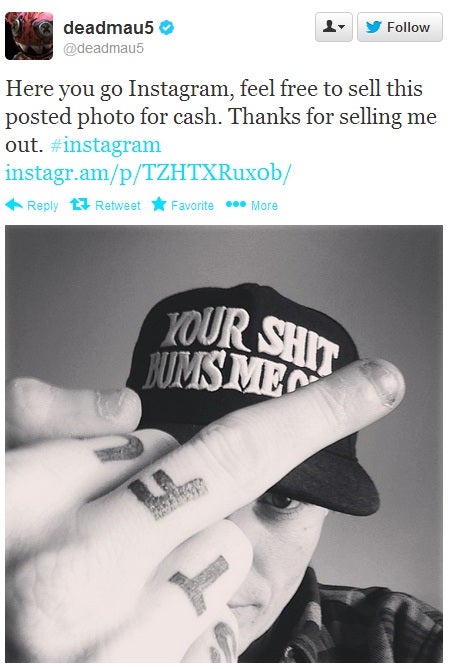 For what it's worth, Deadmau5 is still sharing on Instagram.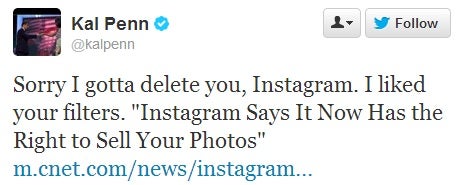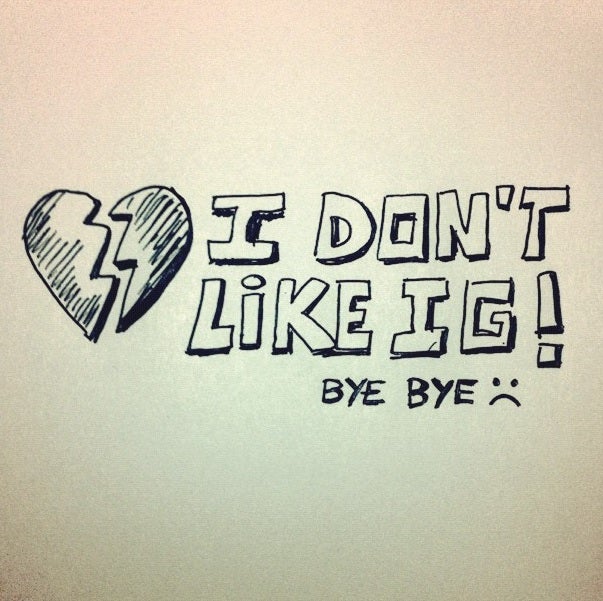 Photo by @ehva/Instagram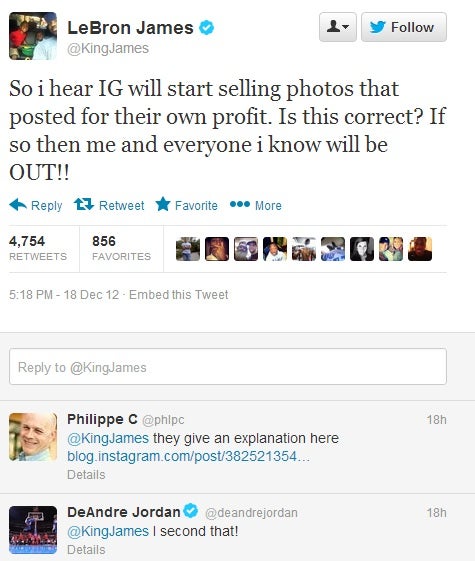 Or, you know, you could just make your account private.
Photo by @melonmilkshake/Instagram