These days, there are plenty of ways to acquire virtual currency. You can buy it on an exchange. You can withdraw it from a Bitcoin ATM. You can mine it yourself. You can steal it in a massive, complex, multimillion-dollar heist.
Now there's a new addition to that list: You can buy it on eBay.
Without going out of its way to court much publicity, the online auction Goliath has quietly added a new category to its United States site where users can buy and sell virtual currencies like Bitcoin and Dogecoin.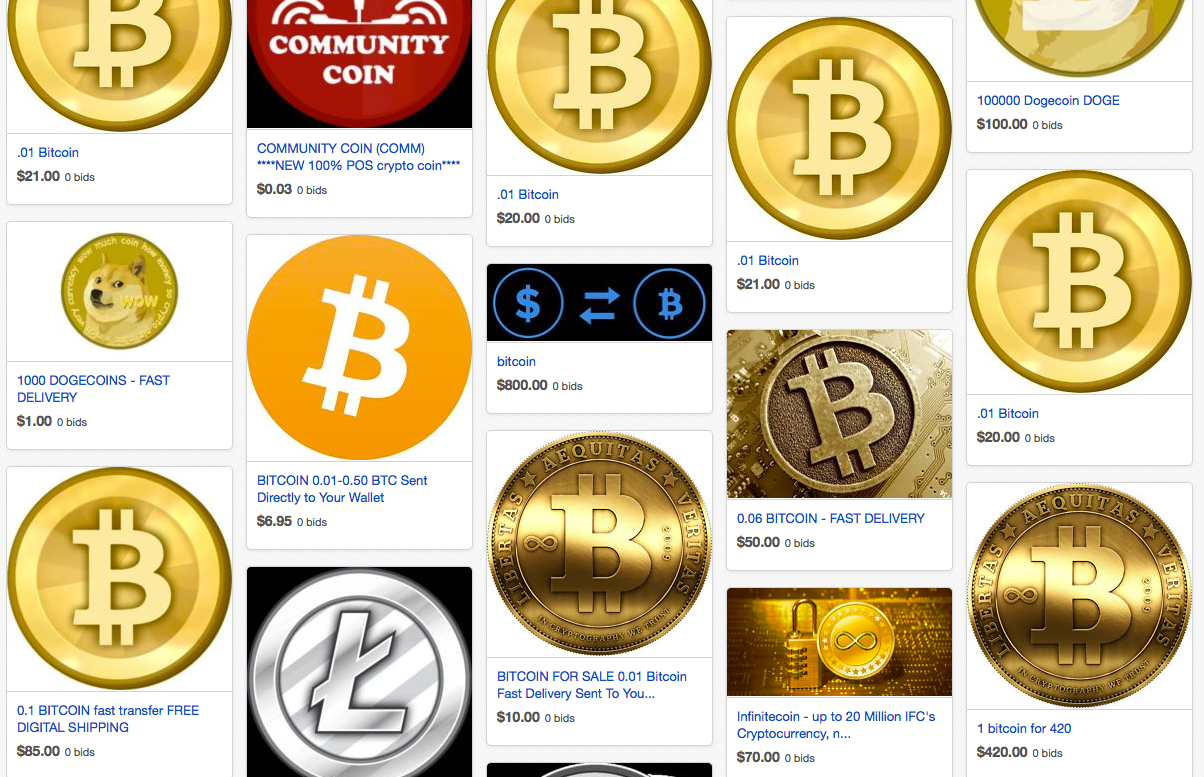 In addition to sales of the actual coins, the site's virtual currency section also lets users buy and sell mining contracts: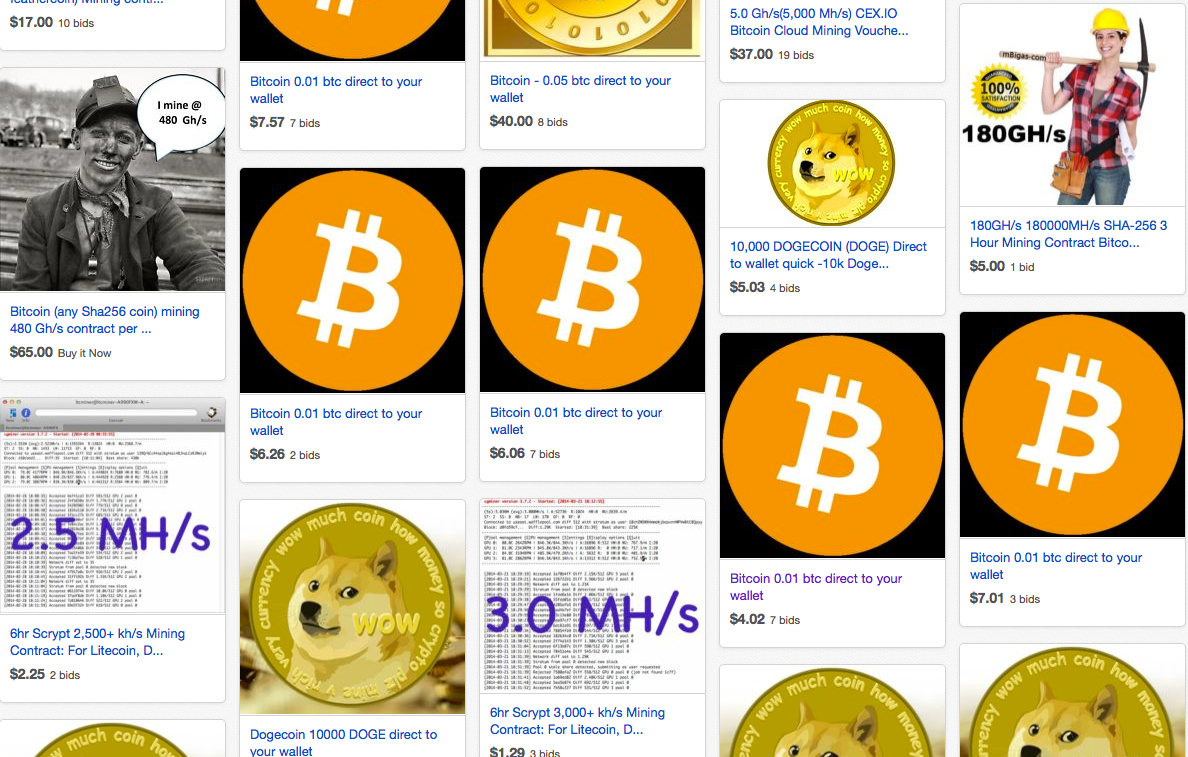 As well as the highly specialized hardware used in the mining process:
The site listed the addition of the new section in a page detailing category changes for the month of April. EBay has allowed users in the UK to buy and sell virtual currency since early February. Although, eBay still doesn't allow users to pay for other goods sold through its system with virtual currency.
This section is the only place on the site where virtual currencies can be traded. "To promote a trustworthy marketplace and ensure compliance with applicable regulations, eBay is currently updating its Currency Policy," an eBay spokesperson told Mashable. "The updated policy will clarify that listings for Bitcoin and other similar virtual currencies must be listed in the Virtual Currency Category in the Classified Ad format."
Unlike actual cryptocurrency exchanges, which typically route all transactions through a centralized system to prevent fraud, eBay's virtual currency marketplace functions by connecting buyers and sellers, who transact with each other directly. eBay doesn't permit users to transmit coins digitally. Instead, files containing the private cryptographic keys allowing someone to use a specific coin have to be saved onto a USB drive and then sent through the mail.
The sale of virtual currencies directly from one party to another, without the use of an institutional intermediary, contains an element of risk because there's always the possibility that either the buyer or the seller will neglect to fulfill his or her end of the agreement. This danger is especially pertinent because virtual currency transactions are irreversible. By merely acting like a classifieds service rather than a full-fledged exchange, eBay is exposing its users to additional personal risk. However, the company is reducing liability on its own part and avoiding having to comply with a litany of know-your-customer and anti-money laundering rules.
Even so, cryptocurrency news site Coindesk argues that the decision to allow virtual currencies to be traded on its marketplace carries some potential dangers for eBay:
There may also be concerns at the number of bitcoin mining share listings on eBay. Many of these deals have ended in tears as hardware manufacturers fail to deliver on time, or under-deliver on the kinds of profits investors were expecting due to the exponential increase in the network's hashing speed requirements.

The sheer number of listings under the category could create a potential customer relations nightmare for eBay, should buyers find themselves dissatisfied with purchases, scammed outright, or have refund claims disputed.
Executives at online payment company, and eBay subsidiary, PayPal have publicly toyed with the idea of accepting virtual currencies like Bitcoin. Last week PayPal CEO David Marcus tweeted:
…for a host of regulatory issues. But we treat BTC and any FX txn the same way. We're believers in BTC though.

— David Marcus (@davidmarcus) January 13, 2014
Even so, virtual currencies are widely seen as a potential competitor to PayPal. At the South By Southwest Interactive conference held earlier this year in Austin, Texas, PayPal was one of the main targets of companies looking to do business in the cryptocurrency space.
Last year, eBay filed a patent application for a secure token system that sounded a lot like Bitcoin.
Photo by Zach Copley/flickr