If you love memes, sports cars, and progressive house music—and don't mind dropping a few hundred large—then have we got news for you: Joel Zimmerman, a.k.a. deadmau5, just put his Nyan Cat-themed Ferrari 458 Spider (F1 Edition) up for sale on Craigslist.
For sale: https://t.co/5meRFMox6S hahahah!!! comes with non-free coffee!!!

— deadmau5 (@deadmau5) June 16, 2014
The one-of-a-kind ride, affectionately known as the "Purrari," has been hailed for its masterful trolling of Ferrari nerds and was a fan-favorite vehicle in this year's Gumball 3000 rally, earning Zimmerman and driving partner Tory Belleci the Spirit of the Gumball trophy. Prospective buyers will no doubt want to see the magnificent thing in action:
Some further details on this offer, as if you needed any:
Selling the majestic Purrari… asking 380k OBO … anything over 380 goes to charity, so get those bids in! (Toronto Humane Society) …. comes with Ipod full of nyancat songs. AND we will personally invite the buyer to Toronto to come and film a "farewell purrari" coffee run with me. :D (so basicly it comes with a free tim hortons coffee that youll have to pay for anyway). we will ship this thing anywhere in north america. um… also… car stuff… it has like 6500 miles on it… purrs like a nyancat. and can be fully factory restored (wrap removed) if you're a pussy.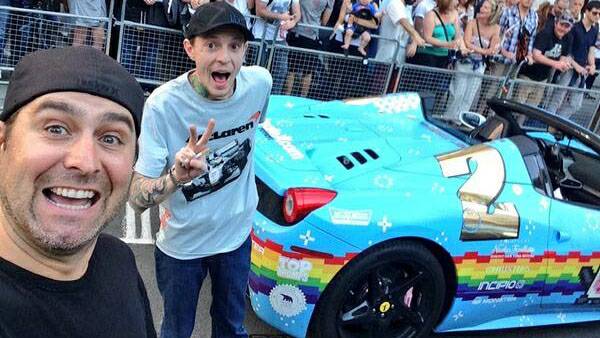 via Craigslist
like i said, whoever buys the car, can come and film a coffee run with me :) should be funny to see how this turns out.

— deadmau5 (@deadmau5) June 16, 2014
So what are you waiting for, hotshot? Those wheels ain't gonna bid on themselves.
H/T The Verge | Photo via Team Purrari/Facebook | screengrab via Youtube