The casino has no bright lights, free booze, or high-roller tables—just a cascading stream of numbers showing all of the different bets taking place.  It's not much to look at even, like the stock market without context. But over four days in mid-September, it was the scene of one of the wildest swings in gambling history.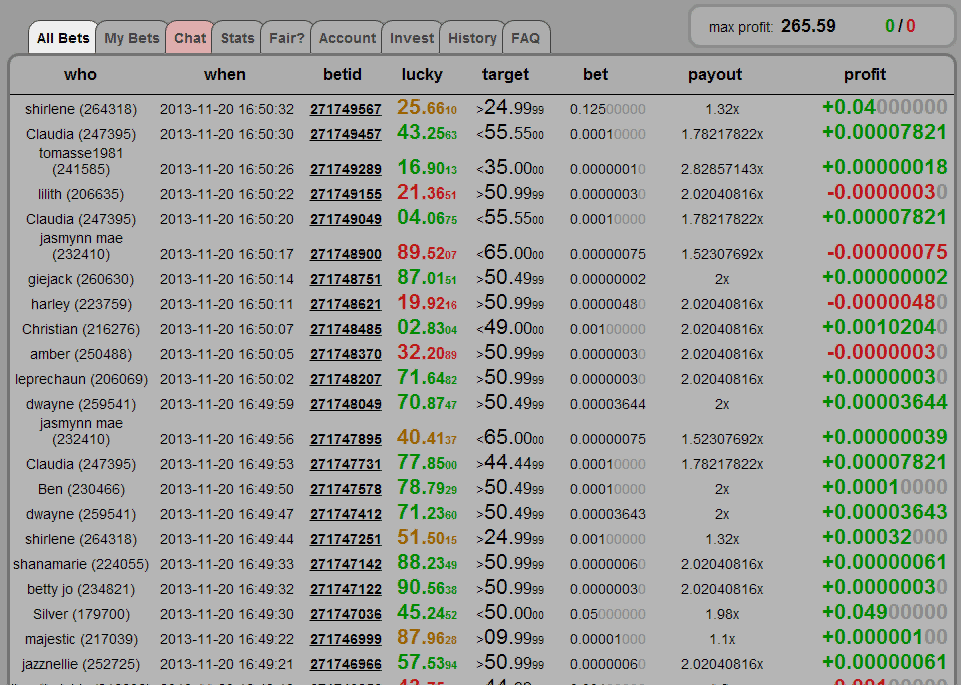 Nakowa started in a rut. Late on a Thursday night, the anonymous gambler lost an estimated $110,000 before he won a single bet on Just-Dice.com, a cyber casino that deals exclusively in the digital currency Bitcoin. The site was founded in June by Chris "dooglus" Moore of British Columbia, Canada, and specializes in a simple dice-rolling game in which the house maintains a slim 1-percent edge.
On Friday, Nakowa's luck finally turned. In only the first minute of this video captured by a member of the growing audience watching him work, Nakowa bet 2000 bitcoins. He came out even. It was the beginning of his historic run.
With just the click of a few buttons and from the comfort of a laptop, Nakowa took in over 11,000 bitcoins by the following Monday. At the time, that translated to roughly $1.3 million. Now it's worth $4.7 million.
Is Nakowa is a cheater, a genius, or impossibly lucky?
In the seedy and booming world of Bitcoin gambling, it's impossible to tell.
…
To gamble with bitcoins is to double down: It's a wager on top of a risk.
After all, buying the digital cryptocurrency is itself a bet on the future of a novel idea that still has to face a wide range of legal, regulatory, and speculatory tests around the world.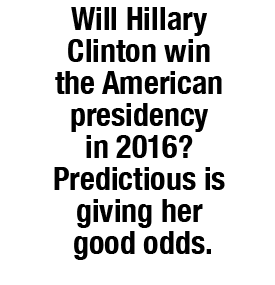 But Bitcoin gambling has been around for as long as the currency itself, which was created in late 2008 by pseudonymous programmer Satoshi Nakamoto.  In fact, the timing couldn't have been better. Two years earlier, Congress passed the Unlawful Internet Gambling Enforcement Act, which prohibited casinos from accepting payments for bets made online. The move pushed online gambling into the corners of the Deep Web, where users are protected by the Tor browser. And it created a high demand for online gambling sites based in Europe and Canada, where the practice is legal.
In both cases, Bitcoin makes an ideal currency for bets placed, due to its anonymous nature and its low payment-processing costs. Whereas most credit cards charge 2 to 3 percent fees on each transaction, bitcoins can run average around only 1 percent, depending on the service used. It moves quickly and with little friction around the globe.
There are hundreds of Bitcoin gambling sites available, covering the full spectrum of big-money gaming. Classical games like poker and blackjack are available, of course, but quick dice games have gained incredible popularity.
More interesting betting comes in the form of prediction markets, where players can place wagers on most any event: Will Hillary Clinton win the American presidency in 2016? Predictious is giving her good odds. Bets on the next Microsoft CEO and the release date of Half Life 3 are also being placed.
Like all unlicensed gambling in the U.S., it's illegal to make wagers on these Bitcoin websites. However, considering how easy it is to circumvent the law with the regulated online casinos, it's no surprise that ambitious rollers are finding ways to connect to Bitcoin casinos through personal proxy servers. And since many of these sites are legal in much of the world, they don't even require the anonymity protections of the Deep Web. Instead, they're available for all to see and use.
The trick comes when transferring Bitcoin back into dollars. That can be done silently on websites like Local Bitcoins, which connects traders looking to exchange their bitcoins locally for cash or various online payments.
Transparency and trustworthiness play a big role in deciding whether a website will attract players and their cash. The players I spoke to always got their money when it was due and said that was a major factor in where they placed their bets.
Unlike Bitcoin drug markets, where numerous owners have stolen users' money and closed up shop—most recently with Sheep Marketplace—we've seen no such comparable smash-and-grab attempts in the casino world, despite the enormous amount of money involved.
Why? The same reason gambling has been a boon for Las Vegas since the 1930s: It's a consistent, safe draw.  
When gambling's merely a few clicks of the mouse, it's just too easy to keep playing—and for the house to get rich.
…
Just Dice's biggest innovation is that it attracts investors almost as often as it attracts gamblers. It's easy for anyone to put money on the site and, boasting a 1 percent edge, have players roll against it. Investors keep profits and, by bolstering the casino's bank, allow gamblers to bet more. Over $32 million is invested in site right now.
With such considerable wealth moving as fast as high-speed Internet will allow, the online gambling industry's become a serious target for cybercriminals, especially those already versed in Bitcoin scams.
On Sept. 9, 2013, the owners of the Bitcoin Video Casino (BVC) noticed some strange behaviour on its site.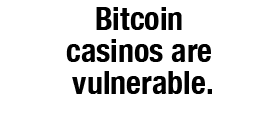 "Our server had become unreachable for several hours," the site's founders and developers, known only as Tom and Chuck, told me. "When our server eventually came back online again, we noticed that the machine had been restarted."
BVC's servers hadn't been restarted in the entire half-year of its existence. The team—made up of two programmers with over a decade of professional experience each—snooped through their own systems and found a rogue login on a local controlling terminal.
"That's very bad."
The hacker, whomever he or she was, cleverly gained access to BVC's data with an attack that involved restarting the machine. Luckily, that inadvertently killed the hacker's plans. BVC's data is fully encrypted, so the machine cannot come back up automatically after a restart. The hacker was locked out of the database, wallet, and source code.
But the point remains: BVC could potentially have lost all of its bitcoins in one full swoop.
"Bitcoin casinos are vulnerable," BVC's founders said, "since it is clear that they must have a Bitcoin wallet somewhere that is able to receive deposits and pay out withdrawals. If a hacker can somehow get access to these bitcoins, either by tricking the server into making an incorrect payout, or somehow cheating in one of the games, or directly hacking the server itself, he can stand to make a lot of money."
Earlier this month, Just-Dice had 42 bitcoins stolen when Inputs.io, a wallet service used by the site, was hacked. The overall theft yielded the hackers over $1 million in bitcoins.
The security concerns and million-dollar heists are simply facts of life when it comes to Bitcoin, but optimism remains.
…
Bryan Micon, a World Series of Poker bracelet winner and proprietor of popular Bitcoin poker room SealsWithClubs.eu, estimates that anywhere from 10 to 25 percent of all Bitcoin users have gambled, adding up to hundreds of thousands of bettors across all casinos.
An anonymous survey of Bitcoin casinos taken by Bitcoin magazine in September 2013 found that respondents earned up to $610,000 in profits per month. That number would make even the some of the biggest Silk Road vendors double take.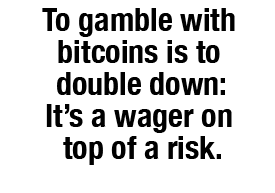 "Bitcoin gambling is exploding," Micon said. "The regulatory nightmare of online gambling under the old, broken monetary system damages the business for both player and operator."
The United States, however, is moving closer to legalizing online gambling, a move that would have serious implications for Bitcoin. In November, New Jersey became the third state to offer online gambling, and other states, not to mention American Indian tribes, are weighing similar measures. According to the American Gaming Association, Americans spend $4 billion a year betting online.
If and when online gambling becomes legal across all 50 states, will Bitcoin casinos be able to compete with their brick-and-mortar counterparts? Companies like Bitmarkers would rather see Bitcoin included in casino offerings.
"I'd like to pursue Las Vegas as the Bitcoin mega-destination," Bitmarket founder Ardon Lukasiewicz said to Coindesk.
Not everyone shares Lukasiewicz's interest.
Micon's SealsWithClubs.eu would face a direct threat from the return of mainstream poker companies like PokerStars. He said he believes "a large swath of humanity would prefer to play online poker in this manner [with bitcoins] vs. a regulated, higher-cost environment [with American dollars]."
The founders of Bitcoin Video Casino added: "We use Bitcoin because we think that the technology is superior to anything else. [We] think that most users come to Bitcoin Video Casino not to skirt the law, but because of the ease of using bitcoins to play with."
Just remember, beyond the poker and dice rolls is the biggest underlying bet of them all: That Bitcoin is going to keep gaining in value as it changes the world.
Illustration by Jason Reed