Warning: This story contains material that is NSFW.
The Internet is dark, and full of sex toys. The Arizona-based company Bad Dragon, for example, specializes in dragon dildos.
Since 2008, Bad Dragon has sold a variety of fantasy-themed sex toys, but dragon dildos really seem to be their forte. They currently offer 36 dildos—two of which, it must be noted, are not draconic but equine, and seven penetrable toys. (You can also buy a pen!)
"Instead of marketing specifically to men or women, we focus on the common factor between them all: people who really like fantasy characters, and who want to make their fantasies real," Varka, one of Bad Dragon's cofounders, told me via email. "We see a lot of variety in the kinds of customers that buy and use our toys, and easily as much variation in how people choose to use them."
Varka added, "We hear people like to hit each other with the dragon dildos." 
All of Bad Dragon's products are accompanied by erotic stories. Nox the Night Drake, for example, "knows plenty about the city and enjoys showing you the sights," reads Nox's product page. "He also knows a few spots in the park that are perfect for a more intimate kind of meeting." It goes on.
The dildos, which are made of 100 percent platinum-cured silicone—"because it's hypoallergenic, non-toxic, body safe, and lasts for a very long time," Varka wrote—are customizable in a variety of ways, including color and firmness. Some toys have the ability to simulate ejaculation, using something called 'Cumlube.'"
No kidding. "Slick, slippery, stringy, and white-tinted, Bad Dragon Cumlube is similar in appearance and handling to real cum, only much easier to obtain in quantity!" reads the company's About page.
Other toys, like Nox the Night Drake, come in different sizes and dimensions.
Image via Bad Dragon
Now, though, dragon-dildo customization goes even deeper. A little over a year ago, Bad Dragon launched Bad Dragon Labs, as "a way of opening our design process up to innovative and new designs suggested by the community." Community members submit between 50 and 100 designs every month, Varka told me, and each month one is chosen to be put into production. Designers whose submissions are chosen get a free toy and $200 in cash or $400 in store credit; if their design is bumped up to a "main-line toy" (i.e., one that comes in different sizes), they will receive another $500.
Unfortunately, Bad Dragon does not offer any Game of Thrones–themed dildos: "We typically steer clear of things that may upset major studios."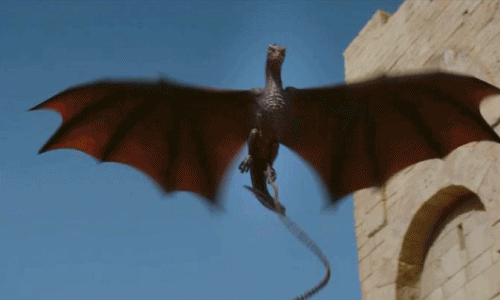 GIF via Giphy
"When we come up with a design and put a character behind it, we typically give it just enough life of its own for people to identify with it—but intentionally leave plenty of room for people to develop their own characters, fantasies or situations to enjoy," Varka wrote. "It's about imagination, and taking your fantasies to a place of *your* choosing."
"Nobody knows for sure what a dragon dick looks like—and that's half the fun; you get to decide yourself!"
Image via aztlek/Flickr (CC BY 2.0)