Critics are calling it a modern Dadaist masterpiece. So why did Amazon remove yesterday's brief bestseller, an ebook called Baboon Fart Story?
Was it because it was a social experiment designed to parody concerns about ebook culture? Was it because the epic saga that climbed to No. 9 in Amazon's general book category provided a "poor customer experience"?
Was it because the book was actually just the word "fart" written 100,000 times in a row?
It's not like that wasn't clear.
"This book is the word 'fart' written 100 000 times," warned Phronk, the author of Baboon Fart Story, on the book's now-deleted Amazon page. "You are literally about to buy the word 'fart,' written over and over."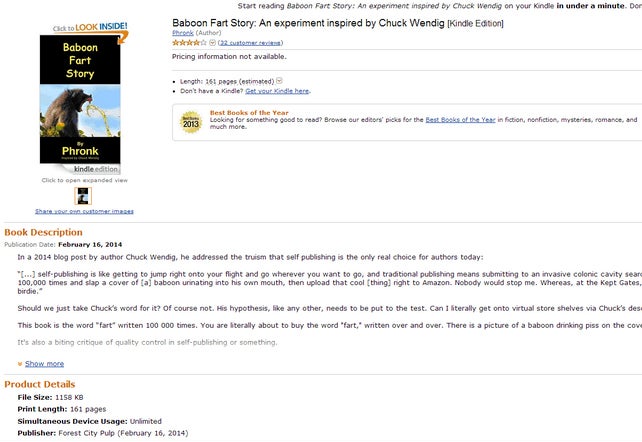 Photo via call_me_salome/Twitter
Phronk was conducting an experiment in response to the latest iteration of the widespread publishing industry debate over self-publishing. Recently, self-publishing guru Hugh Howey created an extremely controversial website called Author Earnings, which was designed to lift the veil and offer hard data about how many sales self-publishing really delivered. Many industry insiders had issues with the website's methodology, as well as its encouragement of what Publisher's Marketplace deemed "deniers" of the reality of ebook sales.
On Sunday, noted author Chuck Wendig issued wry commentary on the argument that self-publishing offers a fast track to success for anyone who tries it:
I can literally write the word "fart" 100,000 times and slap a cover of baboon urinating into his own mouth, then upload that cool motherfucker right to Amazon. Nobody would stop me. Whereas, at the Kept Gates, a dozen editors and agents would slap my Baboon Fart Story to the ground like an errant badminton birdie.

("Baboon Fart Story" is my favorite anime, by the way.)
In the inevitable way that the Internet has of putting its money where its mouth is, Phronk showed up to test Wendig's assumption. Could one successfully write "fart" a hundred thousand times and call it a novel?
Well, not without incurring the wrath of Amazon, apparently. The same day Wendig made his pronouncement, Phronk posted his masterwork and it began climbing the ranks. This morning, Wendig promoted it, and the book quickly shot to No. 9 on the bestseller charts. But as soon as it was a success, it vanished:
@ChuckWendig Noooooo! Not sure what happened. Its status is "blocked." Dang, I'd sold like 16 copies before it went down.

— Mike (@phronk) February 18, 2014
@ChuckWendig Update: got an email from Amazon: removed because "readers have reported a poor customer experience when reading the book." :)

— Mike (@phronk) February 18, 2014
THIS MEANS AMAZON IS A GATEKEEPER OH SHIT *sets fire to the Internet*

— Chuck Wendig (@ChuckWendig) February 18, 2014
So what does the painful truth that Amazon will not humor your attempts to make a quick buck trolling the Internet—except for when they do—tell us about routes to publishing success? Nothing we didn't already know. As Wendig put it in his original post:
What this shorthand misses, though, is that the actual goal of publishing in either format is not merely being published, but in fact, finding success (where success is most likely some variant of "getting paid and finding an audience"). And in this, neither publishing path offers an easy guarantee.
But as a parody, you have to admit Baboon Fart Story was pretty epic:
As a parody or even just an object of humor, it kinda worked, because I opened it up and nearly cried laughing just at the formatting alone.

— Chuck Wendig (@ChuckWendig) February 18, 2014
I bought a Kindle copy of the Baboon Fart Story before Amazon took it down. THE BIDDING STARTS AT $5,000. Ultra-rare! CENSORED BY AMAZON!

— Marko Kloos (@markokloos) February 18, 2014
Guardian columnist Damian Walter viewed the gag as an indication of the way viral marketing has come to the publishing industry. It certainly wouldn't be the first time a book had gone viral overnight thanks to social media. But selling 6 copies hardly counts as mythic success. A better question might be: if having a brief sales spate in a short amount of time can place a book on Amazon's bestseller list, even in a sub-sub-sub-subcategory, how much do such ratings matter to begin with?
Whether you think Baboon Fart Story was a dig at the mediocre quality of self-published writing or a clever parody that illustrated how much freedom there really is in going the non-traditional route, the experiment won't be forgotten anytime soon. Earlier today Wendig announced it would probably be rescued and sold for charity donations on his website.
Who says fart jokes are worthless?
Photo via Fotopedia (CC BY-ND-2.0)