We get it. Your mom is one of the fun moms. The kind that's quick with a dirty joke and deserves a truly unique Mother's Day gift. We've curated a list just for them, and their out-there personalities.
If your mom is a total normie, don't fret! There's plenty of offerings here to diversify her life too.
Best gifts for mom that you can get online
No matter how tech savvy mom may pretend to be, there's no stronger force in the world than nostalgia. The Polaroid Snap works just like the ones she used when you were a kid. It's far more satisfying than any iPhone selfie could ever be. There's also space for a 32GB flash drive, should they wish to jump between digital and analog.
Price: $77.99 (regularly $89.99)
Health crazes come and go, but the nutritious and gorgeous pulverized tea known as Matcha has been going strong for 1,000 years now. It's a mainstay of Japanese tea ceremonies, foodie Instagram pics, and countless smoothies that are actually good for you. This kit will let mom dip her toes in the tasty tea craze. Not only is there 16 oz of Matcha powder, but there's also a measuring spoon and even an electric whipper to make it frothy.
Price: $33.11
This new cooking method may seem farfetched (boiling things in bags?), but it's the most foolproof way to make restaurant quality eats at home. Unlike other sous vide systems, you won't need any other special tools or equipment save for a few spare Ziploc bags. It connects to any smartphone with a companion app full of recipes including perfect succulent steaks and fluffy cheesecake. For moms who binge Chopped and MasterChef, this is the one gadget that will make their culinary fantasies reality.
Price: $199.99
Gardening is a rewarding hobby for moms everywhere. But nobody gets a bounty of fruits, veggies, and herbs without getting their hands dirty. These gloves make this chore an absolute joy. Sharp claws affixed to the gloves tear into dirt like a hot knife through butter. They also double as super-villain flair, just in case mom wants to take a crazy turn in her golden years.
Price: $7.99 (regularly $9.99)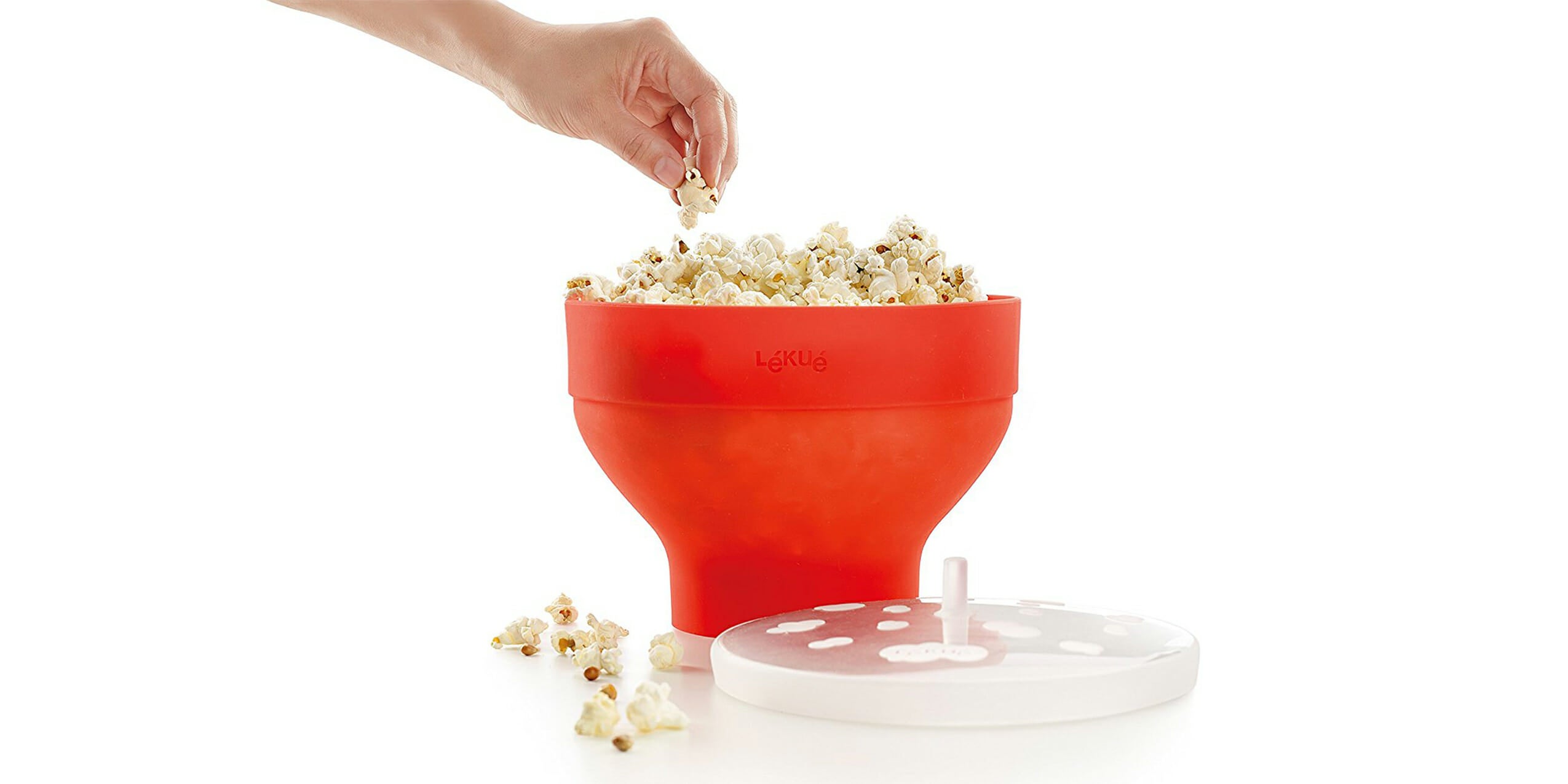 Popcorn is a tasty treat, but more unhealthy than a drive-thru menu if you buy the stuff in the bag. Popping the old fashioned way works but is a little more Little House on the Prairie than most people can handle. But a quick, healthy treat can be had with this simple gadget. Simply put in popcorn kernels plus optional seasonings, and in less than three minutes, mom's got enough snacks to get through Eat Pray Love. And because it collapses, it takes up almost no space.
Price: $18.50 (regularly $20)
If mom is a story-lover, an Audible gift certificate is bound to make her heart skip a beat. She'll be able to download any three audiobooks of her liking (per month of her membership) and also receive 30% off any audiobook after that–all of which stay in her library forever (even if she doesn't renew the membership). And all she needs to access it is a smartphone or tablet and a version of the Audible app! 
Price: $15+
From succulents to forbidden fruits to herbs, Planters' Choice has a variety of growing kits that'll make any green thumb's face glow with delight. Each kit contains four different plants as well as everything she needs to get these babies sproutin'!
Price: $19.99
Is momma still hooking up to the net on an ugly, off-white behemoth that's powered by Windows 95? Upgrade her to a sleek Chromebook and ensure a place in the will and her heart. This Chromebook can take the occasional fall or wine mess with its reinforced guards and spill-resistant keyboard. The 11.6-inch screen and 10-hour battery life make it perfect for surfing and streaming.
Price: $218.99
Pour over coffee isn't just for pretentious, tattooed baristas. It's so accessible anyone can make a beautiful and Instagram-able cup, even dear old mum. This kit is not only easy to use and sleek enough to live on any countertop, but it's also one of the cheapest pour pots available. Comes with a gorgeous carafe and a re-usable filter–all mom needs is the coffee!
Price: $26.99
Perfect for the up-close-and-personal birdwatcher, we can't promise that other cute wildlife won't also want to feed on this! 
Price: $22.76 (regularly $39.99) 
If you've got an Italian mom who loves her homemade pasta, give her the gift that keeps on giving…a ravioli maker! This bad boy presses out just under a dozen jumbo raviolis sizing in at a whopping 4.5cm! Bon Appetit! 
Price: $19.30
Moms can abide by most crimes – except having their pristine floors covered in filthy crumbs. Luckily for them, this robot friend is more than happy to sweep up dust, Reese's Pieces, stray Pringles, and even frosted Pop-Tart leavings. This Roomba is able to connect to Alexa, so it answers to voice commands. It detects dust and debris and sweeps it up speedily with the kind of precision you can only expect from a robot.
Price: $296.99 (regularly $375)
One thing's for sure: wine moms know how to have fun. Chardonnay Go is a party game built with them in mind. Play a competitive and hilarious game that has you answering questions while performing some seriously goofy charades. It's great for serious family fun or a girls night in. As players progress, they'll be instructed to drink more and more, so be sure to have plenty of vino on hand.
Price: $34.99
There's no one that doesn't love the comedy stylings of the real-life Liz Lemon. Whether it's her stint on Saturday Night Live, starring and writing in 30 Rock or her classic Unbreakable Kimmy Schmidt cameos, Tina Fey never disappoints. This goes double for her autobiography. Bossypants will make mom laugh, cry, and likely leave her inspired.
Price: $7.98 (regularly $16)
Because mom is the bee's knees!
Price: $14.93
Remember those old coupon books you made for mom in elementary school? Turns out they're still en vogue. This book is full of vouchers for your mom to redeem like "Breakfast in Bed" or "No Complaints Day." And like all great coupons, these never expire.
Price: $12.99
Some moms are possessive, some are neat freaks, and some are both! For them and anyone else on that spectrum, there's this awesome label maker. With 14 fonts, 95 frames, and more than 600 symbols, it makes personalizing labels easier than ever. Mom can now label everything in her kitchen, bathroom, bedroom, and office. No place will be safe from her snazzy labeling!
Price: $30 (regularly $35)
---
Need more Mother's Day gift ideas?
---
The Daily Dot may receive a payment in connection with purchases of products or services featured in this article. Featured items are sponsored and The Daily Dot receives payment. Click here to learn more.