Not everyone has a sweet t00th, which is a good thing – that means more candy for us! But for savory food fans that still choose (or are forced) to celebrate Halloween, this one's for you. Who else would rock a turkey costume other than someone who gets down and dirty for Thanksgiving? Probably no one.
If you're trying to win a Halloween costume contest or two, good news: you're likely to be the only one dressed as your favorite entree. Not to mention you'll be glowing a radiant gold shade. So you're practically destined to take first place, even if a vegetarian is seated on the judges' panel.
Plus, this deelish turkey costume works as the perfect segueway into the next major holiday. So yeah, go on and break this baby out for Thanksgiving too. Your friends and family will probably thank you. And if they don't, well they're just ungrateful and probably don't like Seinfeld. In which case, they deserve to be roasted.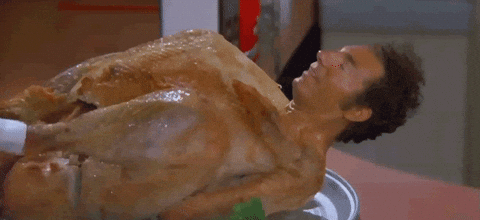 This incredible turkey costume is available through Amazon for $98. That may seem like a hefty price to pay for a Halloween costume, but if you think about it, you buy turkey by the pound. So if take your weight and calculate your own price per pound, this absurdly original costume ends up being more than reasonably priced. Plus if you're a Prime member, you can have it by the weekend.
MORE BAZAAR DEALS:
The Daily Dot may receive a payment in connection with purchases of products or services featured in this article. Click here to learn more.