Tech

Tech

The gadgets, platforms, and software that make your digital life possible. If it bleeps, clicks or blinks, you'll find it here.

Internet Culture

Internet Culture

There's a community for everyone online.

Streaming

Streaming

News, reviews, and guides for the world of online entertainment.
The ultimate guide to strap-ons
Because shopping for one can truly be a pain in the ass.
We get it, strap-ons can be a bit daunting. They come in so many different shapes, sizes, and some even with their own harnesses. So if your novice knees start trembling, that's completely normal.
Contrary to popular belief, strap-ons aren't exclusive to the lesbian community. People of all genders and orientations looking to have fun, hands-free, penetrative sex can appreciate a strap-on. But to help keep you focused on what matters most (AKA your comfort and pleasure) we've thrown together some tips to keep in mind before you buy. Feel free to thank us later!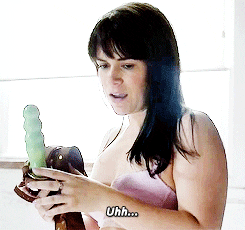 How to shop for the perfect strap-on
Just like you've done for all your other sex toys, finding the best strap-on requires a little research. What's the device made out of? Can it be used with a harness? Is it flexible? Size, etc? At first, these questions may seem completely unrelated to your user experience but as you scroll, it will become clear just how much this seemingly simple stuff matters.
Know the types
As you may have already guessed, there are two kinds of strap-ons:
Those that require harnesses.
And those that don't.
Seems simple enough, right? Well, hold on, there's more.
Harnessed strap-ons: require a harness to "strap (the dildo) on" to you or your partner. Sometimes harnessed strap-ons include a vibrator for the wearer. A few sex toy companies have designed packages that include a dildo and harness, but they're not always the most cost-effective or practical options, especially since you can use a harness with almost any of the toys you already own. And since there a few different harness designs, you won't know which fit you like best until you try it out.
Strapless strap-ons: don't require any straps to keep the dildo in place. Instead, the wearer grasps their end internally – making the entire experience way more intimate than you ever could with a harness. Some of these are even designed to work with a bullet vibrator.
Feeling overwhelmed? Don't. We'll unpack all of this below.
As aforementioned, there are four types of harnesses:
Just as their names suggest, the differences between these harnesses are how they fit. Which means some harnesses are easier to adjust and more customizable than others. But that doesn't make any one of them better or worse, it's all about what you're most comfortable with. So to help get you started, listed below are some of the most popular harnesses you can get online.
READ MORE:
Most popular harnesses
Amazon rating: 4.5 stars
In addition to thigh straps, a corset harness binds at the small of your back – which provides additional support (and looks hot). This particular one by Doc Johnson is O-ring compatible and fully adjustable up to a size 60″ waist.
Price: $27+
---
Amazon rating: 4.5 stars
A two-strap harness or g-string is designed to wrap around your waist and then in between your legs. It doesn't offer as much control as other harnesses with thicker straps or leave the wearer exposed, however, it does stimulate the groin area which is a huge plus for some.
Price: $17+
---
Amazon rating: 4.5 stars
This style is probably the most popular of the bunch because it's really good at contouring to the shape of your body. And all it uses is three straps – one for your waist and one for each thigh. People also love it because it leaves the wearer exposed, unlike other harnesses.
Price: $20 (regularly $39.99)
---
Amazon rating: 5 stars
Designed to be worn like regular underwear, these types of harnesses are super comfortable and easy to get away with wearing underneath regular clothes. However, they're not the best choice for supporting heavier toys, so keep that in mind.
Price: $64.99
---
Most popular strapless strap-ons
Amazon rating: 4 stars
This silicone vibe is easy-to-clean, hypoallergenic, boilable, bleachable and dishwasher safe. It even includes a removable bullet vibe, so it's really no wonder this is such a crowd pleaser!
Price: $99.99+
---
Amazon rating: 3.5 stars
Designed with medical-grade silicone, it's latex and Phalate-free, as well as super easy to clean. But what sets this apart from other strap-ons is its ability to conform to the body's contours.
Price: $37.99
---
Amazon rating: 3.3 stars
Using one power switch, this g-spot vibe offers both partners pleasurable stimulation. And since it's completely harness-less, there's nothing that could possibly come between you and your partner.
Price: $31.79+
MORE BAZAAR DEALS:
The Daily Dot may receive a payment in connection with purchases of products or services featured in this article. Click here to learn more.
Marisa Losciale specializes in NSFW culture, audio gear, and photography. A former editorial and photo director for Spoon University at SUNY New Paltz, her work has been featured in the Rockwell Center for American Visual Studies, Post-Trash, the New Paltz Oracle, and the Legislative Gazette.
© The Daily Dot, all rights reserved.
Represented by Complex Media, Inc. for advertising sales.