In need of stoner gifts that don't only involve re-upping? This guide is intended to help bridge the gifting gap between non-smokers and pot enthusiasts. But if you don't need the memo (because you already have it) you might want to consider picking up one of these dank accessories for yourself. Ya know, since, every day is 4/20.
The best stoner gifts you can buy right now
1) Give the ultimate weed gift with this cannabis DNA test that determines what strains and dosages work best for any individual
Say hello to the only at-home DNA test I would ever take (and have, so I speak from experience): Dynamic DNA Labs' Cannabis DNA test. Unlike other genetic tests that focus on your lineage, this one determines how your body metabolizes and reacts to cannabis products.
The test will help users understand how their genes metabolize cannabis can help them achieve the optimal experience while minimizing undesired side effects and boosting cannabis health benefits. All of which is traced back to the expression of 13 genetic traits that are responsible for how your body reacts to THC and CBD. This stoner kit will help marijuana users pick the right product and ensure that take the correct dosage. This DNA test is a perfect gift for people that may have recently expressed interest in marijuana, those who just received their MMJ card, and even well-seasoned smokers.
Price: $129
---
2) Moose Labs' MouthPeace and mini filters are perfect for the smoker that loves to share
Sharing rolled experiences in 2020 is a no-go, even for people that live in close quarters. Between COVID and the flu, people just don't want to risk it. But if you miss busting one down with your partner or roomie, this little gadget by Mooselabs may just cut down on your germ fears. The silicone mouthpieces are designed with disposable filters that'll cut the harsh resins and tar, so you won't cough up a lung after inhaling.
But what's really cool about this is that the MouthPeace is a personal mouthpiece, so you slide it onto your joint or blunt before and then stick that piece in your mouth before inhaling. Once you've puffed and are ready to pass, you can go ahead and remove the MouthPeace. In a world where we're all being a little more careful, this stoner gift lets you share joints, blunts, e-cigs, and vapes without sharing germs.
Price: $29
---
3) LĒVO is the best gift for stoners that prefer to infuse or eat their greens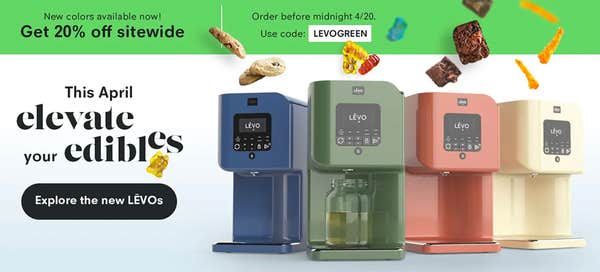 If you're on TikTok, you may have already come across my favorite of all weed gifts: the LĒVO Oil Infuser. This baby does all the hard work for you, leaving you to care for only the technical details. For those of you who've never made your own 420-infused oil before, just know that LĒVO is a gift from the gods. No more baking your weed in the oven, standing over the stove, suffering hand cramps from stirring, sweating over mind-bending math equations, or reeking up your entire apartment.
Here's how it works: you decide how much oil you're looking to infuse based on your recipe and other requirements like potency. Then before you load the LĒVO with your herb of choice, you'll have to break it up into small pieces and de-stem it if necessary. (An easy and cheaper alternative to this would be purchasing shake if you can). Then it comes time to load the Power Pod which can hold up to a quarter of an ounce of flower. If you're looking to increase your potency, just purchase and fill an additional Power Pod and insert both pods into your machine's reservoir. The LĒVO will then take care of drying, activating, and infusing your herb of choice into an oil which can then be used for things like weed brownies, CBD lube, massage oil, you name it and the LĒVO can prep it.
Price: $299
---
4) Need a stoner gift for the couple that just moved in together? The Stona Lisa should do
Next up on our list of weed gifts is this iconic piece of wall decor. What could be better than the famous smile lady not smirking but lighting up a J instead??? I'll wait…
Price: $38
---
5) Foria's CBD bath salts are the perfect gift for stoners who like to soak while they smoke
Foria is a beloved intimacy brand that develops CBD and THC blended products. While the company offers a lot of great stuff, I recommend taking a look at the Get Wet set. It's a limited edition stoner gift basket featuring three full-size Foria products for 20% off the regular price! The stoner box includes the bestselling Awaken Arousal Oil, Intimacy Natural Lubricant with CBD, and our all-new Intimacy Bath Salts with CBD & Cacao. The bath salts are a personal favorite of mine, they smell amazing and leave me feeling relaxed and pampered (they even come with their own sachet so it's mess-free, too!).
Price: $99 for the Get Wet set
---
6) The Blazy Susan weed tray is a gift for stoners obsessed with organization
No matter what I say, nothing will do the Blazy Susan justice. This is not just any tabletop organizer, no. It's a rolling tray, a weed ashtray, a paper organizer, a piece protector, a joint holder, a dab station, and one of the nicest stoner accessories I've ever come across. The spinning organizer is modeled after a lazy susan, so it turns for easy access, sharing, and showing off. It's also nearly customizable since buyers can pick the wood style (walnut, birch, or pink) and color of the silicone inserts. No matter what you pick, it's destined to be gorgeous. Blazy Susan also crafts signature pink papers, tips, and cones that even Elle Woods would approve of.
Most recently, the brand just launched an eco-friendly hemp plastic rolling tray ($29.50) in partnership with One Tree Planted in honor of Earth Month. For every tray ordered in the month of April, one tree is planted!
Price: $89.99-$154.99 (depending on wood and insert styles)
---
7) Help keep their smoking secret safe with Cannabolish products
Weed's downfall is its very unique and pungent odor. So if you can't afford to buy your pal a Pax, Cannabolish might be your solution. Available in a misting spray and a candle, Cannabolish is made with plant oils and water so it's all-natural and proven safe. You can expect it to smell a bit like wintergreen, citronella, and root beer. It takes advantage of plant terpenes and uses them to neutralize the terpenes found in marijuana smoke (which is what causes your room or car to reek). Best of all, since it uses all-natural ingredients instead of cancer-causing chemicals, you won't need to leave the room immediately or worry about your health after spraying it–so long, Ozium!
Price: $14.99-$29.99
---
8) Need a weed-related gift for the person who exclusively smokes joints? Marley Natural's glass filter tips are the answer
Anyone who's rolled a joint knows that without a solid tip or filter paper, you're doomed. But what you may not know is that using card stock or the cardboard from a pack of papers is most definitely not the move. I know it may seem more eco-friendly to use the thick paper-like material in front of you, but it's a potential health risk. Things like cigarette boxes, rolling paper packaging, and business cards are filled with toxins from dyes and all sorts of other processing chemicals. So even though you're not smoking the tip, it's still going in your mouth and "filtering" (not really) the smoke. So why even risk it?
Especially when these glass tips are a more-than-suitable option. Marley Natural's glass tips are manufactured with medical-grade Borosilicate glass. Meaning they're toxin-free, safe to use with heat, washable and reusable! The design is pretty neat too, featuring a pinch and maze to block particles and prevent the detested Scooby Snack. In my opinion, glass tips also make the rolling process easier as an added benefit. You really can't go wrong here, pals!
Price: $16 for a 6-pack
---
9) TribeTokes has the ultimate stoner kit box perfect for any 4/20 celebration
Building your own stoner gift basket is a lot of work. And with shipping dates still all funky because of the pandemic, you simply can't guarantee that you'll get everything you order around the same time. TribeTokes has your solution with its 4/20 gift set bundle. The stoner kit box includes a glass blunt, CBD gummy bears, and a Delta-8 disposable vaporizer. So no matter what your preferred method of unwinding is, this bundle delivers.
I've personally tried two face masks from this brand (which you'll find listed later on) as well as a Delta-8 Birthday Cake vape cartridge and have nothing but good things to say! High-quality ingredients mean a high-quality experience. So if this bundle is out of your price range, don't fret. I'm certain TribeTokes has something else on its site that won't break your budget. And if you want to save some extra green, use code TRIBE420 at checkout for 20% off!
Price: $110 (regularly $135)
---
10) RYTHM flower will take your 420 celebration to new heights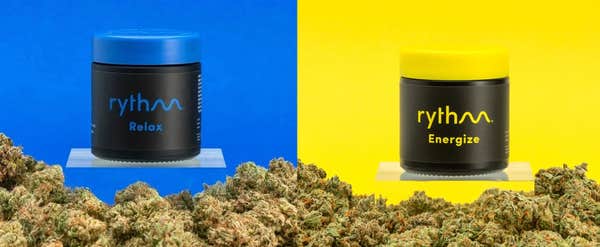 If you're on the east coast, you definitely don't want to be starting your 4/20 celebration without RYTHM flower. What I find to be really cool about this brand is its individualized approach to cannabis. Instead of mass-farming plants for its products, RYTHM opted to deliver strain-specific care. So you can be sure that its growers are working with only the highest-quality of plants at their peak with the best of purity standards. While that may not seem relevant to your end goal of smoking a bowl, trust in the process. RYTHM flower is potent, tasty, aromatic, and the King of Kief.
Price varies by retailer
---
11) The best stoner gifts for the morning toker is none other than a proper wake-n-bake mug
Highly recommended by over a dozen users, this coffee mug pipe combo is so delectable you may as well pick up a spare for yourself!
Price: $14.95-$29.95 (depending on the style)
---
12) High Hemp Wraps will change the lives of anyone who prefers to smoke blunts
People have their smoking preferences and if you're going to get them a weed gift, it should represent that. So if you know someone who loves a good blunt, turn them onto High Hemp Wraps! These herbal wraps don't contain any of the tobacco or other nasty chemicals as regular wraps, and they burn smoother and slower than any paper. Rolling with them is just like any other dutch, except you don't have to gut it! So not only will High Hemp wraps save your lungs from the nasty tobacco garbage, but they'll save you time too. They're available in a variety of flavors, all of which taste great (but you can never go wrong with the Berry, IMHO) and are infused with CBD.
What I also love about High Hemp Co. is that they make CBD hemp cone wraps, too. So if you have a friend who loves a good blunt but can't roll one for the life of them, well, I think I've found your solution.
Price: $13.99-$47
---
13) GoLove CBD lube will certify you as the best weed gifter of the year
If you're new to cannabis or lube, you might want to hold onto your chair for this weed gift suggestion. While these products are usually recommended for people who have pain with sex, anyone can benefit from them. Want to know more about weed lube? Be sure to read my guide to CBD lube. That said, GoLove CBD is one of the best lubricants I've ever tried. It's safe to use with sex toys, won't stain your sheets, and intensifies pleasure. Cannabis products and sex practically go hand and hand! The site is currently offering 10% off your purchase with code ENJOY.
Price: $68 for a full-size bottle of CBD lube, $5 for sample packets of lube
---
14) This sleepy stoner gift set will keep them cozy for days to come
Besides fighting off munchies, every stoner can agree on one thing: some strains hit us harder than we'd like. When this happens, we need to nap. It doesn't matter where we are, what our plans were, or who we're with. When a terpene-induced nap calls, this dope stoner kit will answer in style. It includes a red-eye mask, a patterned neck pillow, and earplugs to drown out your surroundings.
Price: $9.85
---
15) Need a weed gift for the skincare guru? Look no further than the Tribeauty CBD face masks
Ever wondered why Avril Lavigne looks like she hasn't aged? It's the weed. And now there's a way to direct all the anti-aging, moisturizing, and soothing effects from cannabis products directly to your face. TribeTokes' CBD face masks are a must for not just any stoner but every skincare ritual. Currently, the company offers two CBD-infused skincare masks. Both of which I've tried and honestly, I don't have enough space to tell you how much I love these products so I will try to keep this succinct.
The brand's CBD Superfood Mask employs the power of plants to help brighten, calm, hydrate, plump, and protect the skin. It's filled with only the greenest of ingredients–spinach, kale, CoQ10, green tea, jojoba, white clay, and 200mg of CBD. So it should come as no surprise that it left my skin calm, clear, and glowing! The CBD Pumpkin Peel was also nothing but a pleasurable experience! Formulated with pumpkin enzymes, 3% Glycolic acid, rosemary, nutmeg, clove, neem, maple, lemon, ginger, and 200mg of CBD it's like shoving your face into the most rejuvenating pumpkin pie. It left my skin silky smooth and baby soft! Want to save some green? Use code TRIBE420 at checkout for 20% off!
Want to learn more about hemp and CBD skincare? Read our guide here.
Price: $15-$65
---
16) Need a gift for smokers looking to smoke less w**d? Dad Grass CBD pre-rolls are all you need
If the person in question is your designated roller, give them something that will show just how much you appreciate their skills. Dad Grass' CBD pre-rolls will do just that.
A little bit about Dad Grass: the company only sources certified organic hemp responsibly grown in the U.S.A. and all-natural paper for its CBD joints. Dad Grass joints can be purchased solo as a King Size (approx. 1 gram of CBD) or in a pack of five 0.7 gram joints.
Price: $10-$70
---
17) Kick off your 420 celebrations with 40% off delta-8 products from Extract Labs
Extract Labs is a veteran-owned company that's pumping out some of the best cannabis products on the market. I personally love the CBD face cream, I use it on my forehead when I have a migraine, my abdomen when I have cramps, and anywhere else I'm achy.
Recently, the company expanded its line of goods and dipped into the delta-8 market. For those of you new to delta-8, it's a form of THC that is much less psychoactive than delta 9 THC but still produces a high. I've tried it in the past and honestly, I would be lying if I told you that delta-8 didn't blow my socks off. I seriously thought it was all gimmick until I tried it, but nope! It's legit.
After vaping a delta-8 cartridge, I felt a similar high that I do with "normal" weed. The only difference being, I felt that with delta-8 there was no chance of getting "too high." Overdoing anything is bad, but when it comes to marijuana, overdoing it can mean anxiety, panic attacks, heart palpitations, and paranoia. Not with delta-8, though. Don't believe me? Try it out for yourself! Extract Labs offers a whole line of delta-8 products including chocolates, oil cartridges, and even a bulk jar of distillate!
If you can't decide what products work best, Extract Labs has designed a bunch of gift baskets for stoners and CBD-enthusiasts alike to make your job extra easy.
Price: $12.80-$68 (regularly $16-$85)
---
18) Here is the cookie-cutter weed gift
To illustrate just how much your buddy loves weed, we've found this lovely cookie cutter. Because as they say, you are what you eat! Designed with stainless steel, this three-piece pot leaf cookie cutter set won't rust and is ideal for all baking needs. It can cut through brownies, cookie dough, fruit, fondant, sandwiches, etc. without fail. Whether you have a sweet tooth or the munchies, this makes the perfect stoner gift.
Price: $8.95
---
19) Kiva Confections is a must-have for any stoner gift basket
Kiva Confections has been a longtime favorite of mine, the company's chocolate edibles are always a go-to. In fact, it just released a limited-edition 100mg THC chocolate bar in honor of 420. Munchies, as the company ever-so-fittingly named it, is a cannabis-infused chocolate bar with bits of potato chips, pretzels, and cookies. Really doesn't get much better than that!
But when I found out that it expanded its offerings to plant-based gummy candy, I couldn't scream it from the rooftops fast enough. Lost Farm by Kiva Confections is the company's "strain-specific, plant-based edibles infused with 100% live resin for a distinctively full-spectrum, true-to-the-plant-high." In other words, prepare to have your socks blown off. Each edible boasts 10mg of fresh THC by utilizing a flash-freeze curation method, the complex aromas and broad-spectrum terpenes found in fresh bud are able to be preserved. That translates to a much more potent high, thanks to the entourage effect. And unlike other adult treats, advertises what strain it contains. Want a true hybrid? Go with the Blueberry Chews. What about a Sativa-dominant? The Juicy Peach gummies are calling you.
Price: $20 each through Kiva Direct (varies by retailer)
---
20) You can't go wrong with a gift card to one of the hottest online shops for stoners, Daily High Club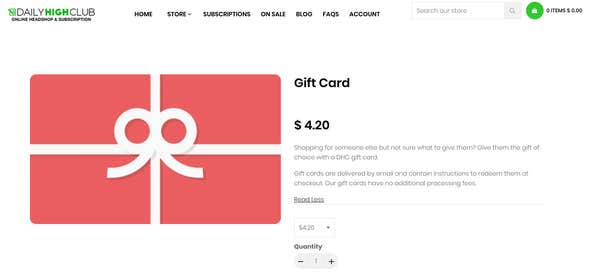 Shopping for glass and other smoking accessories that aren't intended for you is hard. There are so many questions you're forced to ask–would they prefer water pipes to a bowl? What kind of papers do they like? Or are they a wrap person? Luckily, with Daily High Club (DHC), you can skip all the nuisances and get to the good stuff: giving a great stoner gift. DHC offers a stoner box (for as little as $1/month if you choose to send a subscription). As well as exclusive products in partnership with various celebs, DHC merch, and other products for potheads that you'll only find online! So not only do you have to option to pick something out, but you can also buy an eGift card that will be emailed directly to the recipient and is valid for everything Daily High Club has to offer.
Price: $4.20 to $420
---
21) VIBES rolling papers are the perfect gift for the eco-conscious pot enthusiast
VIBES rolling papers and cones are one of the best gifts for smokers that prefer to roll up but also have a sweet spot for the environment. Unlike other popular brands of rolling papers, VIBES takes sustainability seriously. Using rice and hemp blends, VIBES papers elevate your session by eliminating harmful additives and prioritizing a clean, consistent burn. The company also produces rice and hemp cones for extremely efficient or time-constrained connoisseurs.
Price: $7.50-$89.99
---
22) Give the baker the weed gift of the year with culinary-grade Caliper CBD
Got a pal who loves to make a mess in the kitchen? Well, do I have the 4/20 gift for them! It's culinary-grade CBD powder formulated by the food scientists and culinary experts over at Caliper. Basically, it's your (or your bestie's) one-stop shop to making edibles high in CBD. It's not complicated, either (and we're all familiar with the entourage effect so why would you even think about passing this up?!). All you have to do is add your desired amount of Caliper's CBD powder to your favorite edible recipe, everyday snack, drink, meal, dessert, whatever you're whiskin' in the kitchen!
For a more detailed look at Caliper's CBD products, click here to read my full review.
Price: $49.99-$84
---
23) The Omura Series X vape is great for people who can't risk smelling like smoke
The biggest complaint about cannabis is that it stinks. Whether you're toking THC or CBD it doesn't matter, you're going to end up smelling skunky unless you air yourself out thoroughly–or you use Omura.
Omura devices are the next gen of smoking accessories because they help you get the most out of your CBD without leaving a scented trace. Because unlike other ways of consuming cannabis products, the Omura doesn't burn your flower. It simply heats it up enough to release all the cannabinoids and other sought-after benefits. So where there is no burn, there is no smoke, which means no smell! It's pretty damn revolutionary if you ask me.
The only catch is that you can't just load the vape up however you please. Since it works in a very nuanced manner, it also has to be used with specific "Flower Sticks." The good thing about the Flower Sticks, though, is that you can purchase empty ones directly from Omura to fill with your own flower. Or you can take up the brand on its free offer to pre-pack Flower Sticks with your choice of CBD when you purchase the Omura Series X.
Price: $99.99 (regularly $119.99)
---
24) JustCBD will sweeten up any 420 celebration
Perfect for the individual that's always on the go, JustCBD's individually wrapped honey sticks contain 10mg of CBD each and provide a relaxed, euphoric vibe to an otherwise nervewracking day. Seriously, anger and emotional turmoil just don't exist with thanks to these puppies–you can quote me on that. While my favorite is the original Honey Sticks, JustCBD recently released three flavored honey sticks for people looking for more than just sweetness. Choose from Cinnamon Honey CBD, Grape Honey CBD, and Sour Blue Raspberry CBD Honey sticks.
Is honey not your thing? Chill out! JustCBD offers a ton of other CBD products that will better your life. Other personal favorites of mine include the Aloe and CBD body lotion (this has quite literally salvaged and rescued my hands from all this hand sanitizer use), vegan CBD gummies, and the CBD bar soap. Between the lotion and bar soap, I swear my skin has never felt this soft, silky, or healthy!
Price: $9.99-$250
---
25) WUNDER seltzers reign supreme as the incognito weed gift of the year
Hard seltzers and White Claw summers are about to become nothing more than a memory of the deep past, thanks to WUNDER. These cannabis-infused seltzers have completely changed the game. Whether you're a party person (outside of this pandemic, of course) or someone who vibes the hardest while chilling on a hammock, WUNDER is for you.
The company prides itself on creating wonderful sparkly beverages that contain the enhanced benefits of cannabinoids. WUNDER currently offers two levels of potency in a variety of flavors. The original WUNDER is low-dose, containing 2 mg of delta-9 THC, 2 mg of delta-8, and 4 mg of CBD. It's available in Blood Orange Bitters, Grapefruit Hibiscus, and Lemon Ginger Lift. The more potent variety, WUNDER Higher Vibes, contains 10 mg delta-9 THC, 10 mg of delta-8, and less than 2 mg of CBD. Higher Vibes is definitely reserved for the more experienced cannabis consumer, given its strength. But nonetheless, it's still delicious! This variety is available in Lemon Ginger, Blood Orange Bitters, and Watermelon Basil.
I had the opportunity to try both WUNDER's original seltzer and Higher Vibes. Frankly, I was pleasantly surprised by how good both of them taste. There's no hempy flavor or weird aftertaste, which I can't say about certain CBD seltzers. It just tastes like seltzer! And even as someone who is very experienced with cannabis products (I like to call myself a professional cannabis connoisseur), Higher Vibes took me for a ride and I felt the effects almost immediately after I started sipping. The high is similar to an edible, it just hits you way quicker. So don't say I didn't warn you!
Price varies by retailer
---
26) Toastyy's CBD Hand & Body Lotion is the gift for stoners whose lighters calloused their hands beyond repair (or so you thought)
In need of a thoughtful stoner gift for her? Or maybe you want to hint at your partner that their cracked hands are bothering you more than they should? Whatever your needs, Toastyy CBD products are here to help. Founded by Jamie Lea, a LA-based woman of color and former college volleyball player. As an athlete, Lea always recognized the power of cannabis to relieve the stress on her body and set out to form her own brand using high quality CBD for relaxation and relief. That's why the brand's CBD Hand & Body cream is formulated with 300mg of high-quality hemp oil, vitamins and minerals. Making it soothing, hydrating, and calms even those most irritated and angry skin.
Price: $50
---
27) Playboy's retro smoking accessories are the perfect centerpiece for any coffee table
Playboy really nailed every aspect of '80s with these gorgeous smoking accessories. The new line features an aluminum joint case keychain, a zinc alloy grinder, a bowl-shaped glass ashtray, an ice-inspired glass bowl, and an acrylic rolling tray (which can also be used as a tabletop stash organizer). The entire collection is absolutely stunning, pictures don't do it justice! But by far my favorite piece is the glass bowl. It's elegant, smooth, and honestly, unlike any piece I've seen before. It's like smoking out of pure art! And for those of you that don't like logos, rest assured that this project uses the Playboy bunny very subtly. In fact, you may not even know it's there unless you're looking for it!
Price: $22-$60
---
28) Vessel's Expedition vape pen battery is the ultimate stoner gift for hikers and travelers alike
The Vessel Expedition is not just any vape pen, no. It's is engineered for the active explorer. Designed with anodized aluminum and knurled grip design, not only does this device command your attention, it withstands your adventure. Featuring a a protective cartridge drop-in design, this battery will secure your goods while keeping them out of view from the wandering eye. This way, if you happen to crossover into a not-so-420-friendly area on your intrastate hike, you can be discreet.
Price: $89
---
29) For a more inconspicuous weed gift, this handmade bracelet should fare well
If your friendship survived 2020, it's worth commemorating.
Price: $18
---
30) The best gift for vegan stoners is actually this recipe book
Not trying to gift them yet another smoking accessory? We've got you. Filled to the brim with tasty, vegan edible recipes for breakfast, lunch, dinner, and of course, snacks! Who knew eating your greens could be so easy? And if you're looking for even more ways to cook with weed, check out our roundup of the best marijuana-friendly cookbooks.
Price: $12.79 (regularly $16.99)
---
31) Cannaflower's Discovery Box is the best gift for stoners that are too busy to deal with dispensaries
If you've never cut your THC with CBD, oh man, you're missing out! Not only does this give the entourage effect a boost, but it also conserves that precious green!
Given that we're still amid a pandemic, getting to a CBD dispensary isn't the easiest feat. Luckily, Cannaflower has a brilliant solution: shop online and get whatever you want to be delivered directly to your door discreetly and safely. I've tried a few of the products including some pre-rolls, but my absolute favorite is the Lemon Drop whole flower. It's pungent, smells like weed, and actually tastes citrusy. It is a Sativa, so if that's not your thing, I'm sorry but I'm partial to it. Cannaflower has a whole lot of Indicas and hybrids though, too, so no need to panic. I'm sure it's all good stuff!
Not sure what you'll like? Check out the Cannaflower Discovery Box and score three of the most popular strains along with a few surprises.
Price: $12.95 for 1 gram of Lemon Drop (prices vary by strain)
---
32) DaVinci's iQ2 Vape is one of the best smoking accessories for people without a budget
If your partner deserves the best of the best and price is no problem, the DaVinci iQ2 vape is what they need. This sleek and sexy vaporizer is meant for portable dual-use. What's that mean? It means you don't have to choose between flower and extracts. This nifty little gadget is capable of helping you consume both types of CBD or cannabis products, regardless of where you are.
But that's not even the coolest part. This vape is also pretty intelligent (smarter than your average vape, anyway). The iQ2 gives consumers a completely customizable experience. Using either the app or the dial on the device, users can adjust airflow, temperature, and even track the dose per draw per session! While these perks seem like nothing more than perks, knowing exactly how much you are smoking is crucial for recreational beginners and medical marijuana users.
Price: $295
---
33) Want to celebrate 4/20 without the high? Unity Wellness Co. has you covered
Plant-based people know just how hard it is to find a solid vegan protein bar or all-natural beverage that isn't loaded with sugar, Unity has proposed a solution so good that I believe it should make the cut for all 420 celebrations.
Appease munchies with Unity's variety of nutritious protein bars that are packed with flavor, fiber, plant protein, and CBD. Available in flavors like Dark Chocolate Coconut and Dark Chocolate Peanut Butter, they'll satisfy even the sweetest of sweet-tooths.
Unity's line of wellness beverages also isn't to be overlooked. These 14 oz bottles are filled with feel-good ingredients, like ashwagandha for anxiety and immune support, Rhodiola Rosea for anxiety and fatigue, and Ginkgo Biloba for cognitive health and focus. They also lack all the ingredients you don't want to sip, like an absurd amount of sugar, THC, and artificial flavors and preservatives. The drinks are currently available in five flavors: Strawberry Lemonade, Blueberry Lavender, Blackberry Tea, Ginger Lemonade, Elderflower Rose, there's something for everyone!
Price: $34.93-$41.94
---
34) Dogwalkers merch is the best gift for stoners who embrace their couch lock
Gifts for smokers are rarely this SFW, so if you're nervous about packaging or parents, Dogwalkers' merchandise deserves your attention. Not only are the designs super cool, but they're also printed on incredibly soft apparel. When fashion meets comfort, well, that's got stoner written all over it.
Price: $15-$70
---
35) For the person who has trouble sleeping: CBD Living's sleep aid syrups will put all other weed gifts to shame
Whether the pot enthusiast in question has discussed taking a T-break or just wants to cut back on how much they're smoking, their ability to fall asleep may be hindered. Or maybe they just have a sucky sleep pattern to begin with, either way, you should really consider gifting them a CBD + melatonin sleep aid syrup by CBD Living.
Not only is this the first syrup-based product I've come across, but it actually works. I will say it might work a little too well? Yes, I get the best-uninterrupted sleep of my life with it, but sometimes I wake up feeling groggy. So if you don't have at least 8 hours to snooze it off, you may need an extra cup of coffee come the morning. It's available in two flavors, grape and cherry. I prefer the grape because it reminds me of Children's Motrin, but that's just a very odd personal preference. Best of all, it's vegan!
Price: $15
---
36) If they're a joker, smoker, and midnight toker, what they need is Toking Hazard
One of the most underrated gifts for stoners isn't a weed accessory, it's a card game! They'll need the base game to play with this expansion deck, so make sure you grab that first. Then you can take it to the next level with this addition which takes everything reviewers love about the create-your-own-comic game and makes it a little more potent with high-larious 4/20-related humor.
Price: $10
---
37) Cann Social Tonics are the alcohol alternative you need for your 420 celebration
Got high standards? Well, I'm nearly certain Cann will surpass them. These cannabis-infused beverages, or "social tonics," as the brand calls them are infused with 2mg of THC and 4mg of CBD per can. Sold in packs of four, 10, 30, or 48, this is the perfect replacement for alcohol this 4/20…and every day after that. Currently, the brand offers five flavors: Grapefruit Rosemary, Lemon Lavender, Blood Orange Cardamom, Ginger Lemongrass, and Pineapple Jalapeño. And since the drinks are relatively low-cal (30-35 per can), contain only natural ingredients, and don't leave you with a hangover, it's impossible to feel guilty enjoying them.
Prices vary by retailer
---
38) Cannabis connoisseurs will love the Goldleaf Taster Journal
This little thing may look like nothing more than a notebook, but it's actually the perfect stoner gift for people in both legal and illegal states. The logbook is designed with specific pages for any user to note names of strains, their qualities, likes, and dislikes. There are even infographics and other guides to help authors really get into the nitty-gritty of their bud.
Price: $19.99 (regularly $21.99)
---
39) Make CAH deck less of a dub with the Weed Pack expansion
Cards Against Humanity donates all their profits from this expansion to the Marijuana Policy Project!!!
Price: $5
---
40) The Raw Trident triples smoking capabilities for those brave enough
This is one of those weed accessories that when you see it, you still can't believe it. For those of you who may be confused, yes this is a three-joint piece. It's made for King Triton type smokers who want to really optimize their smoke seshes for maximum efficiency.
Price: $15.79
---
41) Give the gift of discretion with a Smoke Buddy Personal Air Filter
Not everyone has cool parents or the advantage of living in a legal state, which can create a bit of chaos as weed's biggest flaw is the fact that is reeks. However, the Smoke Buddy strips the smoke of weed smell (and won't fill your lungs with chemicals like the old DIY toilet paper roll and dryer sheet combo) so you can confidently rip one in hotels, your childhood bedroom, and even a dorm room without danking the place out.
Price: $14.08 (regularly $19.95)
---
42) BARBARI Herbal Blends are the ideal gift for spicing things up this 4/20
If you've never cut your joints or hand-rolled a cigarette using nothing but herbs, you're missing out. In fact, this 4/20 I challenge you to really get all your greens in. The best way to do that is using BARBARI Herbal Blends.
Currently, the brand offers three 16g varieties of organic, food-grade, smokeable herbs grown in Oregon (plus one that's just hemp flower). Car Sex features a euphoric blend of mullein, white sage, lion's tail, raspberry leaf. Muse is a creative combination of peppermint, jasmine flower, raspberry leaf, and sage. While the relaxing Airplane Mode is a mix of rose, blue lotus, raspberry leaf, lavender, sage.
Price: $23 for a one-time purchase, $18 when you subscribe
---
43) Gifts for stoners that live together: This card game will turn up the heat
If you're a fan of making fun of your friends, you'll love this NSFW party game. Played similarly to Cards Against Humanity, each round a card is drawn and every player gets a say as to which player would be most likely to do whatever is on the card and why. Then the player who receives the most votes wins that card and the player with the most cards loses the game. Buyer beware…this game isn't for those that are easily offended.
Price: $18
---
44) One of the best stoner gifts: A three-chamber grinder
One of the weed accessories you don't want to skimp on is a grinder. Cheaply made grinders won't grind your bud right, leaving it mangled and rendering the kief useless. The finer the weed is ground, the better it will cherry (burn) and if you get a three-chamber grinder, you'll collect kief. Which for those of you who don't know what that is or why it matters, kief is the cumulation of the outermost layer of cannabis crystals (trichomes) and they get you very high. You can pack just a bowl of kief if you're out of weed (not recommended unless you have A LOT of kief as it burns very quickly), or you can sprinkle it on the top of a packed piece or in a roll–a little goes a long way, friends.
I recommend Aerospaced grinders because they're made incredibly well and are large enough to fit those big nugs but not too big that it'll weigh your pocket down. It's also double-threaded which makes locking it in place and grinding super easy. Aerospaced grinders are designed with a kief catcher and every one comes with a kief scraper and magnetic lid so you can pregrind your bud for the day and store it in the piece without the worry of spillage. I wouldn't go tossing the grinder around like a football, but in the eight years I've had mine, she's only done me well!
Price: $25.95
---
45) For the slam poetry fan: A lil box of weed goes a long way!
If you (unfortunately) live in an illegal state, this might be the only stoner box of weed you can gift without worrying about the c*ps.
Price: $8.95
---
46) Valfré's ceramic ashtray is perfect for the smoker with a creepy sense of humor
Weed accessories like ashtrays are great gifts because it's not something someone wants to buy for themselves, but it's something they need. And if you score one of Valfré's ashtrays, it will perfectly balance your thoughtfulness with their soft but edgy aesthetic. My personal favorite is the clown ashtray with the words "I'm high" painted next to it. No wonder Pennywise claims everyone floats down there, they're all stoned!
Price: $25
---
47) For the recently converted cannabis enthusiast I recommend Finding Your Higher Self: Your Guide to Cannabis for Self-Care by Sophie Saint Thomas
Everyone needs a little TLC, but Caribbean author Sophie Saint Thomas teaches you how to incorporate what her culture considers to be a sacred and powerful plant into your self-care routines for added benefit. This guide is an amazing gift for people who have recently been introduced to marijuana because not only does it offer some really great suggestions on how to incorporate weed into "me time," but it details all the lingo of stoner culture without being condescending.
The book starts by teaching readers about weed–discussing the strains, ways cannabis can be consumed, and its medicinal effects. Then it goes on to detail the best practices for reaping all the benefits of THC and CBD by category–mind, body, and spirit. Some of the activities suggested in the book are guides to meditation and cannabis oil massage, instructions on how to rid yourself of self-doubt and write positive incantations, and so much more!
Price: $11.89
---
48) Put your green to good use with LEUNE
If you live in California, it's time to put your money where your mouth is and stock up on LEUNE cannabis products. Not familiar with the brand? According to my sources, "LEUNE's portfolio is segmented into five archetypes with strains rotating seasonally. Feeling dreamy? Head for the indica-leaning Cloud Berry. Need a creative boost? Sativa-leaning Desert Gold has got you covered. All of LEUNE's seasonal strains are grown under the California sun. And are made available as flower, pre-rolls, live resin and all-in-one vaporizers."
But that's not even my favorite part about LEUNE. The company knows that the cannabis community hasn't always been "good vibes only." It's why the brand makes it a part of its mission to "bring awareness to social injustice and inspire true, positive change." But LEUNE isn't just all talk. The company actually lives what it preaches. It's currently partnered with the Last Prisoner Project and Broccoli Mag's Floret Coalition. It also helps sponsor Eaze Momentum. So if you truly want to give a good weed gift, give LEUNE.
Price: $7-$33
---
49) Nugg Club is the gift for stoners that keeps on giving with its exclusive 4/20 celebration event
Currently, this is only available to my LA and Orange County friends, so my apologies to the rest of you (but keep an eye out, this company has plans to expand!). But I just had to include it on this list because it's one of the coolest ideas I've ever come across. Nugg Club is a subscription box for, you guessed it, weed. Each personalized box includes five to seven full-sized cannabis products picked just for you by the experts at Nugg Club. All you have to do is answer some questions through a short quiz, fill out a form, and prove you're of legal consumption age. Each box retails for $99 (but you're getting $225 worth of products, so this is a pretty hot deal).
On top of that, in honor of 4/20, the company will be hosting a "Virtual Curated 4/20 Experience." Since Nugg Club wants to promote a safe (yet still lit) 420 celebration, it has built an "experience site" for its users to relish in while they observe the holiday from their homes. It features art, music, deals from local restaurants, and of course, cannabis. The site is meant to be enjoyed alongside this month's Nugg Club box, so if you don't have one just yet, don't worry! Using code HIGH420 new customers can score a subscription for over 57% off!
Price: $42 with code (regularly $99)
---
50) River Organics CBD massage oils are the weed gift that keeps on giving
If you've ever been so tense that even a massage felt painful, River Organics' CBD massage oils are for you. Using the anti-inflammatory and stress-relieving effects of powerful cannabinoids, this massage oil will help reduce muscle and joint pain as well as promote relaxation. Developed using only the best of full-spectrum hemp, you can expect this army of cannabinoids (CBD, CBG, CBC, CBN, etc.), hemp seed oil, tea tree oil, and peppermint oil to go straight to the source of your tension and provide you with nearly immediate relief (and super supple skin).
Price: $74.99-$120
---
MORE STONER GIFT IDEAS: