Amazon Prime Day isn't here yet, but the Prime Day deals are already starting to roll in–and some of them are really juicy.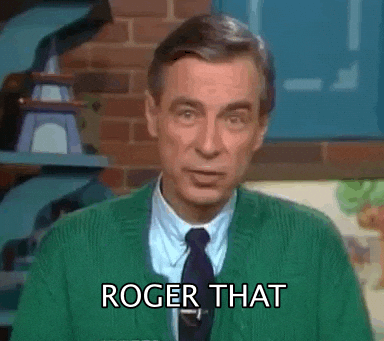 As the online giant gears up for its biggest deals event ever, Amazon is hyping up its shoppers by offering limited Prime-exclusive deals from now through Prime Day. Since the goal is to keep the party going well through Prime Day, from now until mid-July there will be a flood of announcements proclaiming new sales, discounts on popular items, and even exclusive product launches and pre-orders only available to Prime members!
Here's how it works: Prime Members can head over to Amazon and click the Prime Day page banner (like you would on Prime Day) to find sales on big name brands that are only available to them.
However, if you want to stay on top of all the best chances to score some savings, we suggest you follow our regularly updated coverage and make sure you're familiar with all there is to know about Prime Day 2019!
And now, onto the deals…
Prime Day deals you can take advantage of now*
*Editor's Note: This article is updated daily for relevancy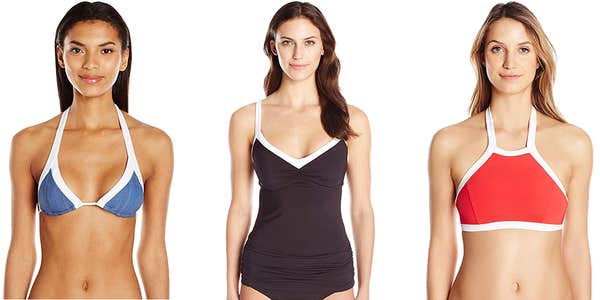 Today only, you can take advantage of one of the best Prime deals and save up to 70% on select styles of Seafolly Australia women's swimwear. The pieces are sold as separates, which makes sizing to your needs and mixing-and-matching a breeze! Included in the sale are various styles of bikini tops, bottoms, and even a few tankini tops for those who wish for a little extra coverage from the sun.
Price: Varies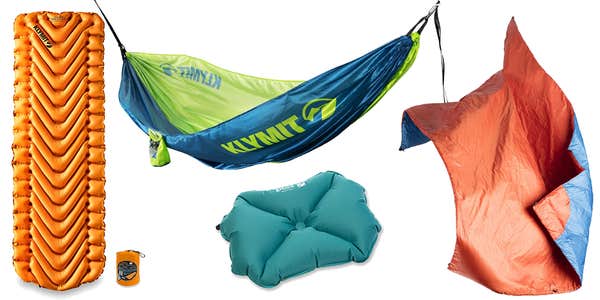 If you wait all season for Prime deals on camping equipment, outdoor gear, or hiking supplies you'll be very happy to hear that today only you can save up to 60% on select Klymit camping and outdoor equipment. The sale includes inflatable pillows, hammocks, sleeping pads, and other must-have camping supplies.
Price: Varies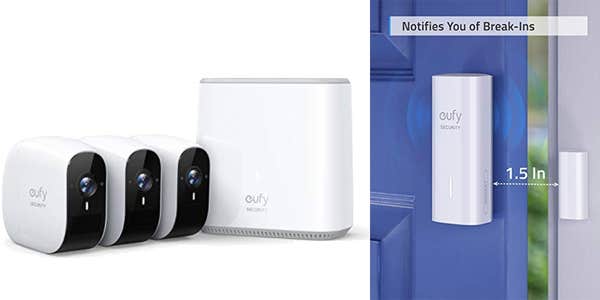 Looking for peace of mind? This Amazon Prime deal exclusive will bring you just that. Today only, Prime members can save up to 30% on select eufy home security cameras and systems. Featured in the deal are 1080p HD-recording cameras equipped with night vision and 2-way audio, wireless home security kits compatible with Amazon Alexa, and security entry sensors for doors and windows.
Price: Varies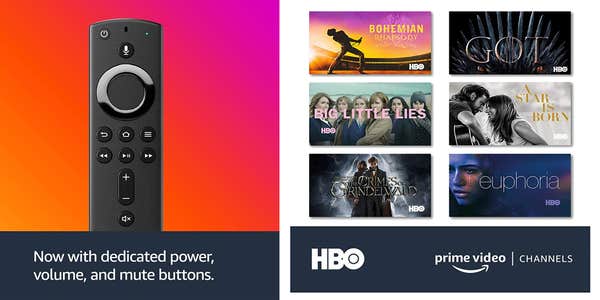 For a limited time, Amazon is giving away two month long subscriptions to HBO with every purchase of a Fire TV Stick–the only caveat is this is a Prime membership deal only (and it will automatically renew at $14.99/month unless canceled beforehand). The bundle also includes Alexa Voice Remote, so you can control what you watch just by using the sound of your voice. And you don't have to wait until you get your Fire TV Stick to start binging all your fave HBO originals because your free subscription with Prime Video Channels will begin immediately after checkout!
Price: $39.99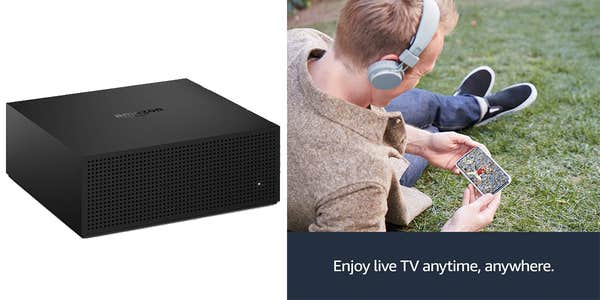 For a limited time, Prime Membership holders can grab the Amazon Fire TV Recast with two tuners and 500 GB of storage for $100 off its regular price. Not familiar with Fire TV Recast? It's Amazon's re-designed DVR that lets users record live TV (from channels like ABC, CBS, FOX, NBC, PBS, and The CW) and watch it from anywhere in the world without any monthly fees or cable bills–all you need is an HD antenna. The two tuners allow you to record up to two shows at once, and with 500 GB of storage, you'll be able to save up to 75 hours of content before having to clear space.
Price: $129.99 (regularly $229.99)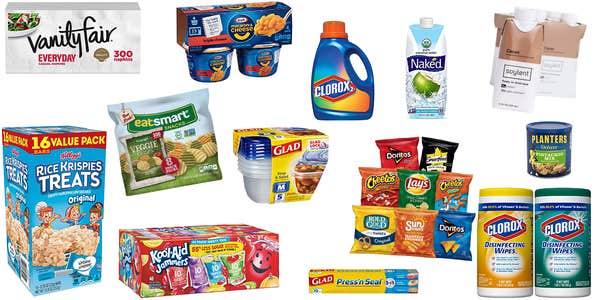 Amazon Prime Day deals on grocery items might not be high on your list, but that doesn't mean you should pass on them completely. For a limited time, Amazon is offering up to 40% off select big name snack brands, paper goods, and other household items purchased through Prime Pantry. Prime members can also score an additional $10 off any order of $40 or more just for being a Prime member!
Price: Varies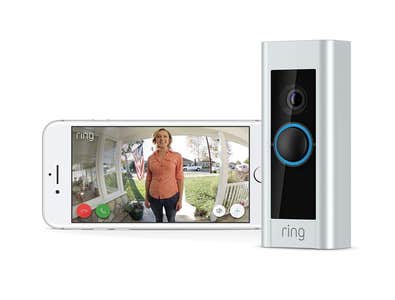 Amazon Prime Day has traditionally revolved around tech deals and from what we can tell, there are no plans to change that anytime soon. In fact, for a limited time, any Prime member who purchases the Ring Security Doorbell will automatically save $25 and receive a brand new Amazon Echo free of charge! For those of you who've never heard of Ring, it's a high-tech doorbell equipped with security cameras and an app that you can access from any smart device. So if you want to see who's at the door before you answer it (or while you're away from home) all you have to do is open the app–which even supports two-way sound, so if you're not home but want to tell the delivery person that they can leave the package in your mailbox now you can do just that (and from nearly anywhere in the world, too).
Price: $273.99 (regularly $289.99)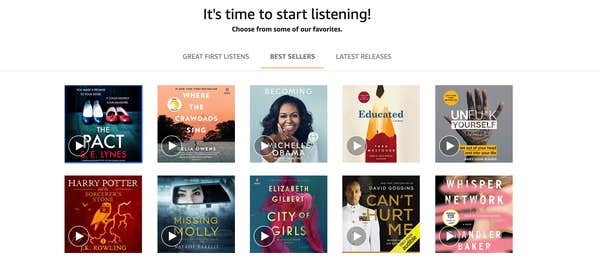 Bookworms will love to hear that one of the best Prime Day deals this year happens to be on audiobooks. For a limited time, Amazon Prime members can get 3-months of Audible Gold for just over what they'd usually pay for a single month (after the free 30-day trial, of course). And for those of you new to Audible, just know it offers the world's largest library of audiobooks right at your fingertips. From entertainment and inspiration to education, this online library has it all. The Gold membership allows you to choose two Audible originals and one book of your choice for free every month, regardless of price. Plus, if you end up not liking one of your three monthly picks, no worries. You can simply swap it for something that's more you. And if you're a speed reader, you can purchase any other audiobook for 30 percent off the retail price. To make things even better, every audiobook you download stays in your library. Forever. That goes even if you switch devices or cancel your membership.
Price: $15.25 (regularly $44.85 or $14.95/month)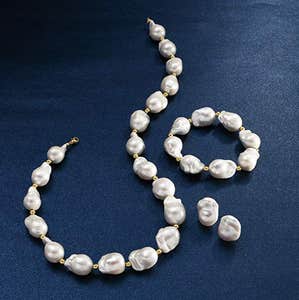 With a variety of gold, silver, and semi-precious stone rings, necklaces, earrings, bracelets, anklets on sale, you won't want to miss this Amazon Prime Day deal on certified fine jewelry.
Price: Varies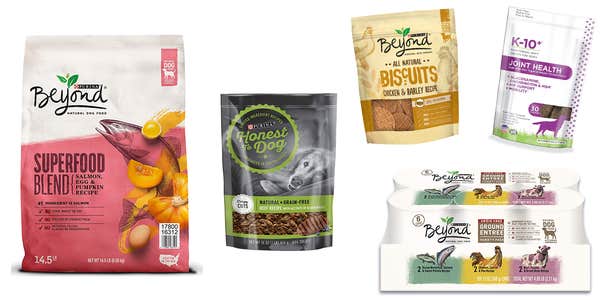 Thanks to your Prime membership you can order the biggest bag of dog or cat food and not have to worry about lugging it to your car and into your house. Instead, you can have Amazon do all the heavy lifting while you save up to 40% on select Purina dry and wet dog food, treats, vitamin supplements and up to 50% on select Purina cat food and treats!
Price: Varies

Without a doubt, this is one of the best Amazon deals we've seen yet. Amazon Music Unlimited is Amazon's music streaming service, comparable to Spotify and Apple Music. With a library of 50 million songs and the ability to curate customized playlists, users won't miss a beat no matter what genre(s) of music they prefer. But unlike other music streaming services that only allow one profile per account, users can choose the Amazon Music Unlimited Family Plan and support up to six different profiles–so everyone can personalize their own playlists, without screwing up the algorithm for everyone else.
Price:$0.99 for 4-months of the Individual Plan ($9.99/month after) or $149/year for the Family Plan (reg. $14.99/month)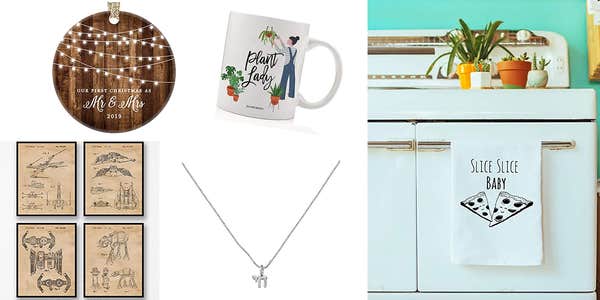 Amazon Prime Day deals normally feature popular products and big name brands, but for a limited time, you can score some pretty sweet savings on a huge range of handmade products! Customize mugs, wine glasses, and jewelry, shop unique home decor, and ultimately treat yo'self to something special that was made just for you.
Price: Varies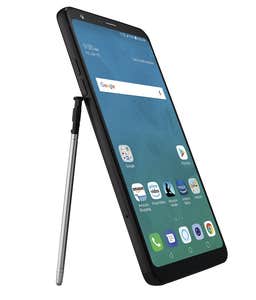 Originally on sale for $249.99, your Prime membership can save you an extra $90 on the LG Stylo 4! This is one of the smartest phones on the market, with facial recognition and a fingerprint sensor, pre-installed selection of Amazon apps, including the Amazon Widget, Amazon Shopping, and of course, Amazon Alexa, fast-charging, 32 GB of internal storage with the option to add up to 2 TB of microSD expandable storage, a 13 MP rear camera with high-speed autofocus and LED flash, a 5 MP wide-angle front-facing camera with Selfie Light and a QLens feature to search, shop, and scan for you!
Price: $159.99 (regularly $299.99)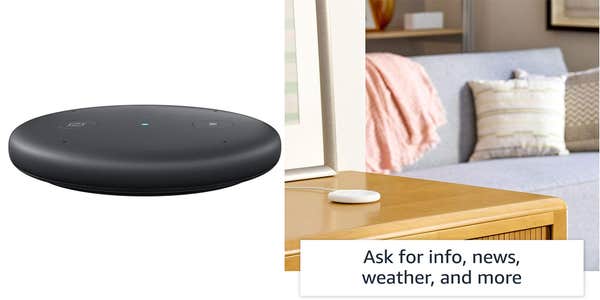 Since the spotlight is on Prime Deals, it would be a huge mistake to not include this sale. The limited time offer on the Amazon Echo Input will save you $20 on the device, which turns any speaker you already own into an Alexa-enabled device. Using Bluetooth or a 3.5 mm audio cable, users simply connect the Echo Input to whatever sound system of their choosing and within moments you can start asking Alexa for assistance.
Price: $14.99 (regularly $34.99)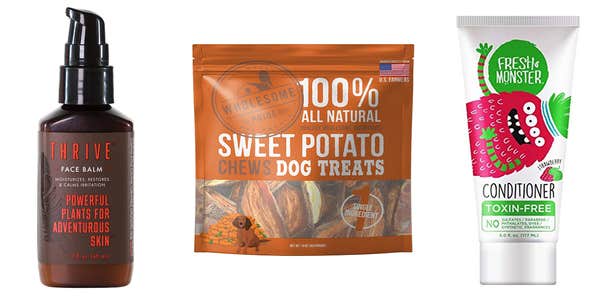 This Prime Day deal is giving you even more of an incentive to support small businesses. For a limited time, Prime members can save big on innovative products from small businesses like Thrive Natural Care, Fresh Monster, and Wholesome Pride.
Price: Varies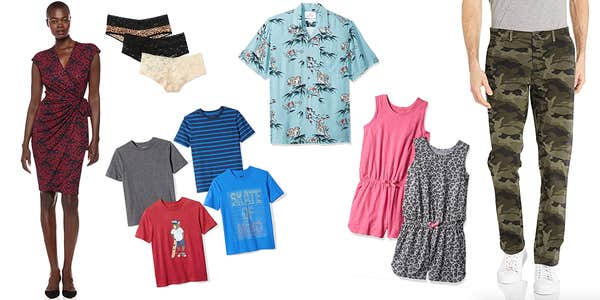 Prime deals on fashion and accessories are always appreciated. Whether you have barbecues to attend, a vacation planned, or just want to treat yourself to a new outfit, Amazon has select shorts, swimsuits, bralettes and intimates, dresses, capris, tanks, knit shirts, dress pants, rompers, jeans, lightweight cardigans, summer flannels, kid's clothes and scrubs on sale for cheap!
Price: Varies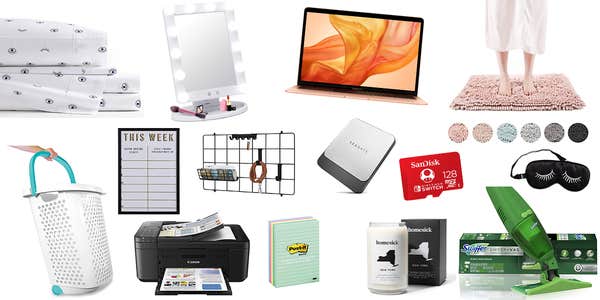 College is very expensive, so finding ways to save on even the smallest items proves beneficial–and this Prime Day deal on college and dorm essentials makes it easy. Everything from textbooks to bedding, small appliances and electronics, school supplies, and even fashion accessories are on sale. So if you don't already have a Prime membership, you may want to check out the Amazon Prime Student plan. It's cheaper than the regular Prime membership, and also offers an extended 6-month free trial (which we highly suggest you take advantage of).
Price: Varies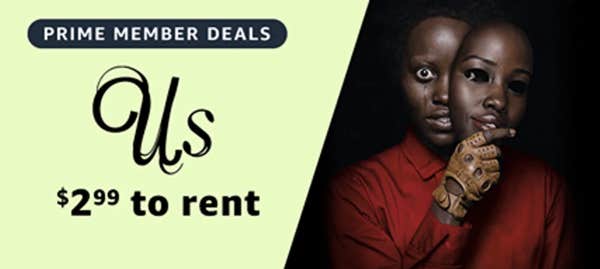 Without this Prime Day Deal, Prime Video rentals usually cost about $6 each. But for a limited time, Amazon is supporting your unhealthy binge-watching habits by cutting the price in half!
Price: $1.99 to $3.99 (regularly $5.99)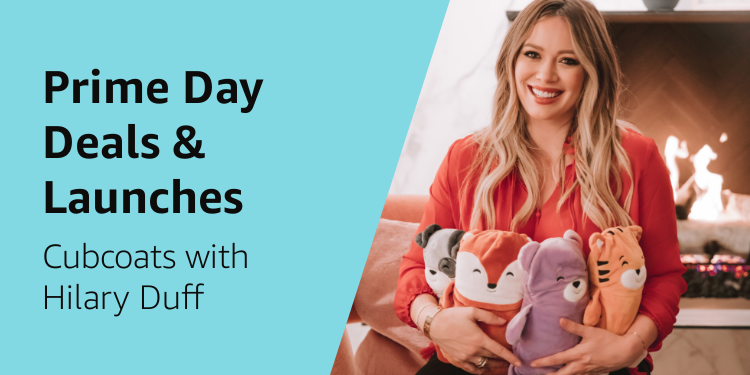 All thanks to your Prime membership, you can score discounts on products sold by your favorite celebs for a limited time. Some brands included in the sale are Kirsten Bell's charity snack brand This Saves Lives, Kobe Bryant's Art of Sport personal products, Zac Brown's DemerBox, Jaden Smith's JUST Water, Performance Inspired Nutrition by Mark Wahlberg, and kid's accessories by JoJo Siwa.
Price: Varies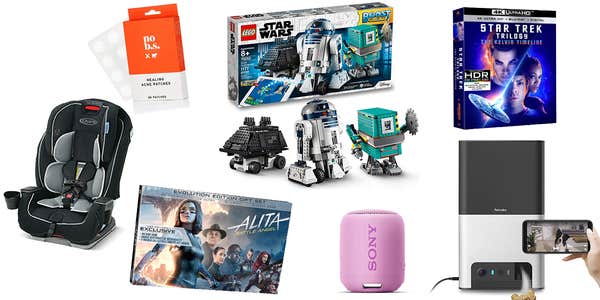 "Prime Day Launch" is new for the 2019 Prime Day celebration. These are offers on new products that are currently only available to Prime members. Some of the featured products are available to buy or pre-order now, while others won't officially hit Amazon's site until Prime Day. Pro tip: scour through this list now and add the products you're eyeing to your list. Then come Prime Day all you have to do to score the goods is press a button!
Price: Varies
Thanks to your Prime membership, you can score up to 30% off select Amazon products. From coffee to linens, baby products, cleaning essentials, and household staples now is your opportunity to save big on the things you use most!
Price: Varies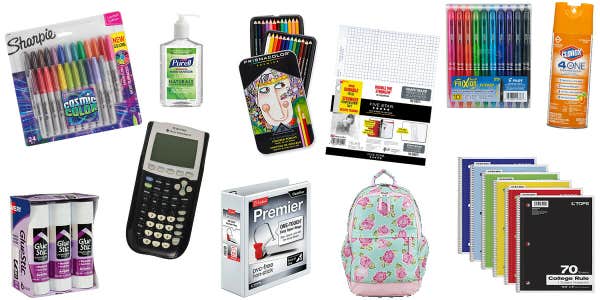 The current school year may have just come to a close, but for a limited time anyone with a Prime membership can save up to 30% on select school supplies. The sale includes everything from clothing and backpacks to writing utensils, art supplies, computers, and other accessories–making this is one of the best Amazon deals for teachers or those looking to stock up on cheap school supplies that they can donate to kids in need.
Price: Varies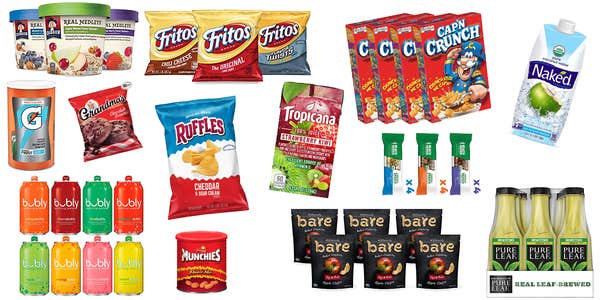 If you hate going to the grocery store, you'll agree that this is one of the best Prime deals so far. For a limited time, Prime members can save up to 25% on popular snacks and drinks like Lays chips, Health Warrior bars, various carbonated beverages, Gatorade, Pure Life teas, select Starbucks products, and much more!
Price: Varies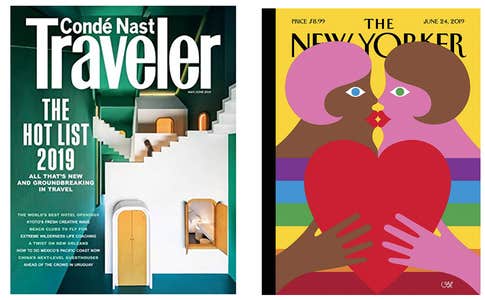 From now through July 14, anyone with a Prime membership can save up to 85% on select magazine subscriptions. Choose from The New Yorker, Sports Illustrated, Bon Appetit, Wired, Food Network Magazine, HGTV Magazine, and much more!
Price: Varies, but most subscriptions are under $2 per issue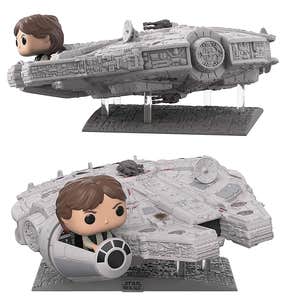 It doesn't get much cuter than bug-eyed Han and his beloved starship. This item will be released and shipped on October 21, 2019.
Price: $64.99

Amazon Prime Day is usually all about deals, but this year Amazon is also bringing exclusive live streams to its Prime members. One of them being the Twitch Prime Crown Cup, where celebs will battle it out publicly. Featuring Apex Legends and yet-to-be-announced EA SPORTS titles, the competitions will be hosted by streamers TimTheTatman and Castro1021 with interviews, commentary, and other exclusive perks (like exclusive in-game loot for Prime members) to come. The teams for each battle haven't been picked yet, so if you're looking to get involved in the draft make sure you have a Twitch Prime account set-up and check in with your host to vote for your picks.
Price: Free with Prime
MORE BAZAAR DEALS:
The Daily Dot may receive a payment in connection with purchases of products or services featured in this article. Click here to learn more.