Tech

Tech

The gadgets, platforms, and software that make your digital life possible. If it bleeps, clicks or blinks, you'll find it here.

Internet Culture

Internet Culture

There's a community for everyone online.

Streaming

Streaming

News, reviews, and guides for the world of online entertainment.
Batman Talisman finally lets the villains rule Gotham City
You won't go down without a fight in this Batman board game.
Presented by USAopoly
Have a paralyzing weakness for all things Dark Knight? Batman Talisman combines everything you love about the tortured man in the cape with cult classic strategy game Talisman, putting a dark twist on it that's perfect if you're the type to root for the Joker or Harley Quinn.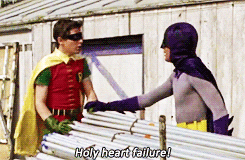 The game offers you a chance to reign supreme over Gotham—if you can survive the adventure of intense dueling action, anyway. The tabletop game has very similar gameplay the original Talisman game (more on that coming up). Just add in the DC humor, art style, characters, and wit. Think of it this way: instead of progressing through a series of magical, made-up "regions" on your journey to reach the Crown of Command like you would in the original Talisman board games, you and your competition will battle your way across the custom illustrated game board to the center of Arkham Asylum. So the basic style and laws ruling how this game is played won't change from board to board, but the cards you pull and summits you face during this quest are unlike any of the other pursuits made in the original Talisman board games.
With each roll of the dice and draw of cards, what's lurking behind each move remains a mystery until players confront the obstacles before them. Players will pick and choose from one of 12 villains: The Riddler, The Joker, Poison Ivy, Bane, Mr. Freeze, The Penguin, Ra's al Ghul, Two-Face, Clayface, Scarecrow, Harley Quinn, or The Joker's Daughter. That's right. We're not fighting for the good guys this time.
Then players roll a die to see who goes first and move their token respectively. When it comes time to draw a card, the player whose turn it is will pursue the objective listed on it. Some cards will boost your strength in combat, while others pit you against yourself. The goal of the game is to outplay the competition, essentially "freeing all the villains" before making your way to putting down the big boss: Batman himself.
Only hardcore baddies will survive the course unscathed. If you've ever watched any of the DC Universe villains fight to their win, and thought to yourself "Dang, they're super cool!" this game is definitely for you. But if you tend to root for the good guys, then you should be prepared to lose. Sorry, I don't make the rules, but in this strategy game, the good guys finish last (that is if they do at all).
Batman Talisman is great for diehard fans—specifically, the New 52 Era of comics since the story that unfolds throughout the game takes place alongside that revamped timeline. But it's also perfect for parents with older kids looking to share a crucial piece of comic book history with their families. The game is made for two to six players (ages 13+) and will quite literally throw new Batman fans into the center of the anti-heroic drama. What could be more enthralling than that?
Batman Talisman board game is available online through Amazon for $69.99 and eligible for Prime shipping–but before you buy, remember you have Bruce Wayne's permission to die.
The Daily Dot receives payment for sponsored content. Interested in promoting your brand or product? Email us at [email protected] to learn more.
Marisa Losciale specializes in NSFW culture, audio gear, and photography. A former editorial and photo director for Spoon University at SUNY New Paltz, her work has been featured in the Rockwell Center for American Visual Studies, Post-Trash, the New Paltz Oracle, and the Legislative Gazette.
© The Daily Dot, all rights reserved.
Represented by Complex Media, Inc. for advertising sales.