Presented by MysteryVibe
Even with everything we know about living a healthy lifestyle, most people still wouldn't consider sexual pleasure an element of it. But MysteryVibe is working towards changing that ideology with Crescendo–the body-adapting vibrator.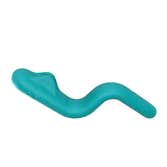 Why vibrators are an important component of sexual health
Before we get into why the flexible design of the Crescendo is more than just innovative, let's discuss the science behind why using a vibrator can actually benefit your health.
All sexes and genders derive major health benefits from orgasm, including cardiovascular exercise, pain relief from oxytocin release, and lessening of stress. The best way to achieve more orgasms? Adding a vibrator to the mix.
This is especially helpful for those who need clitoral stimulation. According to a study by the Center for Sexual Health Promotion at Indiana University, nearly 40% of women reported clitoral stimulation was necessary for orgasm during intercourse, while an additional 36% indicated that orgasms feel better if their clitoris is stimulated during intercourse.
Of course, there are other routes to orgasm too.
"It's been reported that women have orgasms through nipple stimulation, clitoral stimulation, as well as vulva stimulation–and the Crescendo can be used to trigger all of those feel-good areas," says urologist and sexual medicine expert Dr. Rachel Rubin.
Additionally, according to a 2018 study published by the Taylor and Francis Group, "Patients should be encouraged to explore vibrator use all over the body, not just the genitals, and be reminded that vibrator use is for both men and women; involving a partner in vibrator use may increase sexual satisfaction."
In other words, there's no correct way to use a vibrator–it's all about figuring out what feels good! And because of the Crescendo's incredibly versatile design, it's ideal for first-time vibrator users looking to explore their bodies, as well as for people with more expertise in the realm of sexual pleasure.
What makes bendable vibrators different
The Crescendo differs from other adult toys because users can bend it into nearly any shape they want, making it a great toy for solo play as well as partner play. According to Rubin, flexibility makes a huge difference for those looking to explore different ways to reach orgasm.
"This toy can do what a lot of other toys can't," Rubin says. It's firm yet malleable, so users are able to customize it to their individual needs. For the 75% of vagina owners who have reported experiencing discomfort during sex at least once, a vibrator like Crescendo could improve your experience in the bedroom.
Think of it this way: if you've ever had a knot in your shoulder, you know just how crucial it is to have a device that can pinpoint your pain in order to relieve it. Rubin says your pelvic floor holds tension in the same way. So if you don't have a toy that can reach the right area, it wouldn't be uncommon for you to experience discomfort during intercourse. Since the Crescendo is bendable, users are able to shape it to hit all the right nooks and crannies, essentially ridding themselves of the tension that can cause pain.
However, Rubin reminds us that there is no one-size-fits-all device. It's important to work alongside a doctor or pelvic floor physical therapist when it comes to treating sex-related pain. If you haven't already talked to your doctor about your symptoms, you should do so ASAP.
How to use a vibrator to orgasm
What gets you off varies by person—even by day or mood sometimes—but triggering sensitive areas is easier with some automated assistance.
Using six powerful (yet whisper-quiet) motors, the Crescendo can be bent into a "clip" shape which is ideal for nipple stim, an elongated "U" shape for dual clitoral and G-spot stimulation, or slightly bent to a finger shape that's ideal for prostate play. According to Rubin, any toy meant for your back door should be larger at the base than it is at the tip, and it should also feature a long handle to prevent it from getting "lost."
"You have no idea how many foreign objects I've had to remove from patients because they're using an improperly-sized toy or something that isn't meant to be inserted into an anus," Rubin said.
If you do choose to explore anal play, it's crucial you don't use anywhere else before cleaning your sex toys.
"Sex toys can pass HPV from your anus to your vagina (or vice versa), give you a bacterial infection, or even spread other STIs from partner-to-partner if they're not cleaned in-between uses," Rubin says. "Which is why sharing toys is rarely a good idea unless they've been cleaned."
Other perks of using the Crescendo
Like most other smart devices, the Crescendo connects via Bluetooth to the free MysteryVibe app, which can be used to control the vibrator from up to 10 meters away. This practically doubles the fun during partner play! The app can also be used to adjust the speed and pattern of the Crescendo.
The MysteryVibe Crescendo retails for $149.99, comes with a 12-month warranty, and is available in two beautiful colors: ocean blue and plum purple. You can buy it directly through the MysteryVibe website.
Since it's designed with premium silicone, the Crescendo is completely body-safe and lube-friendly–just remember not to use a silicone-based lube or store it next to other silicone toys, and clean it after every use! Since this vibrator uses induction charging to power-up, it's 100% waterproof–making it the perfect toy for bath time, and super easy to clean.
The Daily Dot receives payment for sponsored content. Interested in promoting your brand or product? Email us at [email protected] to learn more.