Those of us who have pets in our homes probably wonder what their lives are like when we aren't around. Do they lounge about, seeking only tranquility in the silence of our absence? A new camera combines cuteness with the power of observation to see what your pets are doing when you are away.
Inspired by Despicable Me 3, the Minion Cam HD Wi-Fi Camera provides peace of mind (and unintended amusement) no matter where you are. Equipped with night-vision technology and motion detectors, the camera connects with a smartphone app to provide a window into the goings-on in your home while you are away.
Set up is a breeze. Just plug in the camera into a power outlet, connect to the app through a Wi-Fi connection and see what's going on. The camera also comes with screws so it can be mounted on any flat surface. The pivoting attachment between camera and stand lets you point the lens in any direction you desire.
The Tend app provides a live feed of what the camera sees and allows interaction from any location. A microphone and speaker in the camera let people talk to their pets or anyone else through the app. While the sound quality isn't feature film material, it is clear enough to hold a conversation with people.
But who has time to monitor everything going on in their homes when they aren't there? The camera's motion detector activates, record and stores the last 24 hours of when anything moves into its vision. The app can create short videos as well, giving you a look into the lifestyle of your pets.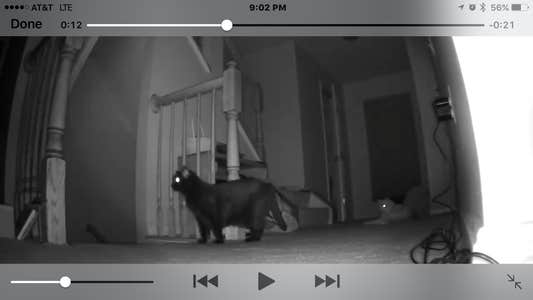 While obviously useful as a security camera, the motion detection can be fine-tuned to record only pet movements if that's what you want. The night vision function also spies on your furkids' activities while you are sleeping. I chose to keep my camera close to the floor. It is easier to get the kitty close-ups that way.
It turns out my cats are a lot more active in the middle of the night than I expected. Those stairs get a workout! The videos can also be accompanied by a selection of music, making them entertaining and shareable.
The camera is small and unassuming. If not for the bright yellow Minion, it could very easily be overlooked. However, the look of a Minion isn't nearly as much fun as the voice of a Minion. When activated, you can have the camera say one of their many famous catchphrases from their movies. If you have your own saying, use the microphone's filter to make your own voice sound like a Minion.
The Minion Cam HD Wi-Fi Camera is $37.67 through Amazon and currently on sale (normally $49.99).
MORE BAZAAR DEALS:
The Daily Dot may receive a payment in connection with purchases of products or services featured in this article. Click here to learn more.