Presented by H&R Block
Reminder: Tax day is April 17. Click here to file your taxes for free, before time runs out!
If we can make it through the eternity that January felt like, we can make it through anything – including tax season.
Before the internet, filing your taxes used to be a hassle. You'd have to pick up all the necessary paperwork, organize it, speak to an accountant (or trust your elementary math skills) and then pay to file it. But now, the process is a little bit easier, thanks to More Zero, H&R Block's online-only service.
More Zero is specially designed for new filers and homeowners: those who file 1040EZ, 1040A, or 1040 forms with Schedule A. If you own a home, make cash or noncash charitable donations, or have medical expenses, you might be able to file online for free with H&R Block.
From the moment you start a form, H&R Block coaches you along. The service even rephrases the legalese for you, which makes understanding the process easier than you ever could've imagined. Plus, you can file state and federal taxes in one go.
Getting started is easy. Just choose which form you'd like to file, then follow the prompts. Thanks to the snap feature, you can take a picture of your W-2 form and upload it using any smart device.
When it comes to gathering last year's return, forget trying to copy and paste each line into a new form. H&R Block lets you import information from other tax prep services, so you won't strain your eyes or accidentally misplace a decimal or comma.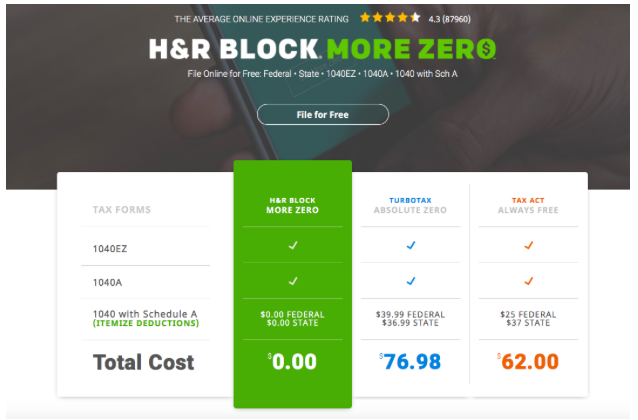 TL;DR: More Zero will make tax season a breeze. So if you own a home and have yet to file, you could be doing so for free with trusted professionals from H&R Block. They're trained to get you the maximum refund you deserve and they'll even show you how they got it.
Click here to file with H&R Block
The Daily Dot receives payment for sponsored content. This post does not constitute our endorsement or review of the product. Interested in promoting your brand or product? Email us at [email protected] to learn more.