Editor's note: This article is regularly updated for relevance. 
Learning how to use a vibrator shouldn't be the most challenging task in the world, but figuring them out on your own isn't the easiest feat–and no-one should be stressed over how to use a vibrator.
Behold this guide! Whether you're looking for a new way to get in touch with yourself or just need someone to show you the ropes, we can help. FYI: Some devices are just easier to use than others, but it's all subjective (there's no debating this!). So, by the time you're done reading this, not only will you know all the different types of vibrators but all the different ways in which you can use them, too. And here's a hint: there's no wrong way!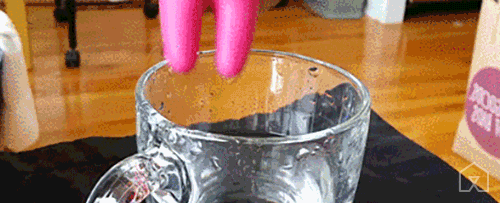 Before we do a deep dive into the good stuff, we have to nail the basics. Like what is a vibrator? For starters, it's a sex toy. But unlike dildos and butt plugs, vibrators are animated. Hence, their name!
Vibrators can be designed with a plethora of different materials–and there's a whole world of them out there perfect for designing sex toys. So if you want to play it safe, the next time you head on over to your local adult superstore make sure whatever device(s) you buy are designed with one of the materials listed below.
Silicone
Glass
Metal
ABS hard plastic
Wood
Stone
What are the different types of vibrators?
Now that you know what a vibrator is, it's probably time to tell you that there's more than one kind. And although there is no wrong way to use a vibrator, companies do design these adult toys with an intended purpose. So what does that mean for you? Depending on what you're looking to stimulate, you'll want a specific vibrator to get the job done.
Think of it this way: you can draw with both pens and pencils, but when it comes to sketching you're more likely to choose the pencil because of its additional features. Vibrators work the same way–you can get off with any of them, but depending on the activity some may work better than others.
Here are your options:
Bullet (or clitoral)
Realistic
Finger
Prostate
Cock rings
How to use a vibrator
By now you should be more than familiar with what a vibrator is and their variations. Which leaves us to it: How do you use a vibrator?! Well, as previously stated, there really is no wrong way to use a vibrator. Whatever feels good, feels good! There's no arguing that. But these toys were designed for a specific purpose, so to help you figure that out we've summarized how each style is intended to be used by the manufacturer because how you want to use a Rabbit vibrator is a little different than how to use a Bullet vibrator (and so on).
We also took the liberty of awarding each adult toy a level of difficulty, between 1 and 5 (with five requiring the most experience, and one requiring the least). Lastly, we even went as far as recommending some staff picks, in addition to toys that scored 4 stars or more on Amazon. You're welcome. (;
---
READ MORE:
---
Level of difficulty: 2 to 5
No matter what hot-spot you prefer, a rabbit vibe can tickle its fancy. Taking its name from the way rabbit ears look when cropped (a cliche, I know) these toys are designed with two arms intended to target the clitoris and G-spot simultaneously.  Some are even designed with two sets of controls–one for each arm, allowing you to really customize your experience.
Our recommendations: Satisfyer's Mr. Rabbit ($43 via Amazon), The Perfect Match by Sweet Vibrations ($39.99 via Amazon), Womanizer's Duo rabbit massager ($208 via Amazon), and the Booster Rabbit by Femme Funn ($64 via Amazon)
---
Level of difficulty: 1
Bullet vibrators are easily the best vibrators for beginners, and not just because they're some of the smallest. They're simple to use–just turn 'em on and click through the different speeds and patterns. They're also super versatile. You can use these adult toys to stimulate all your erogenous zones, as well as with other toys (like strap-ons and vibrating panties).
Clit vibrators are another name for a subcategory of bullet vibrators which include sucking vibes and oral-simulators, like the Satisfyer Pro Traveler which has a cult-like following for a reason. It's near-silent, extremely powerful, and makes it feel like someone is actually going down on you.
Our recommendations: Satisfyer's Pro Traveler ($29.95 via Amazon), TENGA's Iroha Stick ($29.99 via Amazon), the Angel Crystal Gem Supercharged Vibrating Bullet by Maia Toys ($24.99 via Amazon), PlusOne's vibrating bullet ($9.98 via Amazon), the Pre-heating Bullet Thruster by ZALO ($98.95 via Amazon), and Sweet Vibration's TuLips ($44.99 via Amazon)
---
Level of difficulty: 1
Unlike other vibrators that are a little more versatile, personal massagers are designed for external stimulation only. Personal massagers can come with an attached cord while others are wireless (some claim the attached wire allows for a more powerful vibrator since it draws power directly from an outlet instead of a stored source). Too strong for you? Pro tip: Use a towel, silicone cap or blanket to take the vibrations down a notch!
Our recommendations: Bodywand Rechargeable Personal Massager ($44 via Amazon), We-Vibe's Rechargeable Wand ($170 via Amazon) Zumio S or X ($140 via Amazon), Six Nine's Rechargeable Personal Wand ($29.99 via Amazon), and the Original Magic Wand by Hitachi ($59.99 via Amazon)
---
Level of difficulty: 3 to 5
Also referred to as traditional vibrators, G-spot vibes can be used internally or externally. They're longer than most other vibrators and come in a variety of shapes and styles–with the curved ones being a little more difficult to use than their vertical counterparts.
Our recommendations: OhMiBod's award-winning Lovelife Cuddle ($69 via Amazon), the Petting Hippo by Satisfyer ($43 via Amazon) and TENGA's Iroha Fit line ($246 via Amazon) 
---
How to use a finger vibrator
Level of difficulty: 1
Finger vibrators or ring vibes are exactly what they sound like–vibrators you can wear! Worn on one finger, these adult toys are great for solo external play and, of course, shared experiences. Some finger vibes are small, only covering the tip of your finger, while others turn your whole hand into a very NSFW appendage.
Our recommendations: Fin by Dame Products ($85 via Amazon) and Doc Johnson's Pleasurepillar Mini Massager ($28 via Amazon)
---
Level of difficulty: 5
Some butterfly vibes are meant to used hands-free (these are also known as wearable vibes), but they all kind of mimic a "fluttering" sensation, hence where they get their name. Wearable vibrators are worn internally, some rest against the labia while others are actually inserted into the vulva. Additionally, most butterfly vibes also feature some sort of external, clitoral stimulation–no wonder they're a popular choice for vibrating underwear!
Our recommendations: We-Vibe Moxie ($122.55 via Amazon), Fun Factory's Share Vibe Dildo ($119.99 via Amazon), Mr. Hook by Adrien Lastic ($119 via Amazon) and the Rock Chick by Rock's Off ($36 via Amazon)
---
How to use a prostate vibrator
Level of difficulty: 3
Prostate massagers are essentially just vibrating butt plugs. These adult toys are available in a variety of shapes and sizes because anuses are notoriously easy to irritate (and even tear), definitely not the department for a one-fits-all sizing. If you're new to butt stuff, it's important to start with something small, lube it up, and remember to go slow! As the resident sex-pert, I suggest starting with an anal training kit and then making your way to trying out the more adventurous toys.
Our recommendations: b-Vibe's Novice Plug ($130 via Amazon) and The Prostate Play Vibrator by Tantus ($31.99+ via Amazon) 
---
How to use a cock ring
Level of difficulty: 1
Just like finger vibrators, cock rings get worn too (we'll let you guess where they go). These vibes can definitely be used on their own, but are seriously ideal for partnered play. However, they come with a bit of a disclaimer for cisnormative heterosexual couples–since vulva-owners need consistent and repetitive stimulation to orgasm, cock rings might do more for your partner than they'll do for you. It's not that you won't enjoy TENGA's 5-speed SVR, but don't expect it to be the toy that gets you off. Some ciswomen have stated that they actually find vibrating cock rings to be more distracting than pleasing, just something to keep in mind!
Our recommendations: TENGA's Smart Vibe Cock Ring ($41 via Amazon), Tyler Couples Vibrator by SVAKOM ($34.99+ via Amazon), OhMiBod Lovelife Share ($59 via Amazon), and TRYST by Doc Johnson ($49 via Amazon) 
MORE BAZAAR DEALS:
The Daily Dot may receive a payment in connection with purchases of products or services featured in this article. Click here to learn more.