What's the first thing that comes to mind when someone says "Japanese food?" Sushi. Tonkatsu. Bento box. Jiggly cheesecake. All tasty, but all fairly intro level, amateur hour foods. Allow me to introduce you to one of the unsung heroes of the Japanese home cooking repertoire: hayashi rice.
What is Hayashi Rice?
Hayashi Rice is a popular Japanese dish that loosely translates to "hashed beef rice." It's made of sliced beef stewed with onions and occasionally mushrooms, stewed in a thick demi-glace sauce and served with rice. Many say that the dish originates in the former mining town of Ikuno in Hyogo Prefecture, Japan.
It's part of a subset of Japanese foods known as yoshoku, or "western style dishes." The traditional beef stew got a makeover from Japanese cooks over decades, and hayashi rice is the result. While there are many ways to make it from scratch, it's often made using convenient roux blocks, like Japanese curry. My favorite is made by the same folks who make great curry roux blocks, S&B.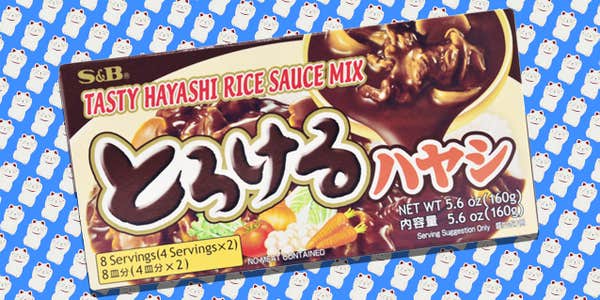 ---
How to make Hayashi Rice: A simple Hayashi rice recipe
You can make Hayashi rice from scratch. I've done it! It took a day and ultimately wasn't much better than the stuff out of the box. There are instructions on how to make Hayashi rice right on the box. However, with just a couple extra ingredients and steps, you can make something truly magical.
Ingredients:
Cooking oil, as needed
1 lb chuck beef
2 small onions
1 garlic clove, minced
3 cups water, more as needed
Salt and pepper, as needed
8 oz mushrooms (optional)
Heavy cream, to serve
Steps:
Place chuck beef into the freezer for about half an hour. This will make slicing it easier. Once it's part frozen, using your sharpest knife, slice into thin slices. Season with salt and pepper and set aside.
Slice onions into thin arcs or jullienne them. If you don't like big onion pieces in your Hayashi rice, feel free to dice them. Set aside. If you're using mushrooms, slice them. Mince a clove of garlic.
Next, place a heavy dutch oven or pot over medium heat. Add a few teaspoons of oil and brown beef on both sides, 4-6 minutes each side. Don't crowd the pan, or else the meat won't brown. It might take a few batches depending on the size of your pot. Remove beef from the pan once it's browned and place in a small bowl. Set aside.
If using mushrooms: Add mushrooms, if you're using them along with ⅓ cup of water. This helps concentrate the mushrooms' liquids by purging them of their liquid. Scrape the bottom of the pan to get all the brown bits off. Keep cooking until most of the water has evaporated.
Then, add onions, garlic, a couple more teaspoons of oil, and a pinch of salt and pepper. Cook over medium high heat until your onions (and optional mushrooms) are golden brown. Keep stirring, so nothing burns.
Next, add 1 cup of water and the entire block of Hayashi rice sauce mix. Stir until dissolved. Add the beef and the rest of the water. Bring to a boil, cover, and drop the heat to low and cook for 20-30 minutes or until beef is tender.
Finally, taste, and season the Hayashi rice with salt and pepper as needed. Or, add a few shakes of Maggi seasoning if you have it. Serve hot alongside cooked short grain rice. If you want, drizzle on a little heavy cream to finish.
---
More Jaime Says: "Buy It!" Reviews
---
Some final notes
Like most stewed recipes, Hayashi Rice tastes better the next day. It also freezes quite well. But it probably won't last past a day or two, considering how tasty it is. The roux keeps well in the pantry for ages. If you're tired of Hayashi rice, you can make plenty of other Japanese delicacies with it, including omurice.
Half a full block cooked in 1 ⅔ cups of water makes an excellent gravy for everything from meatloaf to Loco Moco. Even if you're not going to make Hayashi Rice soon, it's a fantastic and cheap pantry pal to keep on hand. S&B Tasty Hayashi Rice Sauce Mix is available on Amazon for $4.23.
If you have an interesting product you'd like to be featured in an upcoming review, reach out to [email protected] and it just may be!
The Daily Dot may receive a payment in connection with purchases of products or services featured in this article. Click here to learn more.