Your name may not be Penelope Taynt, and you probably don't run the Amanda Please website. But that doesn't mean you're not a dedicated Amanda Show fan. In fact, you probably still have the theme song memorized. So why not show off your love for the sitcom this Halloween with this dancing lobster costume!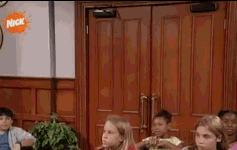 The adult lobster costume covers you from head to toe. So instead of hands, you'll have claws. Much better! But that means you'll have a harder time slapping Kyle with a fish. Oh well, sacrifice is a part of love. The polyester costume is 3D, which I know sounds weird (isn't every costume 3D)? The answer is no. This lobster costume features padding in all the right areas to make you look like the shellfish person you are at heart. Plus all you need to do is climb in and zip it up, what's easier than that? Wearing pa-jah-mahs, maybe.
The totally popular costume is available through Amazon for just $39.99. Considering how detailed and well designed this costume is, that's a bargain. Plus, it can easily be transformed into a couples costume just by adding the Honorable Judge Trudy to your guest list. Court dismissed! Bring in the dancing lobsters!
MORE BAZAAR DEALS:
The Daily Dot may receive a payment in connection with purchases of products or services featured in this article. Click here to learn more.