It's a plain fact: when we want to listen to our favorite music, we want to share it with the world.
However, not everyone can appreciate the classics (Led Zeppelin, anyone?). Having a powerful small speaker for our individualized concerts can go a long way to keeping one happy.
Just because these speakers are tiny doesn't mean they aren't mighty, though. These desktop speakers are packed with technology to produce amazing quality without taking up a lot of space.
Quality doesn't mean a huge price tag either. The miniaturization of technology has been improving over the years to allow for big sounds for small cash. They are also extremely easy to hook up and can go just about anywhere you want to play music. Check a few of our picks for best small speakers below.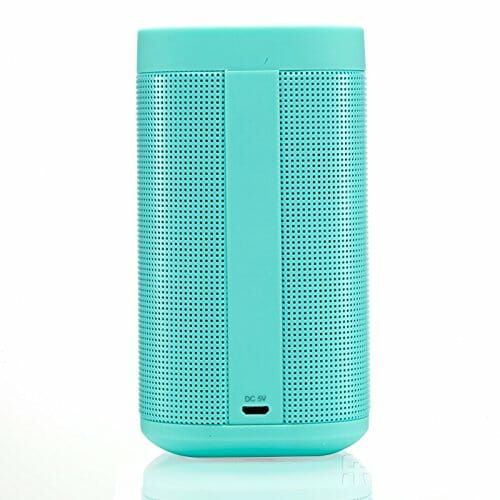 This little gem not only produces clear, quality music, but comes in four different colors too. Two acoustic drivers and a special suspension power sound in three directions, filling up any area nicely.
Weighing only 11 ounces and standing 6.5 inches tall, the speaker doesn't take up much room. The rechargeable battery means the speaker can travel wherever its audience wants to go.
The Bluetooth connection works with many laptops, PC, and smart devices. For smartphones, there is a built-in microphone for those moments when someone calls while you are listening to music. Hopefully, they aren't calling to tell you to turn it down.
You can get one of these in black, orange, pink, and teal, allowing users to personalize the appearance of their music as well as their sound. It comes with a USB-B charger, and the battery reportedly can handle up to eight hours of continuous use.
$12.99 on Amazon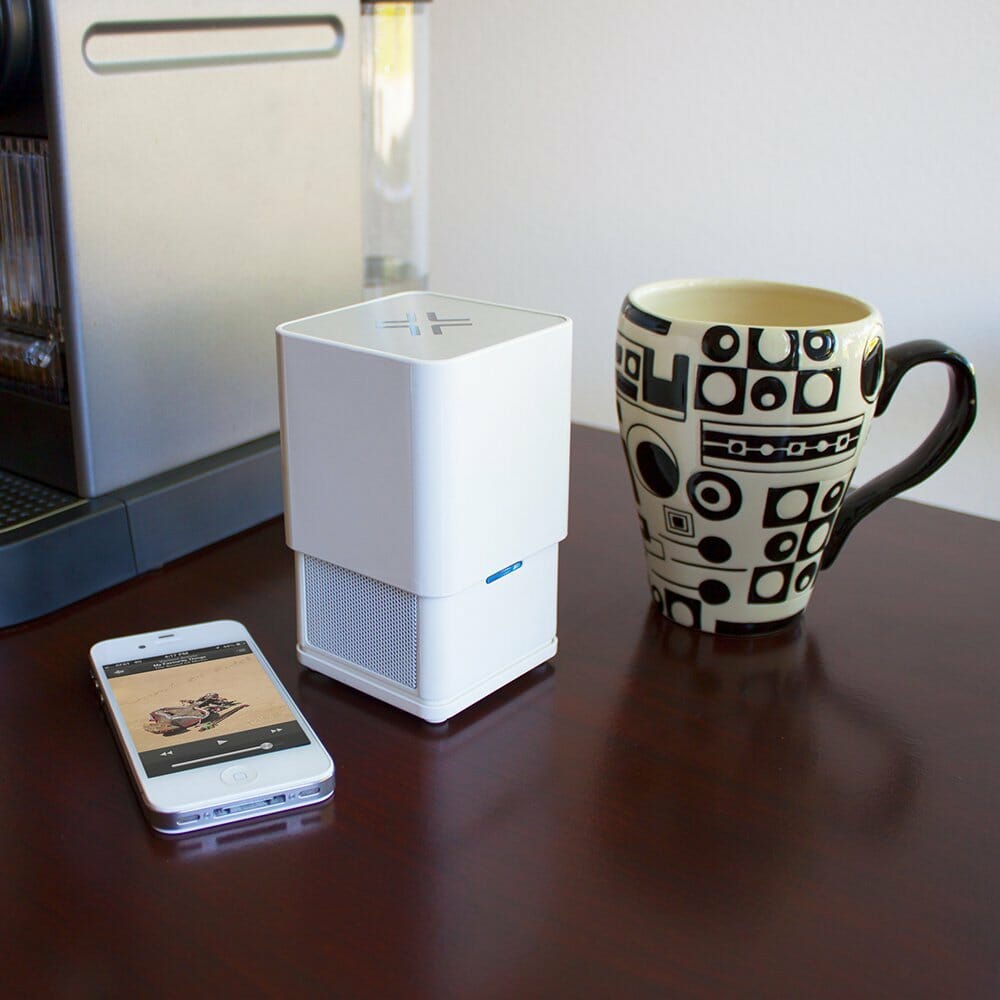 If 6.5 inches is still too big for your needs, the Lenmar Rise mini-speaker stands just over three inches tall and still produces a clear sound for any environment. It literally can fit in the palm of your hand and can travel wherever you want music.
It makes a great addition to smart devices that lack good built-in speakers. The unit pops up when turned on, making it a bit taller than its cube design, and it works just as well for streaming movie audio as it does for your music library.
The bass isn't as booming as with some other speakers, but the quality still remains clear. It can also double as a speakerphone, making it perfect for office environments while working. And of course, you can convert it to a sound machine when the work day is done.
$22.75 on Amazon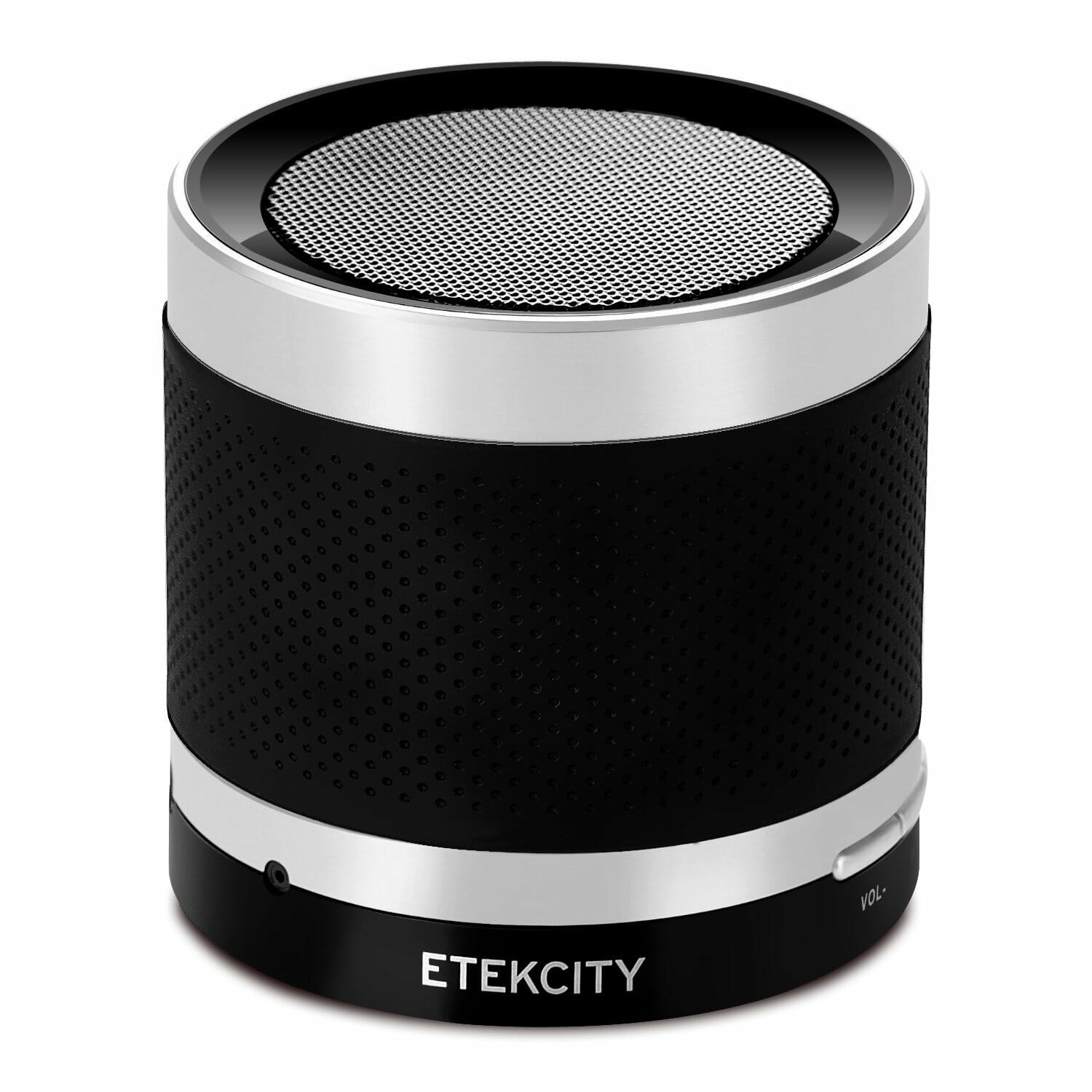 Let's see if we can go even smaller. The RoverBeats T3 is only 2.5 inches in diameter and height but produces sound like a large speaker.
A non-skid base keeps it in place while booming bass and amazing high-end sounds fill up any room. It also prevents the transfer of vibrations to surfaces, cutting down on extraneous noise.
It has a rubberized shell that keeps it protected from minor impacts. Because it is so small, some people might want to toss it in a purse or backpack. Do so with confidence!
The rechargeable battery lasts up to seven hours, and the Bluetooth connection will hook up with nearly any Bluetooth-capable device. Much like other portable speakers, the T3 can also act as a speakerphone, stopping the music when a call comes in and starting up again when the call is done.
$22.99 on Amazon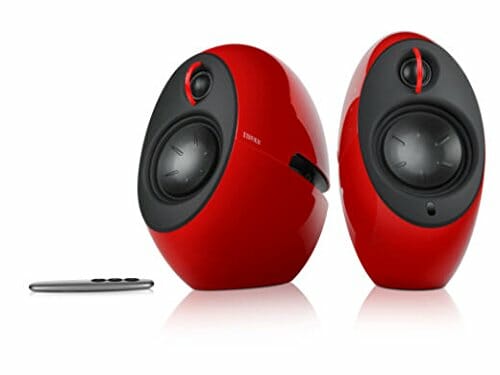 Ready to go up a price tier (or two)? The Luna Eclipse fits the bill with its full range speaker driver and powerful bass radiators.
These speakers deliver a richer, fuller sound than their small compatriots, but the price tag is much higher than the others mentioned. These beauties are definitely designed to produce bass, midrange, and treble at a higher quality. Because there are two, the stereo quality is also wonderful and deep.
They do connect to devices via Bluetooth, but they do not have any rechargeable batteries. Instead, they need an outlet for power, but it makes them the perfect device to have in a bedroom or kitchen.
They also make great computer speakers for gaming. Since they aren't as portable, a wireless remote control is included to help control volume and power. The speakers also have their own touch sensitive controls which let you change the track with just a swiping motion.
$199.99 on Amazon
MORE BAZAAR DEALS:
The Daily Dot may receive a payment in connection with purchases of products or services featured in this article. Click here to learn more.