A knife's quality can make cooking a chore or a joy. There's a proper cutting tool for everything from dicing a tomato or carving a turkey.
Celebrity chef Alton Brown and Kat Kinsman, the senior food and drinks editor at Time and editor-at-large for Tasting Table, both swear by the blades from Cut Brooklyn. These handcrafted marvels will set you back hundreds of dollars. The quality and craftsmanship are worth the cost, but seekers of the steel have to visit Brooklyn IRL to gain their culinary treasure.
For the rest of us, those mere mortals who aren't professional chefs and just want to chop some vegetables for a good stew, there are alternatives. They will get the job done while still leaving your wallet with some cash for groceries. Whether you're an amateur or pro, these are the best kitchen knives money can buy.
Edge of Belgravia's coated, stainless steel knives look as good as they slice. The Precision knife offers an inspiring, artistic take on the kitchen knife, with facet shaped, rubber coated handles for the black blades.
A non-stick coating prevents food from marring or pitting the blades as easily. The six-piece set is designed to handle a myriad of kitchen tasks, from deboning a filet to slicing a loaf of freshly baked bread.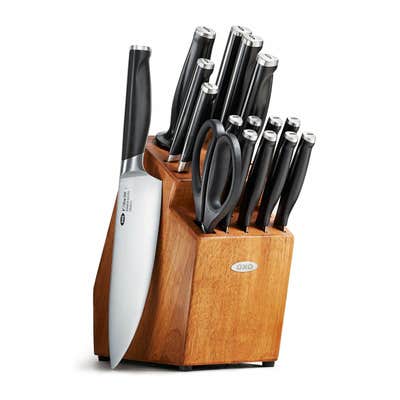 OXO has been a solid kitchen utensil manufacturer for many years. Though more well-known for the Good Grips line, it has a kitchen knife set that provides support for long chopping sessions.
The pro knives are forged from high-carbon, German stainless steel that promises durability. A full-tang blade contributes balance with a contoured handle and curved bolster.
These features provide a sense of control, comfort and stability. If you want something that feels natural, like an extension of your hand, this set will be a welcome companion for cutting needs without a hefty price tag.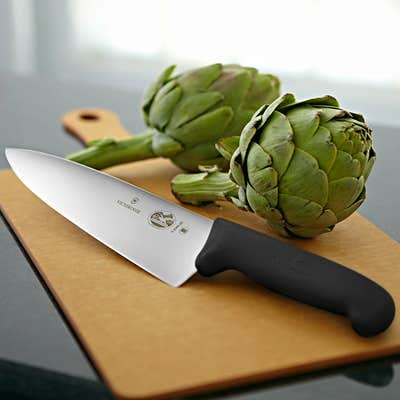 Many chefs say use the right tool for the right job. That's why there are so many different styles of knives. But there is only one style that earns the name chef's knife because of its multipurpose usage in kitchens.
The Victorinox 8-inch Fibrox pro chef's knife has been rated tops by knife reviewers, and it's easy to see why. The multipurpose knife has a laser-tested, tapered edge for easier cutting and longer durability.
The knife's extra-wide blade and non-slip, ergonomic handle ensure a reliable cut. The lightweight and balanced design reduce fatigue, even when deboning a whole chicken.
While the company said the knife is dishwasher safe, I recommend hand washing immediately after use to keep the knives clean and stain-free. If there is one knife you need, this one can do the jobs.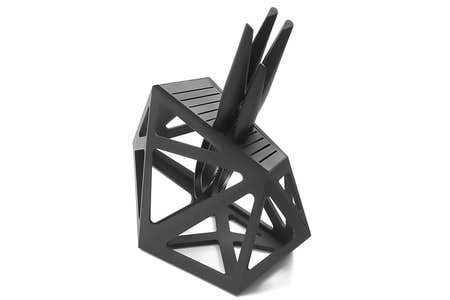 If you're purchasing a nice set of knives, don't forget the holder. A good-looking utensil needs to be shown off. The Black Diamond knife block resembles a rough-cut diamond but functionally hold up to 11 knives safely and carefully. The angle of construction secures the knives in the block while still allowing for easy retrieval.
Multiple slots keep the knives from clanging against one another, and the see-through design of the block lets all kitchen visitors marvel over your cooking instruments. The open design also allows for many shapes and lengths of knives to be stored in the block.
Stylish and functional, the block adds a certain flair to any countertop without taking up a lot of space.
No matter what knife fits your hand best, care of your utensils will keep them in top condition longer. Brown recommends taking your knives to a professional sharpener at least once a year, more if you use them very often.
Hand washing will preserve the knife handles by avoiding the harsh temperatures of a dishwasher. If you store knives in a block, turn them with the blade facing upward to prevent the edge from getting worn by insertion and removal from the block.
Remember: Always use the right tool for the proper job. Enjoy making your food, and it will taste better at the table. Happy cooking!
MORE BAZAAR DEALS:
The Daily Dot may receive a payment in connection with purchases of products or services featured in this article. Click here to learn more.