Online astrology chart readings are great for exploring your metaphysical makeup, but only if you've got one of the best astrology sites on your side. Think of it this way: you could use Google Translate to interpret your thoughts into a foreign language, but in doing so, you risk reliability. The same can be said for astrology sites. Some are just better than others! So before setting out on a journey of self-discovery, you'll want to double back over this list to ensure the site you enlisted is not only authentic but accurate. Here's our guide to the best astrology sites on the web.
What is an online astrology chart reading?
Online birth chart readings or astrological profiles aren't all that different from the ones you would get in person. The reader will ask for the same basic information (your name, birth date, time, and location) as well as any questions you may have in an email or online chat and will most likely send you a PDF copy of your chart and their interpretations. This isn't always the case, though. Some online astrology readings are done via web conferencing apps like Zoom, Skype, or Google Meet.
How you want your reading done and the focus of the reading is all up to you. It's just a matter of finding the right astrologer who offers your preferred format.
Tips for receiving a reliable online reading
Like every other service available for purchase, there are some providers who are in it for the wrong reasons. So in an attempt to steer clear of scammers, people who don't know what they're talking about, and gatekeepers, here are a few tips to keep in mind before you sign up for a reading.
Be cautious, do your research, and read reviews of both websites and psychics
I cannot stress enough how important this is–even if a site is legit, swindlers have occasionally found ways to break through the barrier. The easiest way to avoid them is by reading verified customer reviews of each and every psychic you consider a potential match instead of just throwing money at your first pick.
Allow your psychic to lead the session and answer their questions as simply as possible
There's no need to run off on tangents or provide supplemental information (this isn't a psychotherapy session). If you're worried you haven't given them a clear enough response, ask if they would like you to go into greater detail but don't freely offer up more specifics than any given question requires.
Listen for clues
Watch out for credible details and other elements applicable to your life. There's a saying that is commonly used by readers, "take what resonates and leave the rest." In no way are readings definitive, so sometimes you need to listen hard for the clues that relate to you or those in your life.
Trust yourself
It's true what they say about confidence–it's key! So even if you have no experience in working with psychics, it's important that you're confident in yourself and your ability to decipher suggestions from manipulation. If a reader tries to make you feel like you're doomed or suggests a ton of supplemental readings to help guide you to the right path, then they're probably just in it for your cash and not your well-being.
Come prepared
Even if your only goal for the reading is to get a better understanding of your birth chart, let your reader know that! This will help guide their interpretations and what forms of practice they should employ or focus on.
Astrology is very technical and can become rather overwhelming quickly. So if you're just starting to dip your toes in the star water, it's in your best interest to start slow.
Instead of paying for that $150 detailed reading, you may want to visit some of the more basic sites first. Not all of them will offer you a complete birth chart reading, but they will help you get familiar with the practice. This way, when you do pay for that expensive reading, you actually understand it and can use it to grow. That said, I've broken down my recommendations for what I believe to be the best astrology sites by expertise. The list kicks off with the best sites for beginners, but if you skip ahead you'll also find sources for in-depth, detailed readings.
Best astrology sites for introductory readings
If you're interested in receiving an online birth chart reading, the online psychics over at Keen know what they're doing. Although the site has low ratings on customer review services like SiteJabber, you'll see most of the complaints aren't about the readings themselves but how the site runs its payment options. To avoid conflict, reviewers recommend only loading the amount of money you plan to use for a reading at any given time. Because if you upload $40, spend $15 on a call and then forget about the balance and let sit too long, Keen will deduct value for "inactivity."
Keen is also offering all new users three free minutes to use towards any reading!
---
Kasamba.com
Founded in 1999, Kasamba has become the world's largest site for Vedic astrology readings. Psychics create a profile advertising their services and rates, and users can rate and discuss their experience directly on-site or by using the mobile app. Kasamba psychics are available 24/7 and offer a variety of readings such as love tarot readings, personal astrology readings, and more.
Currently, Kasamba is offering new clients 50% off their first session as well as three free minutes to chat with an online psychic.
---
PsychicSource.com
To help you get to your online astrology reading sooner, PsychicSource.com offers a "Find a Psychic" tool. This feature matches you to a trusted psychic based on your answers to a short quiz. The readings provided by PsychicSource.com will also benefit communities in need of support. A portion of the proceeds from each reading supports the site's Kindness Initiative. The Kindness Initiative donates to a variety of nonprofits, all of which benefit different movements. Some of the charities that have been sponsored in the past include the National Center for Housing and Child Welfare, Futures Without Violence, and Paws With a Cause.
As of right now, PsychicSource.com is offering new users a low rate of $1/minute (plus three free minutes) for their first session.
---
Chani Nicholas
Chani Nicholas is another successful astrologer. Based out of Canada, Nicholas has clients all over the world and is constantly in the feeds of celebrities and everyday people across the globe. She's a renowned author and recently launched an app that puts Co-Star and Pattern to shame. Her website offers a very brief birth chart analysis. Which for beginner astrologers, this is one of my favorite sources to recommend. Chani's birth chart calculator provides users with a circle chart as well as a guide to their placements. The calculator won't interpret the placements in detail for you, but it's nothing you can't research! She also offers a variety of workshops that will help you understand the basics of astrology, synastry charts, eclipses, and so much more.
Currently, Nicholas' site doesn't feature any horoscopes or forecasts, but if you have a smartphone or tablet don't hesitate to download her app, CHANI. It's free to download and use, if you want more in-depth predictions, meditation and manifestation guides, or altar suggestions, you'll have to subscribe.
---
AstroStyle.com
Another fabulous (and free) online astrology reading site, AstroStyle is a great place for beginners. The site is neatly laid out and all the information online is presented in a manner that's easy to understand–so if you've never touched astrology before now, I recommend AstroStyle.com.
Most of the content offered by the AstroTwins on this site is free. However, there is also the option to sign up for astrology webinars and purchase books developed by the sisters. All of which vary in price, access will cost you anywhere from $9.99 to $199.
Additionally, if you want a full birth chart report, you can purchase that through the site's partnership with AstroLabe. Prices for these premium services aren't as high as other astrology sites, making it a great option for people on a budget. That said, you get what you pay for. So any birth chart assessment purchased through the AstroLabe partnership won't be reviewed by the twins. In other words, this isn't the site to turn to for live readings. Rather, it's an affordable option for beginners learning to grasp the basics of astrology.
---
AstroLabe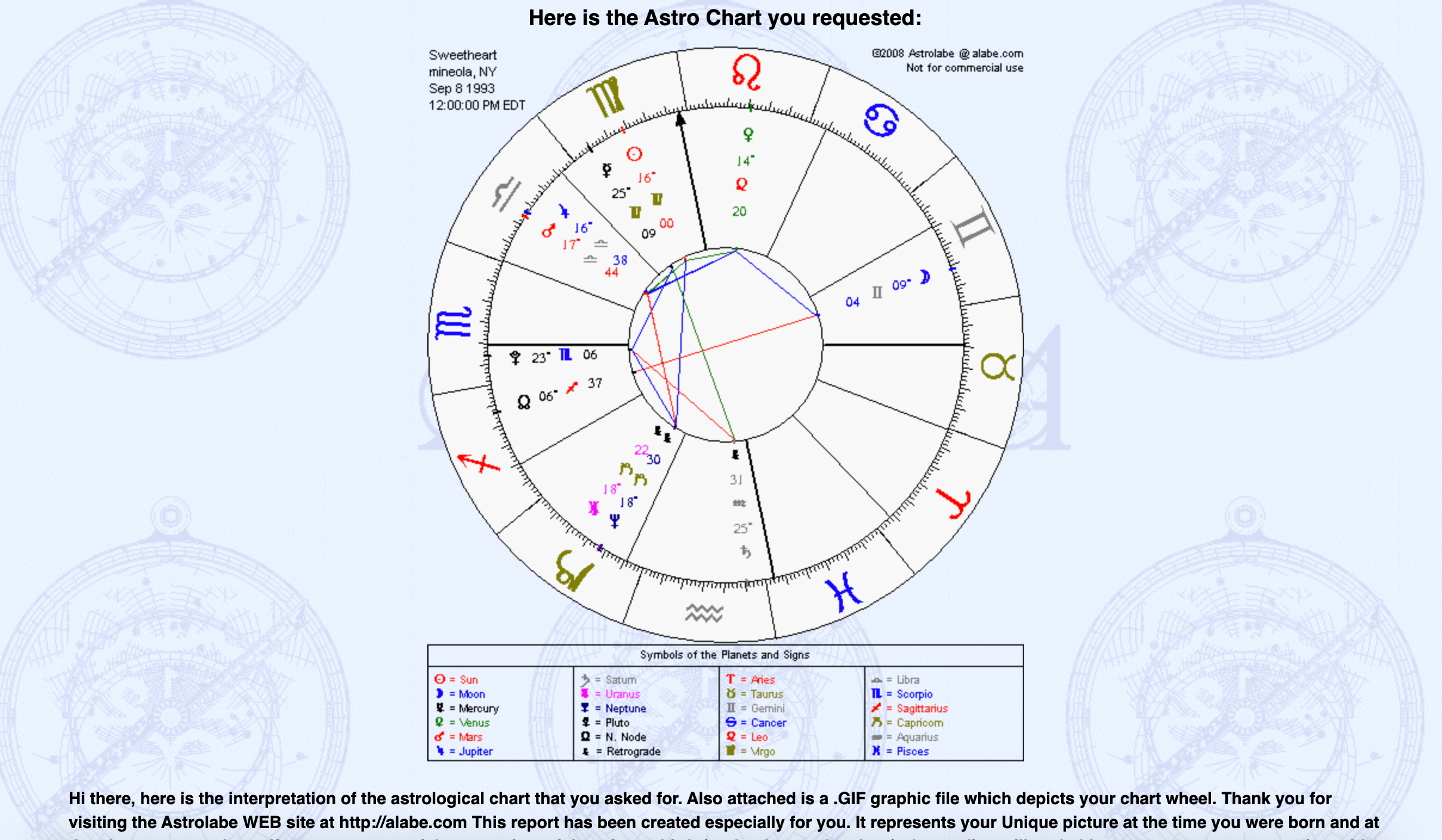 If you're a do-it-yourselfer who is just beginning to dip their toes into the meanings of the planets, stars, and asteroids, AstroLabe is a perfect starting point. AstroLabe's calculator is used by many astrology services to generate birth charts, and you'll be happy to know that the watered-down version of that chart is available to use for free. However, if you want a professional-grade reading that really gets into all the nitty-gritty details of your alignment, it'll cost you only $25.
Like other online astrology reading sites, AstroLabe hosts a library of literature as well as a list of recommendations for further study. But, it's not as comprehensive or aesthically-pleasing as others mentioned on this list so don't let that throw you off. AstroLabe's predictions are trustworthy and easy to digest, which is great for beginners. More advanced astrology students may find it falls below their abilities, though.
---
AstrologyZone.com
Run by astrologer Susan Miller, AstrologyZone.com is one of the best astrology sites for love-related readings. Since 1995, Astrology Zone has offered users a number of free services like compatibility readings, daily and monthly horoscopes, literature for learning about astrology, and online astrology chart reading. There are also options to purchase more in-depth horoscopes. AstrologyZone is by far one of the best free horoscope sites out there.
---
Astrology.com
If you are interested in a (free) live astrology reading, astrology.com has exactly what you're looking for. The site offers daily horoscopes, free live tarot reading, and even lengthier readings to help you dive deeper into your birth chart and what it means.
All of the content on the site is free, except for the personalized readings which are provided by Keen advisors.
---
Horoscope.com
If you're looking for a horoscope site that offers more than just an online astrology reading, Horoscope.com should be your source. The site offers users free horoscope readings, tarot, access to live psychics, and more.
All of the content on the site is free, except for the personalized readings which are provided by Keen advisors.
---
Best sources for in-depth birth chart and astrology readings
Astro.com
Astro.com is personally my favorite online astrology chart reading site. By using the AstroClick Portrait, clients can receive a free birth chart map and brief descriptions of what each placement means. Additionally, the site offers in-depth love and life readings, a breakdown of all the current transits, and over a dozen free forecasts. Astro.com also hosts a wiki and community forum which is great for those looking to teach themselves more about the practice, connect with a local astrologer, or learn how to read a birth chart.
Most of the services are free, but if you want to unlock all the site has to offer you'll have to pay for it.
---
MyLifeCreated
Mecca Woods decided to open her Astro coaching practice after having applied the same practices to better her own life. Woods trained at the Rebecca Gordon Astrology Mentorship Program and has dedicated herself to teaching others how to better tap into their own natural-born gifts. Her work is featured in publications like Bustle, Girlboss, Refinery 29, and more. And her horoscopes are sure to be insightful and easy to understand. If you want a personal reading from her, you will need to get a head start on the calendar and book in advance. Her schedule for the rest of 2020 is completely booked. So run over to MyLifeCreated and hop on the waitlist to secure a spot for next year! While you're there, browse through the monthly horoscopes available through her site.
---
Cam White Astro
Created by renowned astrologist Cam White, this site offers various consultations given by White himself. With a background in Pagan witchcraft and traditional astrology, Cam has synthesized both practices together to be able to give "the most literal and easily understood interpretations" during your session. The biggest plus to seeking out Cam as a potential advisor is he's just as good at making predictions as he is helping you understand it. Just check out one of his many YouTube videos to see what I mean! Getting a sense of his practices and outlook will be a lot easier and can result in a more symbiotic relationship and better advisement.
---
Charm Astrology & Tarot
If you're interested in more than just star sign compatibility and the basics of astrology, Charm Torres is exactly the reader you need. She has been working as a professional astrologer since 2018 and has all the certifications to prove it. But her experience with astrology spans more than just these last two years. She started a formal mentorship in 2016 and completed multiple levels of curriculum including the foundations of humanistic and psychological astrology, modern predictive and relationship techniques. Before her journey into professional astrology services, Charm was actually a registered nurse in Ontario. Clearly, she has a passion for helping others! Charm offers more than just birth charts and astrology-specific readings, too. In addition to these zodiac-related readings, she offers tarot readings on a sliding scale.
---
Patrick Watson
Patrick Watson is a professional astrologer based in Arizona but he's originally from the UK. He's been practicing astrology since he was 15 years old and his talents speak for themselves. Watson has worked alongside renowned astrologers like Chris Brennan. In the spring of 2012, Watson and Brennan publicly issued an accurate prediction that Barack Obama would win the 2012 US presidential elections. Most recently, he accurately predicted the day of President Trump's concession. By day, he is a music teacher, by night he is an astrologer, blogger, researcher, and astrology tutor!
---
Oracular Jake
With a background in social work and psychology, Jake makes sure to handle sensitive topics delicately and with compassion. As a gay white man who attended an HBCU to study social work, Jake feels well-informed and comfortable enough to discuss topics relating to race and racism. And in an effort to dismantle gender roles and heteronormativity, he has removed gendered language from his astrology practice. You just can't say that about anyone! Jake offers multiple types of readings from natal charts to horary questions and everything in between. His prices are pretty affordable too. So regardless of your price range, Jake wants you to have access to professional-level guidance. His services begin at $30 and continue into the $100 range.
---
StarsMoonAndSun
StarsMoonandSun is a great site to find fun yet educational information on the zodiac and corresponding horoscopes. Here you can delve further into the science of astrology, with articles covering natal charts, cusps, eclipses, and retrogrades. Plus, if you need a little break from the deeper sciences about the governance of the stars, StarsMoonandSun has some star-studded entertainment for you. Freely enjoy piping hot tea about your favorite celebs horoscope and charts.
---
AstroTheme.com
AstroTheme is also one of my personal favorites. The site is great for examining online astrology readings other than just your birth chart. AstroTheme hosts a full library of literature for those of you looking for easy-to-digest material. There's also a world of information on celebrities and their charts. While this site may seem geared toward beginners, I would suggest everyone check it out. AstroTheme does a fantastic job of going into deep detail and thoroughly explaining its predictions. It's a solid site for anyone looking to teach themselves the basics of astrology or expand their knowledge.
A majority of AstroTheme's literature and basic horoscopes are available for free. But if you want a personalized birth chart reading, you'll have to order one.
---
Related articles: