'Game of Thrones' debuts new cast members at San Diego Comic-Con
While not much is known about the the upcoming season of Game of Thrones, one thing is certain: HBO's hit TV series is growing.
At this weekend's San Diego Comic-Con, the premium TV network shared a video featuring the newest cast members in the upcoming fifth season, slated for April 2015.
These new additions include:
Keisha Castle-Hughes as warrior Obara Sand
Jonathan Pryce as the mysterious High Sparrow
Alexander Siddig as ruler Doran Martell
Toby Sebastian as Prince Trystane Martell
Nell Tiger Free as Myrcella Baratheon (daughter Robert Baratheon and Cersei Lannister)
DeObia Oparei as warrior Areo Hotah
Enzo Cilenti as slave trader Yezzan
Jessica Henwick as Nymera (Nym) Sand
Rosabell Laurenti Sellers as Tyene Sand
Pryce was the villain in Tomorrow Never Dies and was Governor Weatherby Swann in Pirates of the Caribbean.
HBO also released the following blooper reel at Comic-Con, chock full of funny faces, impromptu dancing, and bursts of laughter.
If all of that wasn't enough to tide you over until spring 2015, the cast snapped this selfie with iJustine: 
...and we still had room for a few more Game Of Thrones cast members :) #SDCC @etnow #etnow pic.twitter.com/TL9aAXFv7o

— iJustine (@ijustine) July 26, 2014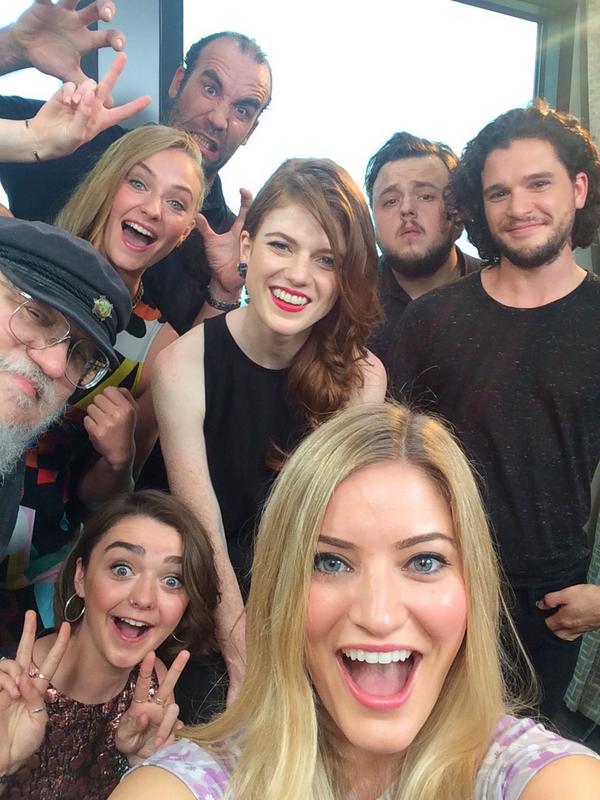 Photo via ijustine/Twitter
How to destroy an American family
The Straters' lives have been devastated by relentless cyberattacks. And there's nothing they can do about it.
Presented by The Daily Dot
The real origins of piecaken, the Internet's latest dessert craze
Piecaken is about to change Thanksgiving's dessert game. Again.
13 movies you can watch for free on YouTube right now
With a little ingenuity and a lot of time on your hands, you can find almost anything on YouTube.
140 questions Siri has hilarious answers for
The most comprehensive collection of Siri questions and funny prompts.
Names of 3 suspects released in Minneapolis Black Lives Matter shooting
A video shows one of the suspects being arrested by a SWAT team at his suburban home.
How to get faster Wi-Fi without paying for it
This is the Wi-Fi equivalent of Red Bull.