'Game of Thrones' debuts new cast members at San Diego Comic-Con
While not much is known about the the upcoming season of Game of Thrones, one thing is certain: HBO's hit TV series is growing.
At this weekend's San Diego Comic-Con, the premium TV network shared a video featuring the newest cast members in the upcoming fifth season, slated for April 2015.
These new additions include:
Keisha Castle-Hughes as warrior Obara Sand
Jonathan Pryce as the mysterious High Sparrow
Alexander Siddig as ruler Doran Martell
Toby Sebastian as Prince Trystane Martell
Nell Tiger Free as Myrcella Baratheon (daughter Robert Baratheon and Cersei Lannister)
DeObia Oparei as warrior Areo Hotah
Enzo Cilenti as slave trader Yezzan
Jessica Henwick as Nymera (Nym) Sand
Rosabell Laurenti Sellers as Tyene Sand
Pryce was the villain in Tomorrow Never Dies and was Governor Weatherby Swann in Pirates of the Caribbean.
HBO also released the following blooper reel at Comic-Con, chock full of funny faces, impromptu dancing, and bursts of laughter.
If all of that wasn't enough to tide you over until spring 2015, the cast snapped this selfie with iJustine: 
...and we still had room for a few more Game Of Thrones cast members :) #SDCC @etnow #etnow pic.twitter.com/TL9aAXFv7o

— iJustine (@ijustine) July 26, 2014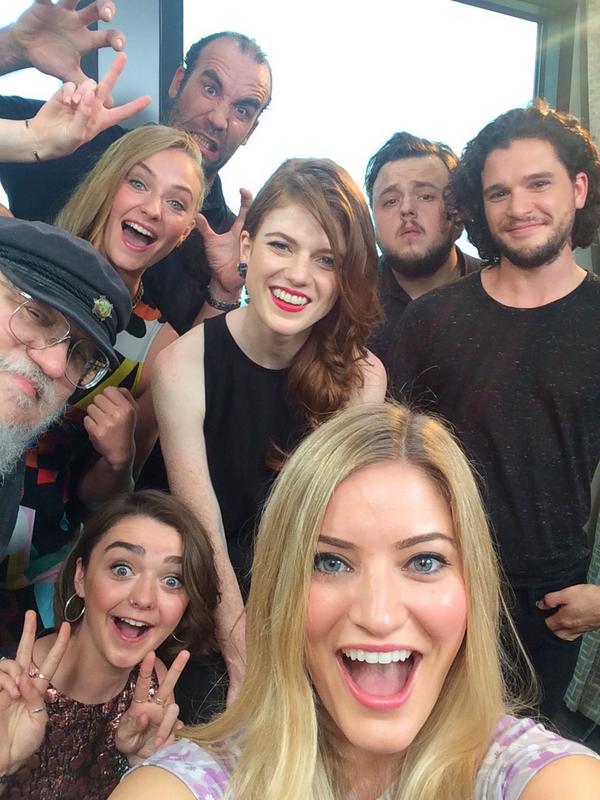 Photo via ijustine/Twitter
Trending
This bed refuses to let you hit the snooze button
But will you ever be able to sleep again?
'Deadpool' finally gets an official teaser—just not the one you'd expect
Deadpool heard you liked teasers...
You wish you were as cool as the man who surfed on his dirt bike
The ocean is his highway.
How Portals is forging connections in the most unlikely places
Part art installation and part social experiment, these gold shipping containers are wired and ready to recapture the random intimacy we've lost.