'Game of Thrones' debuts new cast members at San Diego Comic-Con
While not much is known about the the upcoming season of Game of Thrones, one thing is certain: HBO's hit TV series is growing.
At this weekend's San Diego Comic-Con, the premium TV network shared a video featuring the newest cast members in the upcoming fifth season, slated for April 2015.
These new additions include:
Keisha Castle-Hughes as warrior Obara Sand
Jonathan Pryce as the mysterious High Sparrow
Alexander Siddig as ruler Doran Martell
Toby Sebastian as Prince Trystane Martell
Nell Tiger Free as Myrcella Baratheon (daughter Robert Baratheon and Cersei Lannister)
DeObia Oparei as warrior Areo Hotah
Enzo Cilenti as slave trader Yezzan
Jessica Henwick as Nymera (Nym) Sand
Rosabell Laurenti Sellers as Tyene Sand
Pryce was the villain in Tomorrow Never Dies and was Governor Weatherby Swann in Pirates of the Caribbean.
HBO also released the following blooper reel at Comic-Con, chock full of funny faces, impromptu dancing, and bursts of laughter.
If all of that wasn't enough to tide you over until spring 2015, the cast snapped this selfie with iJustine: 
...and we still had room for a few more Game Of Thrones cast members :) #SDCC @etnow #etnow pic.twitter.com/TL9aAXFv7o

— iJustine (@ijustine) July 26, 2014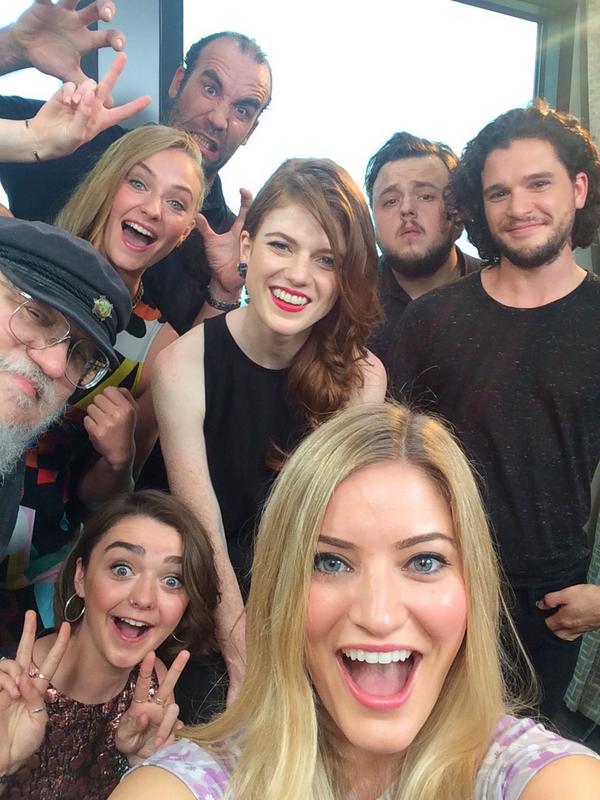 Photo via ijustine/Twitter
The Kernel
The strange and twisting case of r/A858, Reddit's indecipherable Stonehenge
Five years ago, cryptic numbers began to appear in a little-trafficked subreddit. They seemed to be a code—one whose purpose, even today, remains a mystery.
Presented by The Kernel
Are men OK?: Mantry edition
The food subscription service for MEN ONLY.
With Netflix's 'Lady Dynamite,' Maria Bamford climbs the Stairmaster of Life
With her new Netflix series, Bamford breaks down for the whole world to see.
What a self-made cyborg taught me about body hacking
Body hacking is here, and it's subtle.
Celebrate Geek Pride Day with this $10 nerdy T-shirt deal
The nerdy T-shirt is the quintessential banner of geek pride.
Pay what you want for this premium photography tutorial
It pays off to hone your photography skills, even if you don't want to take pictures for a living.
Overwatch is finally here, and you can grab it on sale for a limited time
Today's a good day to pick up the next biggest game in esports.